Found July 19, 2013 on Buddy Nixon:
Don't look now, but we're spittin' distance from the 2013 Buffalo Bills Training Camp to get started at the idyllic campus of St John Fisher College in Pittsford, NY. With that in mind, I thought it'd be good idea to layout some key story lines to pay attention to. 1. Injuries Surprised it's not EJ Manuel v Kolb? I haven't forgotten about the shotcaller contest commencing this August, but the biggest thing to track is if the Buffalo Bills can stay as healthy as possible during their summer millionaire football bootcamp. Pay attention to small stuff like calf tweaks, as they have a tendency to linger and cause guys to miss games.  Recall Kyle Williams ankle that bothered him in 2011 wound up putting him on the injured reserve. There's a reason half of all training camp interviews consist of the coach running through reams of injury reports. 2. Manuel v. Kolb In terms of a "camp battle" quarterback will obviously be the one that has that has the biggest impact on the Bills' fortunes in 2013. Expect snap count to be equitable early on, but my view is that the coaching staff will pick a starter by the second preseason game. Also, my view is that guy will have a name that rhymes with this fella:   3. Will Mike Pettine orchestrate a fight to light a fire under Torell Troup's rear end?   4. Will optimism be sustained heading into the season? In general, it's a pretty good time to be a Bills fan. It's an absurdity considering the recent lack of success surrounding the franchise, but fans are optimistic. We've got a new coaching staff, new GM, new president, and a pair of new QBs, all of whom are simultaneously experiencing a NFL Honeymoon. Thing is, NFL Honeymoons are short lived, and Bills fans are also jaded. If Marrone takes too long to pick a QB, picks Kolb, if the team looks like crap in it's preseason games, if Byrd opts for an extended holdout… I could keep going but the point is that it won't take much for people to return to the "Same Old Bills" refrain. The good part is the mood won't have much to do with whether or not the team accomplishes anything; the bad part is if 2013 really is a rebuilding season, people will be awfully grouchy for another 12 months. 5. The Byrd Holdout Whether or not Jairus Byrd is in town will be a tedious, boring story littered with "sources" and "per report" type stories. He'll either show up or he won't. What'll be interesting is how the coaching staff aligns the defensive backs and safeties in Byrd's expected absence. The notables include rookies Duke Williams and Jonathan Meeks, converted CB Aaron Williams, and 3rd year pro Dino Searcy, among others. If Byrd plans on forfeiting game checks this year, that's the brunt of your 2013 Buffalo Bills secondary. If not, it'll still be interesting to see how the coaching staff feels about the abilities of the rest of these players. 6. What Kind of Headwear will Doug Marrone choose? Will Marrone look this suave?  Doubtful. Dick Jauron jokes galore when you follow @BuddyNixon. The post 5 Biggest Buffalo Bills Stories to Watch at 2013 Training Camp appeared first on Buddy Nixon.
Original Story:
http://www.buddynixon.com/analysis/5-...
THE BACKYARD
BEST OF MAXIM
RELATED ARTICLES
After Buffalo Rumblings' Matt Rich Warren responded to number 6 on my training camp piece yesterday, it occurred to me that the Buffalo Bills have a rich and varied history of headgear. With the help of some of our followers, we wanted to determine the most iconic piece of Buffalo Bills headwear. Here's what we got so far: Doug Marrone's Visor Matt Rich Warren pointed out...
Bills Hall of Fame quarterback Jim Kelly told BuffaloBills.com that he would start Kevin Kolb over rookie E.J. Manuel at quarterback this season. "I've been to a couple of practices," Kelly said. "If I had to give a nod, I really would look more towards Kevin Kolb right now. And the reason I say that is, he's a veteran. He's been through it. He knows what to look at."...
Bills defensive coordinator Mike Pettine told BuffaloBills.com that they plan on using Mark Anderson as a situational pass rusher as he works his way back from a knee injury he suffered lat season as he learns a new defense. "I think we'll start with third down for Mark and work our way backwards," said Pettine. "I think when he's healthy he can be an elite pass rusher...
Former Buffalo Bills quarterback Jim Kelly gives his take based on what he's seen so far in the Bills' offseason. He thinks the team should go with the veteran Kevin Kolb as their strating QB over rookie E.J. Manuel. "I've been to a couple of practices," Kelly told the team's official website. "If I had to give a nod, I really would look more towards Kevin Kolb...
Every time I look at a list of free agents that could be picked up by the start of the season, Vince Young's name pops up, and every time I see it, I can't help but be surprised he's not on someone's roster. In football, it's all about wins and losses, and the simple fact of the matter is that Vince Young wins games. Part of that can be attributed to his ability...
Marcell Dareus will be the Bills' starting nose tackle this season, although the coaching staff has declared an "open competition." He was the third overall draft pick in 2011 but is the only player drafted in the first seven picks of that draft yet to earn a spot on a Pro Bowl roster (Cam Newton, Von Miller, AJ Green, Patrick Peterson, Julio Jones, and Aldon Smith are the...
Buddy Nixon is at it again, this time bringing you reasons that we should trade Jairus Byrd. *Disclaimer: this is just the argument FOR trading Byrd; it has nothing to do with the views of the blog, but rather why the team could progress with a trade. Let's all take a deep breath and allow the noon deadline Monday to approach. I have spoken with many Bills fans over...
Earlier in the week, five players with the most to lose at training camp was discussed. These are players that could be fighting for their roster spot. On the other side of things, there are quite a few players that have much to gain with a strong training camp. A strong camp can result in not only a roster spot, but in some cases a starting job.  Here are five players who have...
A Harris County state district judge Friday instructed attorneys for former Texans defensive lineman Mario Williams to turn over his cellular phone and certain financial and medical records for potential examination by attorneys for Williams' former fiancée. State District Judge Larry Weiman's ruling came during the latest episode in the legal squabble between Williams, who...
BY NICK ST. DENISThe Buffalo Bills have a stable of young and hungry wideouts, some potential at tight end, a pretty certain offensive backfield and a vet-vs.-rook deal at quarterback.A mix like that leaves the door open for a variety of possibilities to come out of training camp, and new offensive coordinator Nathanial Hackett isn't about to rule anything out.While we're...
Previous Return to Relevance Posts: Offensive Line Running Backs Defensive Backs Definition of RELEVANCE: a : relation to the matter at hand b : practical and especially social applicability : pertinence If you are a first time reader of the Return to Relevance series, I'll bring you up to speed faster than Donte Whitner throwing his coaching staff under the bus: relevancy in...
We've been cranking out lots of good Buffalo Bills stuff here at Buddy Nixon, here's a chance to get caught up on any of the hard hitting coverage you may have missed. -EJ Manuel was frequently mistaken as "zone read" QB coming out of college, but that doesn't mean Manuel won't give the bills that *ahem* option in the 2013 season. -Dan Murphy's popular "Return to...
Bills News

Delivered to your inbox

You'll also receive Yardbarker's daily Top 10, featuring the best sports stories from around the web. Customize your newsletter to get articles on your favorite sports and teams. And the best part? It's free!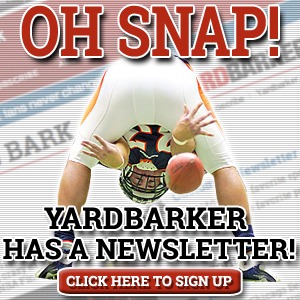 Latest Rumors
The Backyard

Today's Best Stuff

For Bloggers

Join the Yardbarker Network for more promotion, traffic, and money.

Company Info

Help

What is Yardbarker?

Yardbarker is the largest network of sports blogs and pro athlete blogs on the web. This site is the hub of the Yardbarker Network, where our editors and algorithms curate the best sports content from our network and beyond.