Found August 11, 2008 on Arrowhead Addict:
Team MVP: Dwayne Bowe. If It hadn't of been for Adrian Peterson's remarkable rookie season, The Show would have been the NFL''s Offensive Rookie of the Year. Last season he fell five yards shy of the 1,000 yard mark, but don't expect history to repeat itself. If quarterback Brodie Croyle can get Bowe the rock, then the Chiefs will finally have the dominate receiver they've been searching for since Otis Taylor hung up his cleats. D-Bowe's presence (along with the one and only Tony Gonzalez, tight end and lifesaver extraordinaire) will also keep defenses from completely stacking the box to stop running back Larry Johnson. Bowe should crack 1,000 yards and eight touchdowns in his sleep. Break-Out Player: Turk McBride. A second-round draft pick a year ago, Turk was a bit of a disappointment as a rookie. I think part of the problem, however, was that he was too small to play the defensive tackle position. Now that he's moved to defensive end, and learned the position, Turk is poised for a breakout season opposite Tamba Hali. He's already surpassed veteran Alfonso Boone on the depth chart, and I expect him to be the starter at RDE come opening day. Also, keep an eye on speedy wide receiver Maurice Price. Biggest Disappointment: Donnie Edwards. As a Chiefs fan, it's hard not to love outside linebacker Donnie Edwards. On the other hand, you have to wonder if the Chiefs didn't try and make up for their original blunder of letting him go a little too late. Edwards seems to have hamstrings made from the same cloth as guys like Emmitt Smith and Ken Griffey Jr. That's not a good thing. I think he'll only play in about half the games this season. Unfortunately, I'm afraid he's already got one foot out the door and towards retirement. Fantasy Stud: Dwayne Bowe. I think Bowe will end up being a top 10 fantasy wideout. So, considering that you can get him in the late 60s, yeah, he's a steal. Why draft Steve Smith in round two or three when you can steal The Show in round six? Don't worry about Brodie either. All you've gotta do is throw it up and D-Bowe will haul it in. Offensive Outlook: The Chiefs looked pretty sharp offensively in their preseason opener against the Bears. Brodie Croyle looked like a different player; he was calm and confident during a 16-play, 81-yard TD drive, during which he completed five of five third down conversions. The big question: what will happen when he starts getting hit? The Chiefs' offensive line doesn't exactly strike fear into the hearts of opponents, especially with star rookie Branden Albert hurt and journeyman Adrian Jones manning the right guard spot. If Brodie gets beaten up, will he continue to make good decisions? Will he be able to stay healthy? Both his decision-making skills and durability have been problems in the past, so it's hard to say. Larry Johnson, on the other hand, is back, and back with a vengeance. I expect Iron Man to rebound to the tune of at least 1,400-1,500 yards rushing and 12 TDs. Defensive Diagnosis: This unit will be completely different than last year. Last year, its strength was at the defensive end and linebacker positions. With superstar DE Jared Allen departed, and linebackers Edwards and Napoleon Harris M.I.A. (not in the cool "Paper Planes" way either), things will have to change. And they will. This year, the defensive tackle and safety positions could be the unit's strongest areas. Young defensive tackles Tank Tyler and Glenn "Swamp Thing" Dorsey will pair up to immediately give the Chiefs one of their most gifted DT duos in team history, Meanwhile, hard-hitting third-year safeties Bernard "Bonecrusher" Pollard and Jarrad Page look to take their games to the next level in their second year as a starting safety tandem. The biggest concern defensively, other than the linebacker position, will be the pass rush. If the Chiefs can't bring any heat from the DE spots, then the young corners--the Brandons, Carr and Flowers--could struggle. I also would be remiss if I didn't plug Derrick Johnson here, who I expect to be the team MVP defensively. "Red Letter" Game: Denver Broncos. The Donkeys will venture inside the unfriendly confines of Arrowhead Stadium come Week Four. The Chiefs got embarrassed by the Orange and Navy twice last year, and will be hellbent on revenge. Expect the Red and Gold to be fired up for this rivalry game. Projected Record/Outlook: Unfortunately, I only expect the Chiefs to win five or six games max. Yes, the schedule is easy, but this is one of the youngest teams in the league. It's also a team with a new, young QB and a new offensive coordinator in Chan Gailey. I expect some flashes of brilliance, but don't expect to see those flashes nearly as often as the growing pains. The schedule also starts out extremely unfavorably, with a road game in--GULP!--Foxboro. Parting Smack: Denver Broncos: We were also interested in OT Ryan Clady, until we saw that he basically tanked his Wonderlic. He actually would have scored a 14 on the test instead of 13, but he spelled his last name with two "Ds" accidentally. As for their receiving corps, what a mess. Darrell Jackson? That guy could drop a newborn baby in the delivery room. Keary Colbert? He hardly played in Carolina even when Steve Smith was hurt? Brandon Stokley? He had one good game-Thanksgiving day about four years ago. Must have been white boy day. Brandon Marshall? Hopefully there won't be any McDonald's bags on the field this season--I'm lovin' it! Samie Parker? After watching him screw up for us for years, this will be a nice change. I wouldn't trade D-Bowe for the whole lot. Is it just me, or does Jay Cutler look like he has Down syndrome? He did carve us up last year a little bit, though. That might be more difficult without Travis Henry around. I think ol' Horse Face, aka Mike Shanahan, took those who say the Broncos can just put anyone back there a little too literally. I'm actually hoping they have as bad of a season as I'm expecting, and ownership cans his ass. Oakland Raiders: Despite how good Broncos and Chargers fans think their respective teams are, this is the only AFC West squad that has made a Super Bowl appearance since the dawn of the new Millennium. Too bad they've won like a dozen games since. Is spending a bajillion dollars on Javon Walker and Tommy Kelly really going to get the Crypt Keeper and his boy wonder coach back to the Promised Land? I don't think so. I do like Run DMC, but if Lane Kiffin is Robin, JaMarcus Russell is Fatman. Did he eat Daunte Culpepper? Now they've signed Greg Wesley? Were they trying to one-up the Broncos on the pathetic Parker signing? What's next, the Bolts signing Kendrell Bell? I do like Nnamdi Asomugha, but it pisses me off that I have to look up his name every time. I also do like DeAngelo Hall, but not for a quarter of the U.S. deficit. You've got to give it to Al, however, he ain't trying to take any of that money with him when he checks out. Not that I admire how he's spent his change, but I do admire owners who aren't frugal. I'll give him that. San Diego Chargers: They bitch and bitch and bitch about Marty Schottenheimer, then go out and sign...Norv Turner? That's like bitching about Cuba Gooding Jr.'s acting only to replace him with L.L. Cool J. WTF? Marty, if Carl does end up getting canned, his office has your name on it. As far as I'm concerned, anyway. As a KSU fan, I love me some Darren Sproles. But isn't L.T. a bit of a crybaby? None of that on my fantasy team. Not seeing Michael Turner over on the sidelines will be nice, but I'm not sure Sproles isn't better, especially with back-up touches. I'm actually thinking L.T. might get hurt this year. Not that I'd wish that on anybody, but every running back has to visit the M*A*S*H unit eventually. Even him. As for the defense, San Diegians better hope those guys are taking their Vitamin S again. After all, Luis Castillo just got a huge raise, and they wouldn't want to see Shawne Merriman get punked by a little guy like MJD again. That was embarrassing, son. Is Vincent Jackson finally going to break out this year? Yeah? Really? I almost actually believe you this time. - Adam Best
Original Story:
http://arrowheadaddict.com/
THE BACKYARD
BEST OF MAXIM
NFL News

Delivered to your inbox

You'll also receive Yardbarker's daily Top 10, featuring the best sports stories from around the web. Customize your newsletter to get articles on your favorite sports and teams. And the best part? It's free!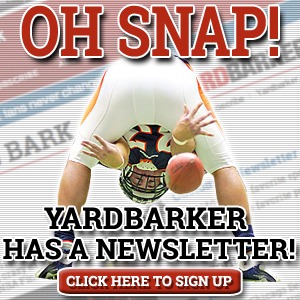 Latest Rumors
The Backyard

Today's Best Stuff

For Bloggers

Join the Yardbarker Network for more promotion, traffic, and money.

Company Info

Help

What is Yardbarker?

Yardbarker is the largest network of sports blogs and pro athlete blogs on the web. This site is the hub of the Yardbarker Network, where our editors and algorithms curate the best sports content from our network and beyond.