Found January 29, 2013 on Midwest Sports Fans:
From Midwest Sports Fans:
Sean J. Taylor of Facebook's Data Science department put together this nifty map of the United States showing NFL team loyalty, county-by-county, according to Facebook likes:
For some reason, South Carolina really likes the Pittsburgh Steelers.
The map, which shows the most-liked team in each county, can be a bit confusing because of the need to use 32 colors. The Cowboys, Colts, and Patriots, for instance, are all shades of gray; the Bears and Giants are very similar shades of blue; and the Vikings and Ravens are nearly identical purples.
By my count, there are 10 states in which every county favors the same team: the Vikings in Minnesota, Packers in Wisconsin, Saints in Louisiana, Broncos in Wyoming, and Steelers in Hawaii (?) account for half of those. The rest belong to the Patriots, who have unanimous support in five of the six New England states. (It helps when your team is named for a region of small states.)
Taylor then broke down Facebook likes for the two teams in the Super Bowl and created this map showing which counties support the 49ers and which support the Ravens:
Granted, there are no doubt millions of football fans who have a preference in Sunday's game but wouldn't identify themselves as fans of either team, or bother to like either team on Facebook.
Taylor's research also looks at when teams get most of their likes and examines friendships between fans. Packers fans, for instance, tend to have a lot of Facebook friends who are Bears fans. (It's great to know that people can set aside their differences long enough to accept each other's friend requests.)
Original Story:
http://www.midwestsportsfans.com/2013...
THE BACKYARD
BEST OF MAXIM
RELATED ARTICLES
Pittsburgh Steelers former wide receiver Hines Ward wanted to play another season and could see the Steelers young receivers needed a leader, but the team felt he could no longer perform at a high level. Ward says the receivers youth is a big reason the Steelers went 8-8 and missed the playoffs in 2012. 
The hiring of Jack Bicknell Jr. by the Pittsburgh Steelers Tuesday as their new offensive line coach means that we can probably expect to see a scheme slanted more towards zone blocking in 2013. The Steelers primarily used a man/power scheme the last several years under the tutelage of Sean Kugler, who left to become the head coach of UTEP following the season, and that included...
Bob Labriola of steelers.com just completed his first interview with new offensive line coach Jack Bicknell Jr. on Tuesday and it included several great questions and answers. Bicknell was asked by Labriola during the interview what blocking scheme he preferred. "You have to be able to be multiple," said Bicknell. "It depends on what you have offensively and...
The Pittsburgh Steelers continue their offseason moves, focusing on Redskins special-teams coach Danny Smith, who has spent 8 years in Washington, according to Ed Bouchette of the Pittsburgh Post-Gazette. #Steelers get permission from Redskins to talk to their ST coach Danny Smith a Pgh native — Ed Bouchette (@EdBouchette) January 28, 2013 Smith is a Pittsburgh native, and...
 Pittsburgh Steelers wide receiver Plaxico Burress is throwing a Super Bowl bash. You may remember Burress as the guy who caught the game-winning touchdown in Super Bowl XLII, which propelled the Giants to an improbable 17-14 victory over the heavily-favored Patriots. Still, others may remember the 35-year old as the guy who accidentally shot himself in the thigh in November 2008...
The Pittsburgh Steelers announced on Tuesday that they had hired former Kansas City Chiefs offensive line coach Jack Bicknell Jr. to be their next offensive line coach and that hiring means that the vacant special teams coach position is the only one that is left to be filled. The Steelers were granted permission on Monday to interview Danny Smith, the special teams coach of the...
Hines Ward always had an electric personality while playing football on Sundays for the Pittsburgh Steelers. It seemed whether he scored a touchdown or got tackled Ward was always smiling. The wide receiver loved playing in football and you could tell he gave everything he had each game. Since retiring from the NFL, Ward has been busy being an analyst on NBC's Football in America...
The Pittsburgh Steelers added another player to their offseason roster on Monday as it was announced that wide receiver Kashif Moore has been signed to a reserve/future contract for the 2013 season. Moore was originally signed as an undrafted free agent by the Cincinnati Bengals out of University of Connecticut following the 2012 draft. The Bengals, however, released him after training...
Hines Ward hasn't let the grass grow under his feet in retirement, that's for sure. In addition to his analyst gig for NBC's Football Night in America, the former Steelers receiver has been showing off his cooking prowess on the Food Network's Rachael vs. Guy: Celebrity Cook-Off, and has dabbled in acting a bit, taking a role in the blockbuster The Dark Knight Rises. Granted...
The Pittsburgh Steelers have named their next coach of the Offensive Line. Jack Bicknell Jr., who coached the line for the Kansas City Chiefs this year during the "Year of the Non-Quarterback". The Chiefs had a great season rushing the ball, ranking fifth and averaging just under 150 yards a game. Kansas City ranked last in the league in passing, but had no quarterback...
Even George Bush is like damn homie…. There are various reasons why players in general don't like Roger Goodell, but I think it is summed up best by Steelers James Harrison. "I think it's obvious that I disapprove." Harrison has been fined more than $100,000 in his career for hits the NFL has deemed against the rules. "I feel like what he's doing is not totally for...
So Facebook knows way too much about our lives, I'm sure...and in this case they started mining their data for good instead of evil. And by "good", I mean "good thing we know which counties in Ohio are occupied by cockroaches Pittsburgh Steelers fans. Obviously, the Browns dominate the smart part of the state, and the Bengals cover the southeast. But Pittsburgh...
Steelers News

Delivered to your inbox

You'll also receive Yardbarker's daily Top 10, featuring the best sports stories from around the web. Customize your newsletter to get articles on your favorite sports and teams. And the best part? It's free!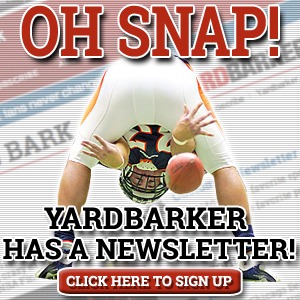 Latest Rumors
Best of Yardbarker

Today's Best Stuff

For Bloggers

Join the Yardbarker Network for more promotion, traffic, and money.

Company Info

Help

What is Yardbarker?

Yardbarker is the largest network of sports blogs and pro athlete blogs on the web. This site is the hub of the Yardbarker Network, where our editors and algorithms curate the best sports content from our network and beyond.