Found July 16, 2013 on Blog So Hard Sports:
As we approach the 2013 Redskins Training Camp in 9 days, I realize this camp will have 3 main focuses. 1. Of course, Robert Griffin III and his recovery from knee surgery. 2. Brian Orakpo and his recovery from two pectoral tears within 9 months. 3. The year of the safety. Heading into the 2013 off-season, safety was the biggest position of need for the Redskins. If RG3 and Orakpo are healthy, Redskins fans and the media's focus will turn solely to our safeties. Specifically, they will focus on our two rookie safeties, fourth round selection Phillip Thomas from Fresno State and sixth round selection Bacarri Rambo from Georgia. We have already focused on each of these rookie free safeties and their chances of starting. This article is to caution Redskins fans to not compare Thomas or Rambo to the late Sean Taylor. Redskins fans have done this in the past with every young safety the team drafted. Specifically, after Sean's death in 2007 and in 2008 with Laron Landry and Reed Doughty. The media and Redskins fans need to be patient with the young safeties' developments. Landry and Doughty were not given the chance to develop by most Redskins fans. As young players if they made a mistake, you often heard comments referencing back to Sean Taylor, such as, "That wouldn't have happened if Sean was here" or "Sean would've made that play like he did when we played…." That comparison wasn't fair to Landry and Doughty and I hope we don't hear similar comments again. Fans have to understand that Sean Taylor was a once in a generation type safety and the likelihood of us seeing another safety that dominant and talented in a Redskins jersey again is slim. We all know the legend that was Sean Taylor. He was built like a linebacker, ran like a corner back and played safety with a tenacity rarely seen in the game's history. Not only was Sean a bone crusher or heat seaking missile coming at running backs and receivers from his free safety position but he was an elite playmaker. He arguably had the best range for a safety in the NFL and had a knack of stripping ball carriers of the ball which was unmatched in the rest of the league. It is true that Sean Taylor's memory and legend will forever remain engraved in our memories, but we must not forget that he too had growing pains as a young player and we must allow our other rookie safeties to experience some growing pains as well. Even Sean Taylor took some time to develop in the league from a college superstar to an NFL superstar, it was not an immediate transition. Rookies will play like rookies, and the same could be said for Taylor. Sometimes he missed assignments, took poor angles, didn't wrap up on tackles and at times was too aggressive. Patience is the key for fans, it takes time for a rookie or a young football player to refine their talent and college skills and be able to execute what you've learned in practice into an NFL game. Thomas and Rambo will experience these same growing pains as they develop from college players into safeties at the NFL level. We have to remember to focus on each players own development and be patient with them. We have to look for small improvements in their play.  We want to see how they take what they've  learned from mini camps and OTAs to more intense practices with pads during training camp. We want to focus on how they handle live game speed, how they fit the scheme and how they can cover current wide receivers or tight ends in space. So I caution Redskins fans to refrain from  comparing the new talent to the legend of Sean Taylor. Sean's legend will forever live on but his legend has already surpassed what he did in his short NFL career on the field. Let's let Thomas and Rambo make names for themselves like we've allowed Orakpo, Kerrigan, RG3 and Alfred Morris to do instead of comparing them to a legend that no player will ever live up to in most Redskins fans eyes.   Related posts: Which Rookie Safety Has The Best Chance Of Starting For The Redskins? Bacarri Rambo Is Making His First Impression On The Redskins Count Redskins Training Camp Battles: Defensive Backs
Original Story:
http://blogsohardsports.com/redskins/...
THE BACKYARD
BEST OF MAXIM
RELATED ARTICLES
Redskins.com According to the Washington Post, Redskins quarterback Robert Griffin III has his own display at the Pro Football Hall of Fame in Canton, Ohio. "The jersey and cleats worn Monday night by Redskins quarterback Robert Griffin III are headed to the Pro Football Hall of Fame," The Post reported in December. "Griffin set the NFL's single-season rushing record for...
I would like to start by saying everybody here at HTTR4LIFE.com would like to apologize for the site being down in the last 24 hours, our site was in fact, hacked. During the incident we lost all of the sites content that was added since June 8th, which included several posts that dealt with roster [...]
The 2012-13 season was one to remember for fans of the Washington Redskins as many records fell, two rookie stars emerged, and the Redskins won he NFC East for the first time since 1999. The guys over at NFL Films put together a nice video piece they titled "Our Will, Our Way" a Redskins year [...]
In the modern day NFL players are always to get as much money as they can, which makes plenty of sense. Former Redskins quarterback Sammy Baugh, who also played defensive back by the way, played in the NFL from 1937-1952 and was only paid $1 per game according to the contract below.   As Down and Distance points out, Baugh was actually only paid 75 cents a game and then the remaining...
Washington Redskins tight end Chris Cooley, 31, has retired from the NFL and will join Washington Redskins' radio broadcasts as an analyst, according to the Washington Post. An official announcement regarding his hiring as an analyst is scheduled [..]
Longtime Washington Redskins tight end Chris Cooley will work on the team's radio broadcasts. The Redskins Radio Network announced Tuesday that Cooley will provide analysis starting with the first preseason game next month. Cooley has not formally announced his retirement as a player, but he was not expected to return after nine seasons with the Redskins. Cooley was a third...
Chris Cooley was definitely a different type of character for the Redskins as a tight end, and it will be interesting to see what type of character he is off the field now. Around The League is reporting that Cooley has announced his retirement today from the NFL, and will join the Redskins radio team. Cooley was a two-time Pro Bowl tight end, and played nine seasons in Washington...
Whenever Robert Griffin III gets his knee examined to determine whether or not he will be ready to start camp it appears the news will likely be good. Chris Russell of ESPN 980, cited a source who is "very involved on the medical side", posted on Twitter "every test they give him, every path they [...]
Redskins tight end Chris Cooley will retire from football, according to the Washington Post.Fantasy Spin:Cooley was a fantasy-worthy tight end from 2005-2008 averaging 785 yards and 5.5 touchdowns per season over the span, but bad knees forced him to watch most games from the sidelines between 2009-2012.
Redskins News

Delivered to your inbox

You'll also receive Yardbarker's daily Top 10, featuring the best sports stories from around the web. Customize your newsletter to get articles on your favorite sports and teams. And the best part? It's free!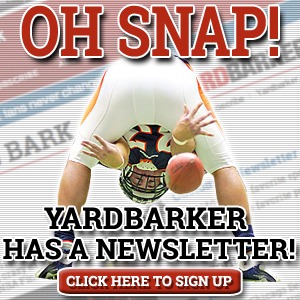 Latest Rumors
Best of Yardbarker

Today's Best Stuff

For Bloggers

Join the Yardbarker Network for more promotion, traffic, and money.

Company Info

Help

What is Yardbarker?

Yardbarker is the largest network of sports blogs and pro athlete blogs on the web. This site is the hub of the Yardbarker Network, where our editors and algorithms curate the best sports content from our network and beyond.