Found January 20, 2013 on SF Lunatic Fringe:
PLAYERS:
Jim Harbaugh
,
John Harbaugh
,
Ray Lewis
,
Joe Flacco
TEAMS:
Baltimore Ravens
,
Oakland Raiders
,
San Francisco 49ers
,
Detroit Lions
,
Jacksonville Jaguars
,
Houston Texans
,
Cleveland Browns
,
New York Jets
,
Tampa Bay Buccaneers
,
New Orleans Saints
,
San Francisco Giants
Here's a bit of trivia I did not know about the San Francisco 49ers until this postseason, when I looked it up: With a 5-0 record, the 49ers are the only team that has played in more than one Super Bowl, and won every time.  There are only four teams that have played in just one Super Bowl, and won that only time: the New York Jets (1968), the Tampa Bay Buccaneers (2002), the New Orleans Saints (2009)…and the Baltimore Ravens (2000). So, this year, one team is falling from the ranks of the Super Bowl unbeatens. But that probably isn't the storyline you've heard about in the less-than-24 hours since we found out the teams going, is it? (Quick Quiz…name the 4 NFL franchises that have yet to go to a Super Bowl.) The Harbaugh-bowl…wow. How important are coaches in a Super Bowl?  Maybe not as important as the players, but…well, ask the Oakland Raiders how it worked out against their former coach John Gruden in that 2002 Super Bowl against the Buccaneers. It also matters because of how big an influence Jim Harbaugh has been on the 49ers.  Mike Nolan was an intelligent coach.  Mike Singletary was an incredible leader.  Neither came close to doing what Harbaugh has.  He has innovated and excited, and although he built off of things the other two coaches had done, he made the kind of turnaround in a team you wouldn't expect. It's not that John Harbaugh has been a bad coach himself…but he hasn't been all that exciting.  He wasn't a head coach in college, like Jim was.  He spent many years as an assistant.  And even though he's been successful as a head coach, with five playoff appearances in five years, and four times leading his team to double-digit wins, one almost feels that it was because he inherited what was already a good team.  And they've never been dominant under his term; and only once in five years has he managed to get a playoff bye. Still, though, it's going to be the coaches you hear about most.  Behind that, it'll be Ray Lewis, and then the quarterbacks, between the rather green Kaepernick and the untrusted Joe Flacco.  Even 49er fans might get sick of those storylines after two weeks. What you probably won't hear?  That this is the second time that the 49ers and the San Francisco Giants each made it to their championships in the same season.  However, of course, last time the Giants couldn't hold up their end of the bargain, in 1989. All in all, this is going to be a fun couple of weeks.  It's been a while since I've been able to get into Super Bowl mode for a local team…and for the record? San Francisco 27, Baltimore 23. (Quiz Answer: The four teams never to appear in a Super Bowl?  The Detroit Lions, the Jacksonville Jaguars, the Houston Texans…and the Cleveland Browns, whose fans are probably still fuming that Baltimore made it, again.)
Original Story:
http://www.sflunaticfringe.com/2013/0...
THE BACKYARD
BEST OF MAXIM
RELATED ARTICLES
Members of the Harbaugh family will be getting plenty of media attention over the next couple of weeks, with brothers John and Jim coaching on opposite sides of the field as the Baltimore Ravens take on the San Francisco 49ers in Super Bowl XLVII. One of those family members is John and Jim's younger sister, Joanie, who happens to be married to Indiana Hoosiers men's basketball...
FLIPPING HIS LID
On a third down play late in the fourth quarter, the Atlanta Falcons seemingly completed a pass to move the chains. The ball seemed to touch the ground, and it was challenged by Jim Harbaugh. The call was upheld, and Harbaugh treated us to one of the best reactions to a call in recent memory. The 49ers eventually forced the Falcons to turn the ball over on downs, and the 49ers...
Baltimore Ravens head coach John Harbaugh told the media that he never dreamed of being about to face off against his brother in the Super Bowl. "I don't know if we had a dream this big," Harbaugh said. "We had a few dreams, we had a few fights. We had a few arguments. We will try to stay out of that business. We'll let the two teams duke it out as much as possible."...
"Football is a game of inches," is one of the oldest sayings in Football. This embodies what the NFL is about. Little to no separation. A team, player or coach may be at the top of their game but the difference between themselves and others is small. So minute that over the years, timing and luck at times have more to do with success than preparation and execution. Because at...
San Francisco 49ers head coach Jim Harbaugh told the media today that he wants wide receiver Randy Moss to come back next season. Moss recorded 28 receptions for 434 yards and 3 touchdowns during the regular season. I'm not sure why Harbaugh wants Moss back, there are better receivers in free agency then Moss right now. Moss had no comment when asked about Harbaugh wanting him...
Look for lots of Harbaughs in New Orleans next week. Two of them will be working the sidelines in the Super Bowl. Oh, brother! John Harbaugh and his Baltimore Ravens set up a family reunion in the Big Easy, shutting down the New England Patriots 28-13 Sunday in the AFC championship game. Waiting for them will be his younger brother Jim and the San Francisco 49ers, who beat Atlanta...
Congrats to the Baltimore Ravens and San Francisco 49ers, who both defeated higher-seeded opponents on the road to punch tickets to the Super Bowl. Here's our initial preview of the biggest matchup on the planet, which kicks off 332 hours from now. Two storylines you're going to be sick of by Wednesday: 1. Jim Harbaugh and John Harbaugh are the first brothers to hold...
FOXBOROUGH, Mass. -- It is going to be a Harbaugh vs. Harbaugh Super Bowl. Hours after Jim Harbaugh directed the San Francisco 49ers into the NFL's title game, his brother John's Baltimore Ravens upset the New England Patriots with a second-half rally that produced a 28-13 win Sunday in the AFC Championship Game. The coaching brothers and their teams will square off in...
Baltimore Ravens head coach John Harbaugh didn't hesitate when asked about the comment his wide receiver Anquan Boldin made. When questioned earlier in the week about his team's rematch with the New England Patriots, Boldin simply stated "We'll win." A quick and light comment, yet it carried so much weight. Boldin basically guaranteed a win for the team....
49ers Jim Harbaugh announced that David Akers will remain the team's kicker despite missing a field goal against the Falcons. (NFLTR) Bengals Bengals may look to the draft to find a backup quarterback for next season. (NFLTR) Browns Browns CEO Joe Banner mentioned that he viewed hiring Chip Kelly as their HC as too big of a "gamble." (Sports Illustrated) Cardinals...
NFL News

Delivered to your inbox

You'll also receive Yardbarker's daily Top 10, featuring the best sports stories from around the web. Customize your newsletter to get articles on your favorite sports and teams. And the best part? It's free!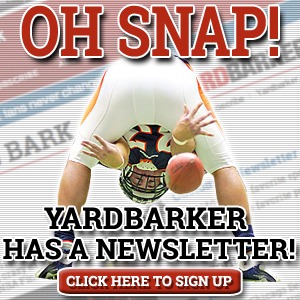 Latest Rumors
Best of Yardbarker

Today's Best Stuff

For Bloggers

Join the Yardbarker Network for more promotion, traffic, and money.

Company Info

Help

What is Yardbarker?

Yardbarker is the largest network of sports blogs and pro athlete blogs on the web. This site is the hub of the Yardbarker Network, where our editors and algorithms curate the best sports content from our network and beyond.