Found November 18, 2011 on Turn On The Jets:
PLAYERS:
Mark Sanchez
,
Eli Manning
,
Brian Schottenheimer
,
Chad Pennington
,
Kellen Clemens
,
Brett Favre
,
Bill Belichick
,
Dustin Keller
,
Shonn Greene
TEAMS:
New York Jets
,
New York Giants
,
Miami Dolphins
,
Minnesota Vikings
,
New England Patriots
Let's start with something comforting
Despite a recent rough patch of games, Mark Sanchez still is on the exact same pace that Eli Manning was on to start his career and we see how Eli has turned out. Sanchez is not without blame, he is inconsistent, inaccurate and gets jittery in the pocket.
However, I am still of the belief that he has the physical tools and leadership abilities to be the quarterback on a Super Bowl winning team. Everything he has accomplished the past two years doesn't get swept under the rug. He needs to get better, now…but the potential is there to be a good to very good NFL quarterback.
I haven't went crazy on the Brian Schottenheimer hate bandwagon but it is now clearer than ever that he needs to be fired at the season's end, if not immediately. This is a team that has been thoroughly mediocre on offense through six years and four quarterbacks (Chad Pennington, Kellen Clemens, Brett Favre, Mark Sanchez) with Schottenheimer designing and calling plays.
It is time to see if Mark Sanchez can improve in a new system. A system that somewhat resembles a NFL offense.
Right now the Jets offense is completely predictable and limited. I have watched every snap of the Schottenheimer era and I can call out exactly what the Jets are running at least 25-30 times a game depending on the situation, formation, and field position. I am a digital salesperson, who runs a website on the side that played Division 3 football. What do you think people like Bill Belichick can figure out after breaking down Jets game tape?
Maybe this is a slight exaggeration but at the moment it appears the only two pass plays the Jets run are slants and the occasional boot to Dustin Keller that everybody always sees coming for 3 yards. They refuse to push the ball vertically down the field, which allows defenses to sit on the Jets short routes and jump them. I know Mark Sanchez has the ability to complete long passes down the field, I have seen him do it plenty of times. Where are the double moves? Where are the deep posts?
The problems go beyond Schottenheimer and Sanchez, starting with an offensive line that can't consistently protect and a very average rushing attack.
The Jets need a new right tackle. They need a new backup tight end. They need a tall, vertical threat at receiver. They honestly may need a new primary running back because I am not sold on Shonn Greene yet. When is a runner on this team going to break a 50 yard run? When is somebody going to take a screen pass for 70?
However, first and foremost they need a new offensive coordinator and a complete change of direction. Schottenheimer is going to finish the season out and that is what it is. We can only hope people like Bill Callahan and Tom Moore can bring some type of influence that creates an offense that resembles ones like others in the NFL.
Original Story:
http://turnonthejets.com/2011/11/a-ve...
THE BACKYARD
BEST OF MAXIM
RELATED ARTICLES
For Mark Sanchez, two AFC championship games in his first two years as a pro hasn't been enough to silence his doubters. Tim Tebow took over a 1-4 Broncos team that is now 4-5 under his leadership. Instead of admiring Denver's re-entry back into the AFC West race since Tebow got behind center, detractors question his ability to throw the football. When the Jets and Broncos take...
He was once nicknamed "The Sanchize" during his rookie season because of his importance to the team. Now, the New York Jets might just want to sanitize themselves from third-year quarterback Mark Sanchez after another mistake cost them a win on Thursday night in a 17-13 loss to the Denver Broncos. As big as Broncos quarterback Tim Tebow's 20 yard touchdown run with...
Thursday night's Jets-Broncos game (on NFL Network) features an intriguing confluence at QB between the raw emotion, and ability, of Tim Tebow and the heavily scrutinized Mark Sanchez.
On Thursday night, the Broncos defeated the Jets, thanks in part to a strong defensive effort led by rookie linebacker Von Miller, who regularly harassed New York quarterback Mark Sanchez. On Friday night, Miller joined NBC SportsTalk to discuss the victory. But Miller may eventually hear from the league office.  Careful examination of three hits…
29. That is the number of points Eli Manning and the New York Giants put up on the Eagles in Week 3. It was a number large enough to end the Birds' six- game win streak against Big Blue. It was also the second of what would become four consecutive losses for the Birds. But [...]
Well I can't say I didn't see this coming, a short week after a deflating Sunday night loss where there were a few key injuries incurred but I'm not going to make this an "I told you so" type of post because those are unproductive and douchey (doo-shee). However, I am here to assess our chances of righting the ship and salvaging what has been a season characterized by...
Eli Manning has had recent success against the Eagles secondary, which has been surprisingly vulnerable of late. He is among our favorable matchup picks in Week 11.
EAST RUTHERFORD, N.J. -- New York Giants quarterback Eli Manning indicated that older brother Peyton's recovery from neck surgery might allow him to return to the Indianapolis Colts before the end of this season.
Interesting Alex Smith news conference today–he hasn't been too willing to chat about the perception of his rise… He talked a little bit about it today. Of course, he's never going to call himself an "elite QB," which is wise. Eli Manning might be an elite QB but... Continue reading...
By Dan Zeigarnik. Patriots Daily Staff What a whirlwind the last 3 weeks have been. I know that everyone talks about the ups and downs of an NFL season, but I don't quite think that having our fans yo-yoing like an ADHD sugar-laden kid is what we had in mind. "It is what it is." Just a week ago all the focus was on the atrocious losses to Pittsburgh and Giants. The Patriots...
NFL News

Delivered to your inbox

You'll also receive Yardbarker's daily Top 10, featuring the best sports stories from around the web. Customize your newsletter to get articles on your favorite sports and teams. And the best part? It's free!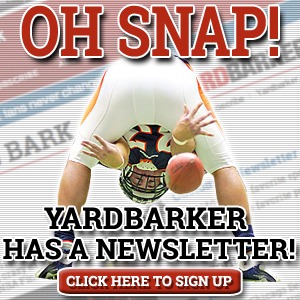 Latest Rumors
The Backyard

Today's Best Stuff

For Bloggers

Join the Yardbarker Network for more promotion, traffic, and money.

Company Info

Help

What is Yardbarker?

Yardbarker is the largest network of sports blogs and pro athlete blogs on the web. This site is the hub of the Yardbarker Network, where our editors and algorithms curate the best sports content from our network and beyond.