Posted January 08, 2013 on AP on Fox
PLAYERS:
Vernon Davis
,
Roman Harper
,
Alex Smith
,
Colin Kaepernick
,
Jim Harbaugh
,
Michael Crabtree
,
Terrell Owens
,
Delanie Walker
TEAMS:
San Francisco 49ers
,
New Orleans Saints
,
Chicago Bears
,
Green Bay Packers
From the way Vernon Davis struts and smiles around the San Francisco 49ers' locker room, it might be hard to tell the tight end has endured a ''stressful season.'' Not once has he complained or pouted about his limited touches. Davis even laughs about how he might have reacted in his younger days if the ball so rarely came his way. ''Coaches wouldn't like me,'' he said, chuckling. A year ago this week, Davis had the defining moment of his career in a thrilling 36-32 playoff win over New Orleans. He made a leaping 14-yard touchdown catch while getting smashed by safety Roman Harper, a play Davis dubbed ''The Grab,'' which sent the tight end running to the sideline in tears and the 49ers to the NFC championship game. A year later, Davis enters San Francisco's NFC divisional playoff against the Green Bay Packers on Saturday night as somewhat of a mystery. He's perhaps the most proven and prolific threat for the 49ers, as he showed in both games last January, though his role has diminished in the last six weeks. Davis finished with 41 receptions for 548 yards and five touchdowns this season. All three are his lowest since he caught 31 passes for 358 yards and two TDs in 2008. ''It is a different feeling for me because it's been a tough season as far as just the feeling of being involved,'' said Davis, now 28 years old. ''To me, it's not a bad thing, because it's something I had to get used to this year. Each and every season in the past, I'm used to helping the team in ways where I'm just catching balls and things like that. This year's been a little bit different. It just feels different going into these playoffs, as far as my role and things like that. It's not a bad thing, I'm not mad at it. That's just how it is sometimes. It takes a little getting used to.'' Davis has tried to stay focused, not frustrated, and he's happy so long as San Francisco (11-4-1) keeps on winning. Anytime he begins to think otherwise, Davis said, he thinks back to that final catch against the Saints as the shining example of how he might be called upon at any moment. Hard to believe considering how his season started out, catching four touchdown passes from Alex Smith in the first three games. He didn't score again until Colin Kaepernick's first start in Week 11, when he hauled in six receptions for 83 yards and a TD in a Monday night victory over the Chicago Bears that had Davis so giddy he said it felt like ''someone took the handcuffs off me.'' In the six games since, the chemistry between Kaepernick and Davis has evaporated. Davis has six catches and no touchdowns during the span and he left early in a Week 16 loss against Seattle because of a concussion that also limited him in the regular-season finale against Arizona. Even some of the most faithful and famous 49ers have questioned why coach Jim Harbaugh and Kaepernick can't get Davis the ball more. ''He's just not human on the football field and I don't understand why he's not being more involved,'' Hall of Fame wide receiver Jerry Rice said on KGMZ-FM radio in the Bay Area last Friday. ''You would think they would design more plays for Vernon Davis. But I think they've got to get him more involved if they want to get to the Super Bowl in New Orleans.'' Harbaugh has repeatedly said Davis remains an integral part of the game plan each week, touting the tight end's pass protection and blocking downfield. He insists Davis draws double coverages on almost every play, freeing up others to make plays. ''They're wary of getting beat by Vernon Davis,'' Harbaugh said. ''I think that's the biggest, greatest share.'' Davis' teammates have been the biggest beneficiaries. Michael Crabtree had a career-best 1,105 yards receiving, including a single-game high 172 yards on eight receptions in the win over Arizona. Crabtree is San Francisco's first wide receiver to eclipse 1,000 yards in a season since Terrell Owens in 2003. Tight end Delanie Walker also had a career-high 344 yards receiving to go with three touchdowns on 21 catches. He is quick to heap praise on what Davis does each game, no matter how many passes his teammate catches. After breaking his jaw in two places at Seattle on Dec. 24, 2011, Walker remembers watching from the sideline as Davis caught seven passes for 180 yards and two touchdowns in the win over the Saints last January, including the final one on a play called ''Vernon Post'' that allowed a recovered Walker to return for the NFC title game. ''Vernon makes crucial-moment catches like that,'' Walker said. ''When I saw that catch, I was down there on the field running on the field and yelling. I was probably more excited than he was, because now I had a chance to play in the playoffs. I looked at it and I thanked him, `Thank you, bro. Now I can come back.''' Davis added 112 yards receiving and two TDs in San Francisco's 20-17 overtime loss to the Giants a week later, when Crabtree's one catch for 3 yards accounted for all of the production from 49ers wide receivers. But Davis also had a pair of 15-yard personal foul penalties in the game, one for jumping up onto a podium during a TD celebration and another for pushing New York players in a post-play scrum. That's still far from the volatile manner Davis displayed so often in his first few years after the 49ers drafted him sixth overall out of Maryland in 2006. Davis learned from his biggest blunder back in 2008, when former coach Mike Singletary sent the young, emotional tight end to the locker room early during a game against Seattle. Davis then became the focus of Singletary's infamous ''I want winners!'' rant following the 34-13 home loss. Davis admits he ''didn't know how to handle things'' those days. He said he was trying to mimic players such as Owens, a comparable talent in athleticism at their respective positions, instead of creating his own path to 49ers stardom. About the only selfish hiccup Davis has had this season was of a playful nature. In San Francisco's 30-22 win at Green Bay in Week 1, he failed in trying to dunk over the crossbar after a touchdown. Teammates teased him afterward - so he shot the ball over the crossbar the next week against Detroit. Now Davis only hopes for another chance to celebrate in the end zone in these playoffs. ''I'll just wait for my opportunities. I'm sure they will come,'' he said. ''I said the same thing last year, even though I didn't get the ball as much as I wanted last year, I said my opportunities will come. And maybe I'll get them this week. But you never know. If we can continue to get Crabtree involved and he can help us the way he did last week, then I'm all for it.'' --- AP Sports Writer Janie McCauley contributed. --- Online: http://pro32.ap.org/poll and http://twitter.com/AP-NFL
Original Story:
http://msn.foxsports.com/nfl/story/A-...
THE BACKYARD
BEST OF MAXIM
RELATED ARTICLES
Vernon Davis in the 2011 playoffs came up big, playing his best games in the spotlight. However, in 2012 after a hot start for the talented tight end, teams began game planning for him forcing the 49ers offensive minds to start utilizing other options. Jim Harbaugh and the 49ers know they are going to need Davis going forward since he hasn't been much of a factor the past 11...
From the way Vernon Davis struts and smiles around the San Francisco 49ers' locker room, it might be hard to tell the tight end has endured a "stressful season."
(Eds: APNewsNow. Will be updated. With AP Photos.) By JANIE McCAULEY AP Sports Writer Andy Lee's nerves came on a full day before San Francisco's playoff opener a year ago, not just leading up to his first punt as is typical each game. Tight end Vernon Davis was surprised at his butterflies stepping onto the NFL's big stage for the first time, too. Last January, most...
After a Facebook photo from Billy Cundiff's workout at Candlestick Park on Monday depicted a less-than-immaculate turf, the 49ers want you to know the stadium's playing surface doesn't totally suck; it only kind of sucks. Here's Niners long snapper Brian Jennings (who was there for Cundiff's workout), via BANG's Cam Inman: "There's not a lot of grass on the field...
GREEN BAY, Wis. -- San Francisco 49ers coach Jim Harbaugh wasn't interested in talking specifics leading into Saturday night's playoff matchup with the Green Bay Packers. He wouldn't discuss the 49ers' kicker battle or how veteran David Akers is handling the competition, he responded in a Twitter-friendly 140 characters when asked about a 42-13 loss to the Seattle...
According to Eric Branch of Blog.sfgate.com, 49ers defensive coordinator Vic Fangio will evaluate his defensive end, Justin Smith, under close his supervision on Saturday evening. Fangio will pull Smith out of the Divisional playoff game if his defensive end is not performing up-to-par. "If, from my point of view, he's not playing up to his standard or close to it, we'll put...
NFL Divisional Round: No.3 Green Bay Packers @ No.2 San Francisco 49ers Location: Candlestick Park, San Francisco, California Date: January 12th, 2013 8 PM EST Preview: This is the battle everyone was hoping for when the season started, it started in Week 1 when the 49ers edged out Green Bay in Lambeau 30-22. Now just  18 weeks later Packers QB Aaron Rodgers returns home to the...
The video is titled Packers vs 49ers Divsional Playoffs Hate Week and I have to say this may be one of the worst fan made videos ever. Enjoy…
GREEN BAY, Wis. -- The physicality of the San Francisco 49ers cannot be questioned. With a defense that ranked second this season in points allowed and third in yards allowed, the 49ers have one of the NFL's elite groups. The Green Bay Packers, on the other hand, are getting plenty of those questions leading into Saturday night's divisional round playoff game. It's been...
As the divisional round of the playoffs liftoff this Saturday evening, we'll be getting the exact match up I thought we would a few weeks ago; only the venue will be different. I thought the Pack had the second seed wrapped up, but instead they'll travel with the third seed in better weather conditions to face the team that got the second seed in the San Francisco 49ers at Candlestick...
NFL News

Delivered to your inbox

You'll also receive Yardbarker's daily Top 10, featuring the best sports stories from around the web. Customize your newsletter to get articles on your favorite sports and teams. And the best part? It's free!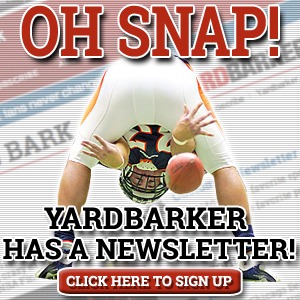 Latest Rumors
The Backyard

Today's Best Stuff

For Bloggers

Join the Yardbarker Network for more promotion, traffic, and money.

Company Info

Help

What is Yardbarker?

Yardbarker is the largest network of sports blogs and pro athlete blogs on the web. This site is the hub of the Yardbarker Network, where our editors and algorithms curate the best sports content from our network and beyond.