Found March 06, 2013 on This Given Sunday:
The NFL is in a constant state of change. That much has been clear for a some time now. The risk of injury has come to the forefront, and the days of wild, uncontrolled collisions are over. The NFL has adapted to a changing landscape that now involves constant lawsuits and concerned players. While giving a speech at the University of North Carolina, Goodell acknowledged the NFL's need to continue to adapt quickly to change if it wanted to continue its success. "If there's any single reason for the incredible success of the NFL, it's because we've never allowed ourselves to be complacent about anything," Goodell said. "There is a national conversation taking place about football. We welcome it. That's how we approach our jobs every day: Looking at changes to the game not as something to be feared, but as something we need to do as if the future of the game relies on it. Because it does. The risk of injury in football is well known, but throughout history, footb...
Original Story:
http://www.bloguin.com/thisgivensunda...
THE BACKYARD
BEST OF MAXIM
RELATED ARTICLES
NFL Commissioner Roger Goodell says the league will continue to do ''everything we can'' to make football safer. Goodell has talked a lot recently about player safety and he discussed it again Wednesday during a lecture and question-and-answer session at the department of exercise and sport science at the University of North Carolina. He's calling for '...
Roger Goodell takes a lot of heat for being stubborn and autocratic, but nobody considers that the NFL commissioner -- named by Sports Illustrated this week as the most powerful person in sports -- might actually just have a vision of football's future that is less arrogant than the majority of the game's supporters and participants.  I actually tend to believe that...
With all of the stiff penalties that NFL commissioner Roger Goodell has handed out many fines to players for violent hits because he obviously he's trying to make the game of football safer. According to ESPN The Magazine's Don Van Natta Jr., a close friend of Goodell's told him that he's terrified of an NFL player dying on the field.    "He's terrified of it,"...
  NFL Commissioner Roger Goodell has made it his business to make the game of football a safer game for the players. With new emphasis on safety and fining players for hits deemed excessively rough, Goodell has done his best to make sure nothing tragic ever happens on the field. But, football is a naturally violent game. And despite Goodell's best efforts, there is always a chance...
When you play at the game of thrones you win or you die. I'm not sure what S.I. is going for. Has Goodell slayed the competition to find his seat on the Iron Throne (or, in this case, the "Throne of Games")? Is this wishful thinking because they heard that the kings who sit the throne are repeatedly cut by the blades from which it's comprised? The thought of now calling Roger...
How do I juggle all these balls? Reports emerged this week of Roger Goodell admitting to friends that he was "terrified" that some day a player was going to die on the field due to the hard hitting nature of the sport. According to the NFL commissioner, the future of the game we love relies on changing it.. Roger has wasted very little time on his personal mission.During a speech...
TERRIFYING SCENARIO
A report says that Roger Goodell is terrified of a player dying in a game. It happened once in 1971, and thankfully hasn't happened since.
Roger Goodell is the commissioner of a sports league that pulls in billions of dollars in revenue every single year. He introduced a personal conduct policy for the league, he stands up to the players when he thinks they've done wrong, and he isn't afraid to levy punishments where he sees fit. But the one thing Goodell reportedly is fearful of is a death occurring on the field...
SI produced Game of Thrones inspired cover for NFL boss.
In a lengthy and excellent Outside the Lines piece on Roger Goodell, an interesting, but buried, tid bit jumps out at us: "In September the NBC Sports Network planned to run a piece produced by Sports Illustrated about spouses and caregivers of retired players. But in an email written a week before the piece was to air, a person involved in the production told a colleague...
Sports Illustrated has ranked the top 50 most powerful men and women in the world of sports, including Roger Goodell, David Stern and Michael Jordan.
NFL News

Delivered to your inbox

You'll also receive Yardbarker's daily Top 10, featuring the best sports stories from around the web. Customize your newsletter to get articles on your favorite sports and teams. And the best part? It's free!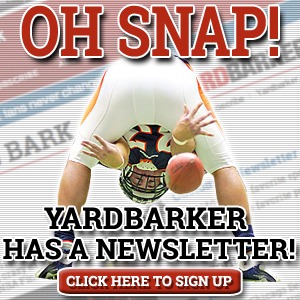 Latest Rumors
Best of Yardbarker

Today's Best Stuff

For Bloggers

Join the Yardbarker Network for more promotion, traffic, and money.

Company Info

Help

What is Yardbarker?

Yardbarker is the largest network of sports blogs and pro athlete blogs on the web. This site is the hub of the Yardbarker Network, where our editors and algorithms curate the best sports content from our network and beyond.