Found April 18, 2013 on Purple Jesus Diaries:
It feels like we've been fighting this battle for YEARS, but ultimately in 2011 we learned it didn't matter. I've been a pretty vocal proponent until that point about making sure we - as loyal fans! - did everything in our power to keep Minnesota Vikings running back Adrian Peterson off of the cover of the Madden NFL video game, because of conspiracies about a "Madden Curse." But the Peterson went and tore his knee up anyway without being on the cover, I peed a little bit, and life was awful. Then he had a record setting year after the fact, still not on the cover of Madden, so I don't know what's going on. Regardless, now Peterson is facing off against the great Barry Sanders to be featured on this year's Madden 25 (Anniversary, not year), and ... I don't know, I guess still vote for Sanders? Listen, don't get me wrong. I love Adrian Peterson. Clearly, a lot of other people do, too. He was one of like 64 old school and new school players that went head to head this year in a fan voting contest to pick who would be this year's Madden cover athlete. Peterson mopped the floor with all of his competition. He beat Robert Griffin III 70% to 30% for Christ sakes! And RGIII is the new poster boy in the NFL. Wasn't even close. In comparison, the Packers representative in this contest, Roid Matthews, only beat some numb nuts in his first opening round, then got out-voted by Andrew Luck. Haha! Matthews is like Gophers basketball. Awful. But despite Peterson's popularity, I'm just not willing to take the chance that this Madden Curse thing maybe isn't real. I mean, I don't even buy Madden games anymore, so what do I give a ****. But even if I did ... So? I have a game with Adrian Peterson on the cover now. Big deal. You know there are forums out there every year that make custom player covers that you can print off for your own video game? Stupid, I know, but these things exist. So just go that route if your hard on is so throbbing for a DVD cover of Peterson. I won't stop you. Let's not kid ourselves either, though. As much as I - and everyone else in the world, apparently - love Peterson, Sanders is no joke, man. He was a bad, bad, man. If I didn't care about this curse thing anyway, I would maybe vote him in over Peterson on principle alone. He was awesome. But beyond that, maybe you should just vote for him anyway, because ... Eh, you never know. Clearly, the best solution would be to place both of them on the cover, as Daily Norseman suggests, showcasing an old player handing the baton to a new player, in both cases, players that are out of this god damn world. That'd be a solid compromise. But that would defeat the purpose of this self indulgent bracket ESPN is running, so don't hold your breath for it to happen. However, if Peterson gets on the cover and I find out you voted for him, continue to hold your breath anyway, because you won't be able to breath as I'm holding a pillow over your face as is, so it'll save us all some time. You jerk. [follow]
Original Story:
http://www.purplejesusdiaries.com/201...
THE BACKYARD
BEST OF MAXIM
RELATED ARTICLES
Remember how Christian Ponder is the quarterback of the Minnesota Vikings? I know, I totally forgot too. Frankly, thinking about the 2012 season seems like it was eons ago. I almost forgot Ponder was on the roster AND considered to be the quarterback of the future, and that's a memory that was only like three months ago. Can you remember that back in like OCTOBER of last year...


Retaining Phil Loadholt This was a value move for the Vikings. Nobody is going to accuse Loadholt of being one of the elite right tackles in the league, but not letting him hit the free agent market keeps an offensive line together where the same five players started all sixteen games last season. Let's not forget that it was a line that enabled Adrian Peterson...
Minnesota Vikings punter Chris Kluwe has accepted a role as grand marshall of this summer's PRIDE parade in the Twin Cities.
According to Ian Rapoport of the NFL Network, the Minnesota Vikings are looking to trade up in the first round of next week's draft.From Total Access: Hear #VIkings want to move up in draft from 23 or 25. Want CB & WR. Moving up would likely mean WR: Austin or Patterson?— Ian Rapoport (@RapSheet) April 18, 2013   Need NFL Tickets?

The NFL draft is less than a week away. The Minnesota Vikings have the 23rd and 25th overall picks.  They have a total of 11 picks next week. It's a great chance for them to lay a solid foundation for the future. To accurately assess what they need to do in the draft, they need to look at what has happened in the offseason. 

Here is an analysis...
Green Bay Packers quarterback Aaron Rodgers has been known to zip a sarcastic jab at various topics here and there. His feelings for his now-former wideout Greg Jennings are still obviously a little bit raw based on his most recent dart.   Please click here to read this story. The post Aaron Rodgers takes a dig at Greg Jennings appeared first on Players View.
Free agent defensive end Lawrence Jackson visited the Minnesota Vikings on Thursday along with free agent cornerback Jacob Lacey.Jackson recorded 20 tackles, 1 forced fumble and 2.5 sacks in 2012.  Lacey had 36 tackles and 1 interception. Need NFL Tickets? The post Lawrence Jackson, Jacob Lacey visit the Vikings appeared first on Pro Football Zone.
The Minnesota Vikings are hoping to move up in the NFL Draft from their current first-round pick positions of No. 23 and No. 25, according to Ian Rapoport of NFL.com. Rapoport adds that the Vikings are targeting a wide receiver or cornerback with their first-round selection. From Total Access: Hear #VIkings want to move up in draft from 23 or 25. Want CB & WR. Moving up would...
EDEN PRAIRIE, Minn. Chris Kluwe is going on parade in his support for gay rights. Kluwe, the Minnesota Vikings outspoken punter and political advocate, has used his status as an NFL player to speak out about equal rights, especially in regard to same-sex marriage. Now, according CBS Sports report, Kluwe will be the grand marshal in the Twin Cities PRIDE parade on June 30. Kluwe...
Today is the ninth day of two weeks of Minnesota Vikings coverage leading up to the April 25 beginning of the NFL Draft. April 12: Five best draft moments in the past 25 years April 13: Five worst draft moments in the past 25 years April 14: Quarterbacks position preview April 15: Running backsfullbacks position previewApril 16: Offensive tackles position previewApril 17:Guardscenters...
The Vikings will need to find an eventual replacement for Kevin Williams soon and this year's draft is loaded with potential starters at defensive tackle, including plenty anticipated to be stars at the position. We present the analysis, stats, measurables and projections on the top 10 options at a very deep position this year.
NFL News

Delivered to your inbox

You'll also receive Yardbarker's daily Top 10, featuring the best sports stories from around the web. Customize your newsletter to get articles on your favorite sports and teams. And the best part? It's free!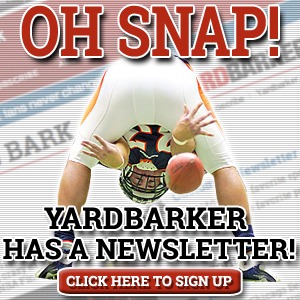 Latest Rumors
Best of Yardbarker

Today's Best Stuff

For Bloggers

Join the Yardbarker Network for more promotion, traffic, and money.

Company Info

Help

What is Yardbarker?

Yardbarker is the largest network of sports blogs and pro athlete blogs on the web. This site is the hub of the Yardbarker Network, where our editors and algorithms curate the best sports content from our network and beyond.