Found March 21, 2012 on The Sports Rocker:
The 49ers toyed with Peyton Manning like a dog discovering a lost squeaky toy that had just a little bit of squeak left. Sure, Alex Smith just put them a few plays short of the Super Bowl, but here was Peyton Manning for the taking. So what if he might not be able to finish the season or play at all? But then, Manning signs with the Broncos.
Now, the 49ers are left scrambling to get Alex Smith back on board before he signs somewhere else. A few weeks ago, I previewed some of the teams that would be calling Mr. Manning. The Niners were on the list, but I didn't think they would be interested. I always thought they would be better off keeping Alex Smith.
Unfortunately, their little dalliance with Peyton has come at a price. Yes, Smith will more than likely re-sign with the Niners. I'm not going to say he'd be stupid not to, but he'd be stupid not to. He's never had two consecutive seasons where he ran the same offense. Finally, he'll get that chance going into the 2012 season.
The only other threat the 49ers have in the NFC West is the Seahawks. And that's if Matt Flynn is as good as advertised. The Cardinals could rebound if Kolb can play up to his contract, and stay healthy. The Rams are starting over, again. If you're Sam Bradford, you're playing for your next contract in another city.
If you're Alex Smith, and you're at the negotiating table with the 49ers brass, you're asking for a whole lot more than you know you'll get. Just to see if they blink.
Original Story:
http://www.thesportsrockers.com/2012/...
THE BACKYARD
BEST OF MAXIM
RELATED ARTICLES
  Nothing screams sports fanatic quite like an angry obituary. This one comes from the Columbia Tribune about a big-time Broncos fan who died Monday. James H. "Jim" Driver, 78, of Eagle, Colo., formerly of Columbia, passed away Monday, March 19, 2012, at South Hampton Place in Columbia after a brief illness. An avid Broncos fan, he abhorred Manning and evidently wanted...
Tim Tebow has some friends in high places. Pat Robertson, a televangelist and Christian Right leader, blasted the Denver Broncos for trading devout Christian Tim Tebow. Robertson pointed to Tebow's success last season and Peyton Manning's neck injury in his explanation. "He won seven games, he brought them [Denver] into the playoffs, for heaven sakes. I mean, they were a nothing...
The Associated Press reported the numbers on the new three year deal Alex Smith and the 49ers agreed on. Alex will earn $8 million per year, with $16.5 million guaranteed and the contract can pay him up to $33 million, overall. For those out there wanting a competition between Alex and Colin Kaepernick, think again. No way does the team guarantee Alex $16.5 million and have him...
The following fantasy football e-mail chain between Ryan Fowler and Joel Beall took place on March 20 and 21, 2012. The topic featured was not discussed in advance. From: Ryan Fowler Sent: Tuesday, March 20, 2012 2:29 PM To: 'Joel Beall' Subject: The Pedestal: Peyton Manning Joel - On the Pedestal: Peyton Manning It's one of those moments. Peyton Manning inking...
SAN FRANCISCO, March 21– There has to be a lot of loyalty in quarterback Alex Smith's heart as he will remain with the 49ers after the team openly romanced Peyton Manning. Smith did meet with the Miami Dolphins as that drama came to an end and at one point probably took a serious look at the Fins. However, be it common sense or letting bygones, be bygones, Smith will stay...
The Denver Broncos have won the race to sign free agent Peyton Manning following the star quarterback's release by the...
The San Francisco 49ers flirted with a future Hall of Fame quarterback last week as they were in the chase for QB Peyton Manning. Ultimately, the 49ers missed out on Manning and in their actions, bruised the ego of one Alex Smith. Smith reportedly was looking to change agents on Saturday night, being represented by the same agent as Peyton Manning, Tom Condon. Alex Smith...
Cradle of the quarterbacks?Some unknown player named Peyton Manning agreed to join the Denver Broncos today, ending weeks of speculation where he would end up.  Peyton's arrival in the AFC West makes the division a sudden powerhouse in the arms race that is the NFL.  With Manning, Palmer and San Diego's Rivers three of the four AFC teams have QB's that were taken in...
Englewood, CO (Sports Network) - Peyton Manning is officially a member of the Denver Broncos. The four-time MVP and future Hall of Fame quarterback signed with the Broncos on Tuesday, less than two weeks after being released by the Indianapolis Colts. "I'm very excited to begin the next chapter of my playing career with the Denver Broncos," Manning said at an afternoon...
Over the course of about two weeks or so, there were multiple favorites that emerged to land Peyton Manning. The Dolphins, Cardinals and 49ers were all at one point considered logical landing points for the All-Pro quarterback. The Titans got into it as well, and the Jets were even rumored to have interest. When it was all said and done, though, it was John Elway and the Denver Broncos...
After going after Peyton Manning, and then hosting Matt Flynn and Alex Smith, the Dolphins landed a quarterback on Monday with multiple reports indicated they have come to terms with former Jacksonville starter David Garrard.
Peyton Manning Better in NFL, Tim Tebow Better in College Peyton Manning is a Bronco. I am not surprised by this. I predicted it the minute it was announced that Jim Irsay was going to cut him loose. For five years and $96 million, I would be a Bronco too. Actually, I would have signed for $95 million, but Manning said it wasn't the money. So the next question is, what happens...
NFL News

Delivered to your inbox

You'll also receive Yardbarker's daily Top 10, featuring the best sports stories from around the web. Customize your newsletter to get articles on your favorite sports and teams. And the best part? It's free!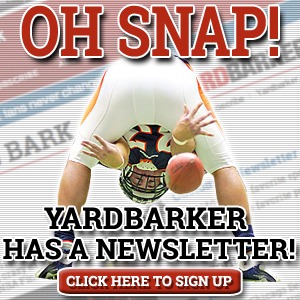 Latest Rumors
Best of Yardbarker

Today's Best Stuff

For Bloggers

Join the Yardbarker Network for more promotion, traffic, and money.

Company Info

Help

What is Yardbarker?

Yardbarker is the largest network of sports blogs and pro athlete blogs on the web. This site is the hub of the Yardbarker Network, where our editors and algorithms curate the best sports content from our network and beyond.