Found January 04, 2013 on Fox Sports North:
PLAYERS:
Adrian Peterson
,
Aaron Rodgers
,
Christian Ponder
,
Graham Harrell
,
DuJuan Harris
,
Ryan Grant
,
Alex Green
,
Brad Childress
,
Jared Allen
,
Jermichael Finley
,
Brandon Marshall
,
Blair Walsh
,
Greg Jennings
,
Antoine Winfield
,
A.J. Jefferson
,
Marcus Sherels
,
Clay Matthews
TEAMS:
Minnesota Vikings
,
Green Bay Packers
,
Houston Texans
,
Chicago Bears
,
Miami Dolphins
When the Minnesota Vikings left Lambeau Field at 6-6 after losing to the Packers on Dec. 2, no one imagined they'd be back so soon. After all, getting back to Green Bay for a playoff game would require four straight wins including one against the Packers in Minnesota in the final week of the regular season. But sometime in the past month, the Vikings started looking less like the 3-13 team they were in 2011 and more like a playoff outfit, and it's safe to assume the Packers now realize how far Minnesota has come if they didn't quite yet a week ago. Few things would send the Packers faithful into an offseason of discontent more emphatically than seeing the division-rival Vikings take a playoff bye and then a playoff game from Green Bay in the span of two weeks. But somehow that is possible with Vikings running back Adrian Peterson seemingly capable of shattering would-be Packers tacklers in the 20-degree weather expected for Saturday night's game. FOXSportsNorth.com's Brian Hall and FOXSportsWisconsin.com's Paul Imig cover these teams every day, and both will be at Lambeau Field Saturday night, but before they bundle up they're answering five key questions about the teams' third game in five weeks. 1. The Vikings have Adrian Peterson; the Packers have Aaron Rodgers. Which MVP candidate needs to have a better game Saturday for his team to win? HALL: As dependent as Minnesota was on Peterson this season, no one knows how Green Bay would manage without Rodgers, last year's MVP and this year's top-rated quarterback. Vikings quarterback Christian Ponder has had his ups and downs this season but has shown he's able to beat good teams when he's on his game without a masterful performance by Peterson. Peterson had 86 yards rushing as Ponder had three touchdown passes in an early-season win over the San Francisco 49ers, the No. 2 seed in the NFC playoffs. Two weeks ago, Peterson again ended with 86 rushing yards against the Houston Texans. Ponder passed for 174 yards and a touchdown and had 48 rushing yards in the win against the AFC's third seed. Rodgers' backup, quarterback Graham Harrell, has attempted four passes in his career, going 1 of 2 in two games this season in relief of Rodgers in blowouts. Meanwhile, Green Bay's rushing game hasn't shown the ability to be a consistent threat itself. IMIG: Aaron Rodgers. For the Packers, the offense revolves around Rodgers. For the Vikings, it's all about Peterson. But the improvement of Ponder over the past month has been the biggest difference between Minnesota being 6-6 and finishing the season 10-6. Ponder is far from a great quarterback, but he's taken some pressure off of Peterson late in the season. The Packers' best offensive weapons, aside from Rodgers, are all wide receivers. They can only touch the ball if Rodgers gets it to them. So, if Rodgers has a below-average game by his standards, the rest of Green Bay's playmakers can't do their best work. Also, Ponder is better at his position than any healthy Packers running back (DuJuan Harris, Ryan Grant, Alex Green) is at his, so Peterson has more help than Rodgers. 2. These teams are playing each other for the third time since the start of December, but they don't seem to dislike each other in the way they did the last time the Vikings were good. Has the rivalry aspect of Packers-Vikings simmered down a bit, and why? HALL: The days of Brett Favre-inspired hatred is gone, certainly among the players and, I sense possibly, among the most fans. Since Favre torpedoed Minnesota's season in 2010 and led to the ouster of coach Brad Childress, the Vikings have been trying to return to relevance while Green Bay has been one of the league's best teams. There is still some serious dislike and strong opinions among many fans, but the feeling inside the locker room is one of mutual admiration. After Peterson's 199-yard performance against the Packers last week, Rodgers said, I just told him after the game, he's the best. He is incredible to watch. Minnesota defensive end Jared Allen has also been very complementary of Rodgers after their many encounters the past few seasons. Playing each other for the third time in six weeks, and with the second round of the playoffs on the line, the rivalry could amp up a bit this week. However, these two teams don't have the internal dislike that will turn Saturday's game nasty. IMIG: The Packers-Vikings rivalry hit an all-time high in the two years Favre wore the purple and gold in 2009 and 2010. Once Favre retired (this time for good), it was natural for the rivalry to die down a bit, especially with Minnesota in a rebuilding mode with a new, young quarterback. Unlike Green Bay's rivalry with the Chicago Bears, which intensified again this season after bold comments by Jermichael Finley and Brandon Marshall, there just isn't any animosity between the Packers and Vikings at the moment. Part of that is because Minnesota wasn't expected to be a very good team, and, prior to Week 17, the Packers had beaten the Vikings five games in a row. It can be difficult for a rivalry to exist when one side has been so dominant over the other. A Vikings win Saturday night could change that very quickly. 3. How will playing this game outdoors and in Green Bay change the dynamics that played out in last week's game in the Metrodome? HALL: This is the most important question regarding Saturday's matchup. The Vikings play the type of game, relying heavily on Peterson, that can survive in the cold weather expected Saturday, but they still haven't had much experience or success playing in the elements. Green Bay does have the experience, but its passing game wouldn't seem to fit well with a frozen field and slippery football. The advantage, because of the experience, goes to the Packers. Rodgers hasn't seemed bothered by the cold. In games with an temperature below 40 degrees, he has completed 59 percent of his passes for eight touchdowns and just two interceptions, with a quarterback rating of 100.8. And if the frigid field is slippery, the Packers' receivers should have an advantage over Minnesota's secondary because the receivers know which way they want to go and are less prone to slips. Meanwhile, Ponder and Vikings rookie kicker Blair Walsh will be playing in the coldest games of their careers. Ponder has already talked about the importance of his grip on the ball, expecting the frozen ball to be slippery. Walsh will have to adjust to kicking the harder ball and knows his distance will be affected. IMIG: The Vikings did not win a single game this season outdoors. Yes, they play in a dome, so that's eight games right there where they didn't even have a chance to play outside. But that also means it's an environment the Vikings aren't as used to as the Packers. Players from both teams live in the colder weather (at least during the NFL season), so it's not like this is the Miami Dolphins traveling up to Green Bay. But can Vikings rookie kicker Blair Walsh be as accurate when lining up a field goal in 15-degree weather? Can Ponder stay patient and composed when he's not throwing in a controlled climate? Neither performed well the last time they were at Lambeau Field one month ago. However, Minnesota's run-first offense is better suited for a cold, outdoor game than the Packers' pass-first offense. Even wide receiver Greg Jennings admitted this week that he'd rather be playing in a dome. Most players in today's NFL don't want to play on a cold January night, but the Packers should be more prepared for it 4. Aside from Peterson and Rodgers, who will be the most important player to the team you cover in this game?HALL: The obvious answer here for Minnesota is Ponder. Even with Peterson's weekly jaw-dropping accomplishments, the Vikings' success is more related to Ponder's success. When Ponder struggles, simply put, Minnesota typically lose. Ponder had 10 turnovers and a 72.2 quarterback rating in the team's six losses, to go with seven touchdown passes. In the Vikings' 10 wins, Ponder had 13 touchdown passes with seven interceptions and an 88.3 quarterback rating. But veteran cornerback Antoine Winfield could be the most important player Sunday if Minnesota is to slow Rodgers and have any shot at winning. When Winfield was in the game last week, Rodgers was 8 of 15 for 57 yards and a touchdown to receiver Greg Jennings on the play Winfield aggravated his hand injury trying to jam Jennings at the line of scrimmage. After Winfield left, Rodgers was 20 of 25 for 308 yards and three touchdowns, particularly picking on Winfield's replacements, A.J. Jefferson and Marcus Sherels. IMIG: There are so many players on Green Bay's defense who could be mentioned, especially after Peterson totaled 409 yards in the two regular-season meetings and made breaking tackles look like a relatively easy feat. But if outside linebacker Clay Matthews can dominate this game, it will change everything. Ponder was sacked only once in both games so far this season against the Packers, with the one sack coming from Matthews in Week 17. That's not nearly enough, though. Matthews has shown the ability to take over games, both with his pass rush and his run-stopping, and he'll need to do both to help Green Bay win. 5. What's your predicted final score? HALL: I expect another close contest, though a shootout like Sunday's at the Metrodome is unlikely with temperatures expected to be in the low 20s at Lambeau Field. Minnesota will look to ride Peterson again, and the Packers will look to stop him again. Even focused on Peterson, though, Green Bay allowed 409 yards rushing to him in the two previous games, and a big game from Peterson combined with an efficient Ponder could have the Vikings primed for an upset. Yet, Minnesota will have trouble stopping Rodgers too, and despite last week's success, isn't built to get in a track met with the Packers. As has been the case with all of Minnesota's games this season, Saturday will likely come down to which team wins the turnover battle. The weather could add to the intrigue and possibility of turnovers, with Green Bay likely having an advantage in ball security. The Packers were a plus-7 in turnover-differential this season, while the Vikings were minus-1. In the end, based on experience, location and Rodgers, Green Bay wins, 24-20. IMIG: The talent level between these two teams right now is not very comparable. While the Vikings have Peterson, who could take over this game single-handedly, Minnesota's overall roster is not as strong as Green Bay's. If the Vikings take an early lead, like they did in Week 17, they could run the ball to victory. But the Packers have not lost back-to-back games all season and should be able to advance to the divisional round and book their trip to San Francisco for a matchup with the 49ers. Packers 31, Vikings 13. Follow Brian Hall and Paul Imig on Twitter.
Original Story:
http://www.foxsportsnorth.com/01/04/1...
THE BACKYARD
BEST OF MAXIM
RELATED ARTICLES
He just rushed for 2,097 yards in 2012, nine yards short of Eric Dickerson's single-season rushing record; he wants to compete in the 2016 Olympics, return kicks and try coming off the edge to block a field goal, and he says he's healthy enough for 12 more games. Only one man, the biggest freak athlete in all of football, could possibly do all of this: Vikings running back Adrian...
The Green Bay Packers beat the Minnesota Vikings 24-10 in Saturday's NFC Wild Card playoff game and never really struggled. Though the Packers won the game easily, quarterback Aaron Rodgers seemed dissatisfied with the team's offensive performance. "Our defense played at a championship level — which you have to have in the postseason," Rodgers told NBC Sports' Michele...
Packers fans aren't going to let Adrian Peterson forget just how close he was to breaking Eric Dickerson's record. Nine yards short. That's it. This banner was spotted by KARE-11 (Minneapolis-St.Paul) reporter Keith Leventhal at a Packers bar earlier today. It's been making the rounds on the internet today and new developments are surfacing that Peterson himself might be...
Adrian Peterson is in the defense's head, with that unit focusing too much on the Vikings' prized running back and too little on playing assignments and fundamentals. The Packers have owned Peterson on 48 of his carries in the two games. It's the other seven carries that have been crushing.
Adrian Peterson was shut down and Christian Ponder sidelined. That left the Minnesota Vikings short-handed, overmatched and barely able to do much of anything against the Green Bay Packers. Peterson was held to 99 yards, after gaining 199 and 210 in the first two games against Green Bay, and Joe Webb struggled in place of Ponder as the Packers rolled to a 24-10 victory over the...
Minnesota running back Adrian Peterson was a full participant in Friday's practice and is listed as probable for Saturday's playoff game.Fantasy Spin:He has been on the injury report for one reason or another for most of the season, but that didn't keep him from coming within eight yards of Eric Dickerson's NFL single-season rushing record. The Vikings star running...
When Greg Jennings' sister took to Twitter during last weekend's Packers-Vikings game to mercilessly criticize Green Bay quarterback Aaron Rodgers, Packers fans immediately began to wonder what the rant might do to the NFL MVP's relationship with his two-time Pro Bowl receiver. Apparently, not that much. Jennings was left to explain why his sister called Rodgers the most...
The Minnesota Vikings were soundly defeated by the Green Bay Packers 10-24 and the biggest truth the game proved is the continued decline of the value of franchise running backs in the NFL. Adrian Peterson was the biggest story going into the game, because he was only 9 yards shy of breaking Eric Dickerson's single season record with 2,097 yards after coming back from major knee...
GREEN BAY, Wis. -- The Packers could have avoided this. They had control over the NFC's No. 2 seed, which would have given them a first-round bye to watch from home as four playoff teams get eliminated this weekend. Instead, the Vikings beat Green Bay in the regular-season finale, earning a postseason spot for Minnesota and setting up a rematch between the NFC North rivals for...
(Eds: Updates. With AP Photos.) By DAVE CAMPBELL AP Pro Football Writer Minnesota's offense has a simple focus: Adrian Peterson. The Vikings aren't scheming to surprise opponents by throwing 50 passes per game. That doesn't mean offensive coordinator Bill Musgrave doesn't have plenty to work on. Just because the Vikings have a straight-forward, no-frills style doesn...
As all the sports world knows, the Green Bay Packers will face the Minnesota Vikings for the second time in six days tomorrow evening on the frozen tundra of Lambeau Field. The Packers won the first game several weeks ago, and the Vikes took the game on Sunday. This game? Well, it will be cold. But as Packer fans we hope that, in the end, the ViQueens feel much colder much longer...
Though many eyes will be on stars Adrian Peterson, J.J. Watt and Von Miller this month, the NFL playoffs are really about one position and one position only: quarterback. Consider this: Since Brad Johnson won the Super Bowl with the Tampa Bay Buccaneers in 2002, the only quarterbacks to win Super Bowls have been the following men: 1. Tom Brady 2. Peyton Manning 3. Ben Roethlisberger...
NFL News

Delivered to your inbox

You'll also receive Yardbarker's daily Top 10, featuring the best sports stories from around the web. Customize your newsletter to get articles on your favorite sports and teams. And the best part? It's free!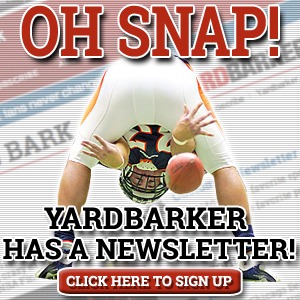 Latest Rumors
The Backyard

Today's Best Stuff

For Bloggers

Join the Yardbarker Network for more promotion, traffic, and money.

Company Info

Help

What is Yardbarker?

Yardbarker is the largest network of sports blogs and pro athlete blogs on the web. This site is the hub of the Yardbarker Network, where our editors and algorithms curate the best sports content from our network and beyond.