PHILADELPHIA - OCTOBER 11: Michael Vick #7 of the Philadelphia Eagles gestures to fans after a game against the Tampa Bay Buccaneers at Lincoln Financial Field on October 11, 2009 in Philadelphia, Pennsylvania. (Photo by Jeff Zelevansky/Getty Images)
You can talk about the bad decisions, or the lack of awareness when it comes to eluding injury, but despite his inadequacies, Michael Vick possesses a skill set that few others have been able to emulate in my lifetime, or maybe ever.I'm not his biggest fan, but not since the recent arrival of Cam Newton and more recently Robert Griffin III, has the NFL seen a quarterback who can run like an elite running back and at the same time has the arm strength to throw a feather through a tornado. (I don't want to here it Fran Tarkenton fans)Michael Vick is far from perfect. That's obvious–but in my opinion, he is being used in the wrong way and would be much more efficient and effective if the play calling were different.Throwing the ball 56 times in a game is not the problem in an of itself.The argument that Andy Reid and the Eagles throw the ball too much is an old one. If anything, Andy Reid was ahead of the curve. Could they be more balanced? Sure but look around the league–and name me a team that doesn't have a 65/35 run-pass ratio. I'm sure you can name a few, but it's a passing league folks. The rules are set that way, and the players are drafted and groomed that way.
Get over it. The NFL is no longer 3 yards in a cloud of dust.
But it's how the Eagles pass the ball that exposes Vick's inherent flaws, and in the process, exposes him to injury. Why does every pass play have to be this long-developing play? When you ask your quarterback to take a 5 or 7 step drop on almost every pass play–with no one kept in to block, what do you really expect to happen? You're giving the defensive line extra time to get to you.It's no wonder that Vick takes the unnecessary hits that he does, and in the pocket no less. By the time he finishes his drop, their are three guys in his face, and it instantly throws of the timing of the play, and turns into a broken play.Look around the league Andy. Is Tom Brady, Drew Brees or Matthew Stafford exposed to this type of punishment? I'm in no way comparing them to Vick, but the reason they are effective, and healthy, is because they play in systems predicated on getting rid of the ball. When is the last time you saw Tom Brady shake off three defenders, scramble and turn a broken play into a big gain? It doesn't happen often. No, it doesn't. It's the style of offense and play calling that keeps these guys in rhythm and upright.What happened to the screen game? What happened to the good old fashion slant route or bubble screen? Get the ball into the hands of your play makers. In the days of Donovan McNabb and Brian Westbrook, the Eagles were one of the top screen teams in the league, a reputation that is still over emphasized to this day. You have one of, if not the best running back in the league in LeSean McCoy and an athletic, Howard Mudd coached offensive line. I would run a screen or slant route at least twice per drive.You a game breaking wide receiver in DeSean Jackson. Get the ball in his hands early and let him rack up the Y.A.C.. Not every play to DeSean has to be a 60 yard bomb. Watch some tape on how Steve Smith (Carolina) has been used throughout his career.The only way that Michael Vick is going to succeed, and stay healthy, is to let him roll out, and/or let him get the ball out of his hands quickly.
He is not a pocket passer. It's just not the way he's wired and never has been.
No matter how hard Andy Reid tries, Michael Vick is not going to magically morph into Steve Young. It's just not happening. You are not going to take a guy at the age of 32 and transform his instincts and mechanics into those of Peyton Manning. Get over it Andy, and use him in a way that lets him showcase what he can do instead of forcing him to do things he can't. Let him play loose instead of making him think.It's the same thing he tried to do with Donovan McNabb–turn an athletic, inaccurate passer into Brett Favre. You can't create a pocket passer. It just has to come naturally. It's the same reason that guys like A.J. Feeley and Kevin Kolb get you 2nd round draft picks–they can do things that Michael Vick and Donovan McNabb could never do with ease. Touch passes, going through progressions, reading defenses pre-snap.You now have Nick Foles–a viable backup. Let Vick play damnit.Stop trying to turn him into a old white man. If he gets injured, let him get injured going hard, not standing in the pocket like a crash-test dummy.
Original Story:
http://feedproxy.google.com/~r/thebro...
PLAYERS:
Andy Reid
,
Michael Vick
,
Tom Brady
,
Drew Brees
,
Donovan McNabb
,
Brian Westbrook
,
LeSean McCoy
,
DeSean Jackson
,
Peyton Manning
,
Brett Favre
,
A.J. Feeley
,
Kevin Kolb
,
Nick Foles
,
Robert Griffin III
TEAMS:
Philadelphia Eagles
,
New England Patriots
,
New Orleans Saints
,
Minnesota Vikings
,
San Francisco 49ers
,
St. Louis Rams
,
Arizona Cardinals
,
Washington Redskins
MORE FROM YARDBARKER
NFL News

Delivered to your inbox

You'll also receive Yardbarker's daily Top 10, featuring the best sports stories from around the web. Customize your newsletter to get articles on your favorite sports and teams. And the best part? It's free!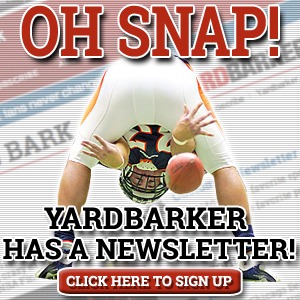 Latest Rumors
Best of Yardbarker

Today's Best Stuff

For Bloggers

Join the Yardbarker Network for more promotion, traffic, and money.

Company Info

Help

What is Yardbarker?

Yardbarker is the largest network of sports blogs and pro athlete blogs on the web. This site is the hub of the Yardbarker Network, where our editors and algorithms curate the best sports content from our network and beyond.