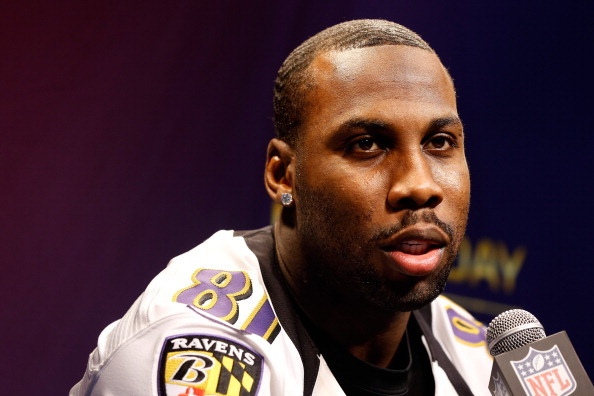 Anquan Boldin, who is currently traveling in Senegal, Africa on a charity mission, told ESPN he was stunned to hear that the Baltimore Ravens traded him to the San Francisco 49ers. Boldin said that he found out about the trade when he got off the plane in Africa and had received several text messages congratulating him on the trade. "… It was shocking at first … but I mean it, for me it is also a good thing. … When I look at the organization and what they're about … and as a football team, the talent that they have … I think it's good, a good place for me to be," he told ESPN. Boldin tweeted a thank you to the Ravens through his twitter account today and said that he thought Baltimore was going to be his "last stop". "I would like thank the Ravens fans for their incredible support for myself and my family throughout my years in Baltimore," he wrote. "I am grateful in getting to know you and will miss what I call home. I thought this was the last stop of my career but regardless of the circumstances I came here to win a Championship and in February we came home Champions." The trade was surprising to many, as Boldin was traded for a 6th round draft pick (contingent on his passing a physical). One that was surprised by the trade was his former quarterback Joe Flacco. "Anquan was a great receiver for myself and for our football team," said Flacco, who signed a six-year, $120.6 million deal with the Ravens last week. "It's sad to see a guy like that go, but at the same time you want what's best for him and you just wish him the best of luck. Anquan was a big part of this football team, a big part of this offense. He's one of the many reasons we won the Super Bowl this year." Boldin was more than likely ousted because a restrucuring of his $6 Million dollar deal fell through, and the Ravens felt as though they could get something for him in a trade instead of simply cutting him. Boldin led Baltimore with 65 catches for 921 yards and four touchdowns in 2012. He may have played his best ball in the postseason, though, totaling 16 receptions for 276 yards and three touchdowns. The candidate for top receiver now will now likely go to young Torrey Smith. With guys like Boldin getting dealt, and others like Paul Kruger and Ed Reed possibly not returning to Baltimore next season, the super bowl champs might look a lot different in 2013. Ray Lewis has retired, Kruger is probably headed to Cleveland, and Ed Reed is possibly joining Boldin in San Francisco. This could be a very different team in 2013. The post Anquan Boldin: Trade to Niners Was "Shocking" appeared first on DOWN & DISTANCE.
Read the rest of this story...
MORE FROM YARDBARKER
NFL News

Delivered to your inbox

You'll also receive Yardbarker's daily Top 10, featuring the best sports stories from around the web. Customize your newsletter to get articles on your favorite sports and teams. And the best part? It's free!
Best of Yardbarker
NFL News
MLB News

Today's Best Stuff

For Bloggers

Join the Yardbarker Network for more promotion, traffic, and money.

Company Info

Help

What is Yardbarker?

Yardbarker is the largest network of sports blogs and pro athlete blogs on the web. This site is the hub of the Yardbarker Network, where our editors and algorithms curate the best sports content from our network and beyond.