Found November 21, 2012 on Losers Bracket:
Seriously? Enjoy…this one is for you SteveGoat.  I am sure Arodge and Coach Mike were way impressed.  Seriously? ****** Finley may be trying to talk his way out of Titletown Posted by Mike Florio on November 21, 2012, 7:29 AM EST Getty Images When I first stumbled across the story from Rob Reischel of the Milwaukee Journal Sentinel, I thought it was from last month.  It turns out the item was from Tuesday, even though the quotes were from last week. Yes, Packers tight end Jermichael Finley once again has been carping about a lack of chemistry with quarterback Aaron Rodgers. "Both of us need to just go out, maybe have a drink or two and just spill everything," Finley told Reischel last week in the story dated November 20.  "It sounds easy, but it's not.  He's throwing it to who he's comfortable with. "I think [Randall] Cobb's taken my position from '09.  I want to line up where Cobb's lining up because I know the ball's coming there." Regardless of where Finley lined up on Sunday in Detroit, he ended up with three catches for 66 yards and a touchdown.  Perhaps it was an aberration. "[M]e and 12 just ain't been on," Finley said.  "He's had some guys come through this year, and he's gone to them instead of me.  And really, it's out of my hands at the end of the day.  If I could throw myself the ball and run under it, I'd do it every play because he's just not throwing me the ball like he used to." Finley thinks that, even without Greg Jennings on the field, Finley occupies a low spot on the football-distribution totem pole. "I'd say about fourth," Finley said.  "I don't really want to put a number on it, but I'd say four if I had to.  I'm pretty disappointed in it.  I'm pretty disappointed in the numbers side of it, but I ain't had the opportunities either." Reischel suggests a specific reason for Rodgers' shunning of Finley.  Before Finley's agent, Blake Baratz, criticized Rodgers' leadership skills on Twitter, Finley was getting 5.5 catches per game.  Since then, it's down to 2.6 on average. Regardless of whether Rodgers is holding a grudge, the Packers are winning and the offense is working and Finley comes off as immature for whining about not getting the ball.  And that may prompt the team to not keep him for the second year of the two-year Band-Aid signed in the offseason, as a fight was looming regarding whether the franchise tag should pay him tight end money or the much higher number for wide receivers. Maybe that's what Finley is trying to provoke. "I love that question man," Finley said of his future. "I don't know.  All I know is I have talent.  And if Green Bay decides to do something with me, I'm 25 years old.  I got a decade under my belt, yet.  Who knows at the end of the day?" One thing we know is that, regardless of how things play out, Finley's smartest move is to quit talking about it, and to keep playing like he did on Sunday.
Original Story:
http://losersbracket.com/2012/11/are-...
THE BACKYARD
BEST OF MAXIM
RELATED ARTICLES
HUG IT OUT
Green Bay Packers tight end Jermichael Finley still seems to have chemistry issues with quarterback Aaron Rodgers. He recently talked about them.
MELTS DOWN LIKE VELVEETA
Packers tight end Jermichael Finley has made public his concerns about how Aaron Rodgers doesn't appear to be looking his way, saying "me and 12 just ain't been on."
GREEN BAY, Wis. -- It may not seem like it from outside the Packers' locker room, but quarterback Aaron Rodgers insists that his relationship with outspoken tight end Jermichael Finley is actually quite strong at the moment. Finley has commented numerous times over the past year that there can sometimes be a lack of chemistry between he and the NFL's reigning Most Valuable...
The Green Bay Packers All-Pro linebacker is doubtful Packer's Head Coach Mike McCarthy announced via Tom Silverstein of the Milwaukee Journal-Sentinel. Matthews has been fighting a hamstring injury and the Packer's had been holding out hope that the skipping the Lions game would help. Matthews injured his hamstring in week 9 and hasn't seen the field since. The Packers...
University of California football coach Jeff Tedford was fired Tuesday in his 11th season at the school, and his most successful former player didn't waste any time coming to his defense. Green Bay Packers quarterback Aaron Rodgers, who started for Tedford in 2003 and '04, disagreed strongly with his alma mater's move during his weekly radio show on ESPN 540 in Milwaukee...
Green Bay Packers wide receiver Greg Jennings has returned to practice for the first time since having surgery to repair a torn abdominal muscle. Jennings caught some balls and ran some routes at full speed in Wednesday's practice, trying to see how much he can do. He says he felt ''great,'' and had ''no pain whatsoever.'' But his endurance is...
Now that Greg Jennings is back to practice, playing in a game might not be too far behind. The Green Bay Packers' No. 1 receiver said he felt great after practicing Wednesday for the first time since having surgery Nov. 1 to repair a torn abdominal muscle. Jennings caught balls and ran routes in his limited time at practice, then went inside to run and work on his endurance...
Green Bay Packers wide receiver Greg Jennings returned to practice for the first time since undergoing abdominal surgery yesterday, while the team has announced that linebacker Clay Matthews in doubtful to play Sunday against the New York Giants and cornerback Sam Shields has experienced a setback, reports Tyler Dunne and Tom Silverstein of the Journal Sentinel. Cornerback Sam...
It wasn't too long ago that the Green Bay Packers were in a bad place, lagging at the bottom of the NFC North with a - gasp! - losing record while folks picked apart their flaws as if they were some sideshow on Dr. Phil. Well, well. Look at them now. A five-game winning streak that's tied for best in the NFL has the Packers (7-3) atop their division and in position to start...
GREEN BAY, Wis. -- If the Packers are going to win their sixth consecutive game with a victory over the New York Giants on Sunday, quarterback Aaron Rodgers will need to perform better than he did last year in the playoffs when Eli Manning & Co. ended Green Bay's season prematurely. In his weekly meeting with the media, Rodgers talked about a growing rivalry with the Giants...
Packers News

Delivered to your inbox

You'll also receive Yardbarker's daily Top 10, featuring the best sports stories from around the web. Customize your newsletter to get articles on your favorite sports and teams. And the best part? It's free!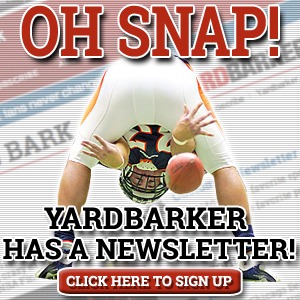 Latest Rumors
Best of Yardbarker

Today's Best Stuff

For Bloggers

Join the Yardbarker Network for more promotion, traffic, and money.

Company Info

Help

What is Yardbarker?

Yardbarker is the largest network of sports blogs and pro athlete blogs on the web. This site is the hub of the Yardbarker Network, where our editors and algorithms curate the best sports content from our network and beyond.