Found April 22, 2012 on Grits Blitz:
Their happens to be quite a pool of talent in this year class defensive tackle class with 3 to 4 being projected in the first round. The Talent continues on into the second and third rounds as well. Let's take a look at some of those second-third Round DTs that the Falcons might be targeting. A potential Falcons draft pick? Let's start off with Brandon Thompson, the former DT for Clemson comes in at 6'2 310 lbs. He would play the NT role in the 4-3 scheme, but he could also put on weight and play the NT in the 3-4. Right now he looks to be a DE in the 3-4. Thompson possesses great strength when he gets a good leg drive going, in addition he has a great rip move which he uses while attacking the Oline. This combination gives Thompson an area in which he can rush the passer effectively. In terms on the run game Thompson does a good Job of getting off his blocks and making the tackle, but can also create and fight through double teams opening holes in the line for the rest of his team to fill in and make the tackles. I have him projected as a second rounder. Atlanta has interest in him and has worked him out in addition to interviewing him. Thompson would also be a great fit for Carolina who have had continuous problems at the DT position; Thompson would be a valuable space eater for one of the best LB corps in the NFL. Tampa Bay could also have interest in Thompson as both Brian Price and Gerald McCoy have struggled greatly with injuries, and Brian Price has struggled in general. New Orleans is out of position for Thompson without a trade up. Josh Chapman is another big body at 6'1 315 lbs. Chapman comes from the decorated University of Alabama that is known for churning out defensive talent for the NFL. Chapman likely would have been a second round pick if he hadn't torn his ACL during his senior campaign. Right now I have him projected in the third to fourth round range. Chapman is mountain who can eat up double teams all day and create room for the rest of the team to work. He doesn't have much in terms of a pass rush, but he is a great run stuffer. Right now Chapman projects to be more of a 3-4 NT, however if he can keep his weight around 315 he could also play NT in the 4-3. He'll have to add some kind of pass rush or else he'll be a situational player at best in the 4-3. Atlanta has confirmed interest in Chapman having had him in for visit. As it goes, all four teams in the NFC South could have interest for depth and run defense reasons. Derek Wolfe, unlike the others, is more of a pass rusher and fits at the UT in a 4-3 or as 3-4 DE. Wolfe stands in at 6'5 295 lbs. The best thing about Wolfe is that he has a relentless motor, he will fight his way to the ball one way or another and just doesn't give up. Wolfe also sheds blocks well in the run game and is a good tackler. In terms of pass rush he has a good arsenal of moves, but his go to move would be his swin move. He rotates the moves and utilizes his strength to get around the Oline. At this point I have Wolfe as a third to fourth round prospect, who will be a solid contributor to whichever team picks him up. He's a guy I could see New Orleans having interest in as Sedrick Ellis has been a disappointment so far in his career. Kendall Reyes is another 4-3 UT that has really climbed up people's board since his great performance at the Senior Bowl. I've seen him projected from the late first to the early second. I personally have him pegged as a second round pick. He stands in at 6'4 300 lbs, but Reyes is a athletic freak possessing great speed for his size. He even managed to record a couple of INTs in his career at UConn. Reyes is a guy that has great burst and a great rip and swim move that he uses to beat guards on the inside. He has a bit of a bull rush, but it's not going to be his dominant move at the next level. In the NFL he'll need to utilize his athleticism, moves, and knowledge, and as he bulks up and learns the bull rush will come. Reyes is going to be a great contributor for the team that picks him. Right now I see Carolina having interest in him as he could come in and add a pass rushing presence on the interior of the Dline and also bolster their run D. In addition to those guys there is another tier of very talented DTs that could be there from round two to four (Cox, Brockers, Still, and Worthy). This is a very deep class for DTs in my opinion  and many should have an impact in the future. The NFC South as a whole has a collective need at DT, so we should expect to see a couple of fresh new faces on the interior in the coming year. Several of these prospects could flourish into stars at the next level, as the NFL as a whole are realizing the need for an interior presence not only in the running game, but also in the pass rush to collapse the pocket.   Previous Atlanta Falcons Draft Outlooks: Defensive Backs Defensive Ends Offensive Line Tight End Wide Receivers   [follow]
Original Story:
http://gritsblitz.com/2012-articles/a...
THE BACKYARD
BEST OF MAXIM
RELATED ARTICLES
NOT FOR US
The Falcons were rumored to be one of the potential teams to star in this year's HBO "Hard Knocks" series, but the team has reportedly turned the show down once again.
10) Afraid that the network would find out about the QB's shameful secret criminal activities9) Roddy White and a live mic isn't exactly a recipe for team harmony 8) Just not able to match Rex Ryan's standard for HBO-ready dialogue7) Worried that if they appear on the show, people would start noticing how they never actually win any playoff games6) Don't want the...
Mike Smith & the Atlanta Falcons reject HBO's Hard Knocks for their organization. It was revealed today that the Atlanta Falcons declined the opportunity to appear on the hit HBO show 'Hard Knocks.' A source revealed that the Falcons team talked a lot about the oportunity, but in the end Thomas Dimitroff, Arthur Blanks & coach Mike Smith didn't feel it would be...
Breathe easy, football fans. You will not be forced to watch the Atlanta Falcons take part in this season's edition of HBO's Hard Knocks series. The Falcons have decided to decline the invitation to partake in this year's version of the show, according to ESPN.com. Atlanta reportedly wants its focus to be solely on the football field this season, which is understable...
A couple weeks ago we told you HBO had finally come to a decision about the team they wanted to appear on the successful Hard Knocks series.  That choice was the Atlanta Falcons, who in spite of 3 playoff apperaances in 4 years, were a less than inspiring selection to the wide majority of those of you who responded to the news via Twitter and Facebook.  At that point, it seemed...
The Falcons made a mega deal - a 5-for-1 trade with Cleveland - to move up 21 spots to select wide receiver Julio Jones last April. Because they don't have picks in the first and fourth rounds of the 2012 draft, they must be prudent in order to fulfill some of their needs. Their first pick will be the 55th pick overall in the second round and they will look to add either a...
Despite not having a very interesting off-season, the Atlanta Falcons have had some change at linebacker. The man that clogged up the middle under Brian Van Gorder, Curtis Lofton, was allowed to walk without much interest in keeping him from the Falcons. To replace him, the Falcons will go with second year player Akeem Dent or free agent signee Lofa Tatupu. The rest of the Falcons...
The Atlanta Falcons will not be featured in the next installment of HBO's "Hard Knocks," ESPN.com reported, citing a league source. The Falcons wished to focus their efforts strictly to matters on the field for the upcoming season, according to the source. HBO doesn't traditionally reveal the starring team until May. The New York Jets were thought to be the likely...
Falcons News

Delivered to your inbox

You'll also receive Yardbarker's daily Top 10, featuring the best sports stories from around the web. Customize your newsletter to get articles on your favorite sports and teams. And the best part? It's free!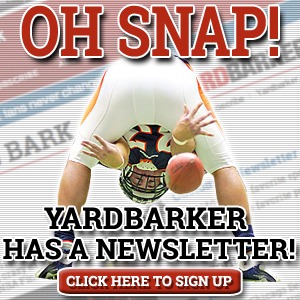 Latest Rumors
Best of Yardbarker

Today's Best Stuff

For Bloggers

Join the Yardbarker Network for more promotion, traffic, and money.

Company Info

Help

What is Yardbarker?

Yardbarker is the largest network of sports blogs and pro athlete blogs on the web. This site is the hub of the Yardbarker Network, where our editors and algorithms curate the best sports content from our network and beyond.