Found March 13, 2013 on Waiting For Next Year:
PLAYERS:
Mike Holmgren
,
Norv Turner
,
Joe Thomas
,
John Greco
,
Alex Mack
,
Shawn Lauvao
,
Mitchell Schwartz
,
Oniel Cousins
,
Ryan Miller
,
Jarrod Shaw
,
Dominic Alford
,
Jason Pinkston
,
Kevin Boothe
,
Chance Warmack
,
Jonathan Cooper
,
Dallas Thomas
,
Barrett Jones
,
Larry Warford
,
Travis Frederick
,
Alvin Bailey
,
David Quessenberry
TEAMS:
San Diego Chargers
,
Cleveland Browns
,
New York Giants
,
North Carolina Tar Heels
,
Tennessee Volunteers
,
Alabama Crimson Tide
,
Kentucky Wildcats
,
Arkansas Razorbacks
,
San Jose State Spartans
You may remember back in 2010 (you know the last time there was a complete overhaul in Berea) we wanted to give incoming President Mike Holmgren a hand evaluating the roster. We are nothing if not equal opportunity. The Browns have a completely new group in charge this year. Joe Banner, Mike Lombardi, Rob Chudzinski, Norv Turner and Ray Horton take over a 5-11 team. They have plenty of important decisions to make about the roster between now and the 2013 NFL Draft. WFNY wants to offer our assistance with The Banner Position Reports. Previous reports:LB, QB, RB, DBs, DL, WR/TE. The last of the Banner position reports. Of course we saved the glamor position for last- the offensive line. There are conflicting opinions about the state of the Browns' offensive line. They seem to be highly praised outside of the area. Do we have a hangover from previous years of poor play? Is the guard play bad enough to warrant an elevated Banner Report status? The 2012 Season LT Joe Thomas LG John Greco* C Alex Mack RG Shawn Lauvao RT Mitchell Schwartz (R) Reserves- Oniel Cousins, Ryan Miller (R), Jarrod Shaw, Dominic Alford Injured Reserve- Jason Pinkston I cannot over-emphasize the importance of this fact- Joe Thomas, Alex Mack and Mitchell Schwartz have played EVERY OFFENSIVE SNAP of their NFL careers. Not only do they play every game, but they play very, very well every game. Second round pick Mitchell Schwartz solidified this line. He stopped the turnstile that the Browns have had for years at right tackle. Did he have some rough moments? Of course. He was also a rookie. He will get even better. Pro Football Focus rated all of the offensive lines after the season. The Browns ranked 5th in pass blocking, 11th in rush blocking and were 25th in penalties. (That needs to be cleaned up.) Overall they were the 5th best line in football according to PFF- Stud: In the upcoming weeks or so we're going to do a piece on how often (per second) Joe Thomas (+25.6) gives up pressure compared to the rest of the league. It's stunning how shutdown he is. Now, if only his run blocking matched up to his work in the pass game. Dud: You can get by with players like Shawn Lauvao (-7.3) when the rest of your line is so good. Summary: It's not the done thing to give praise to Cleveland. That said, their line is extremely talented and when they were forced to introduce John Greco into the lineup they got even better. The stars are Thomas and Alex Mack, but the play of rookie Mitchell Schwartz bodes well for this line for a long time to come. Which brings us to the guards. Jason Pinkston was hospitalized in October with a blood clot in his lung that shut him down for the rest of the season. All signs seem to indicate that Pinkston will be back. As PFF indicated, John Greco did a very nice job filling in for Pinkston. So much so, that I would be willing to let him and Lauvao fight it out for the RG spot opposite Greco. Contract Situation Dominic Alford- 2013: $405,000, 2014: $495,000, 2015: Exclusive Rights Free Agent Oniel Cousins- 2013: $725,000, 2014: Free Agent John Greco- 2013: $800,000, 2014: Free Agent Shawn Lauvao- 2013: $1.323 million, 2014: Free Agent Alex Mack- 2013: $3.732 million (+ $1.8 million roster bonus), 2014: Free Agent Ryan Miller- 2013: $480,000, 2014: $570,000, 2015: $660,000, 2016: Free Agent Jason Pinkston- 2013: $555,000, 2014: $645,000, 2015: Free Agent Mitchell Schwartz- 2013: $625,038, 2014: $835,076, 2015: $1,095,114, 2016: Free Agent Jarrod Shaw- 2013: $480,000, 2014: Exclusive Rights Free Agent Joe Thomas- 2013: $10 million, 2014: $10.9 million, 2015: $8.8 million, 2016: $8.3 million, 2017-2018: $8.8 million, 2019: Free Agent Browns Roster Upgrade Advisory: Low Some are going to call me nuts. Fine. Here's my reasoning- if the Browns were to go into the season with the exact same group would that be a bad thing? I don't really think so. Would I like to see five Pro-Bowlers across the line? Of course I would. I'd love to be able to count on Lauvao as a depth player.  We don't know what we have in Ryan Miller. He will be improved as a second year player. I like what Greco did as a guard. My biggest concern is with Pinkston coming back strong and ready to play. If there is money to spend on the offensive line, I would like to see the Browns lock up Alex Mack long term. Top Free Agents Andy Levitre Buf- SIGNED yesterday Louis Vasquez SD- SIGNED yesterday Donald Thomas NE- SIGNED yesterday Brandon Moore NYJ Geoff Schwartz Car Kevin Boothe NYG Many wanted to see the Browns go after Levitre or Vasquez. Would the line have looked better with either at RG? Of course. But I will state again, there is value to be had at guard, and I think the Browns didn't need to break the bank to get it. Geoff Schwartz is mighty intriguing. He is the brother of RT Mitchell Scwartz. He wouldn't cost the Browns an arm and a leg. That is a pair of dice worth tossing. The 2013 Draft Class Chance Warmack, G, Alabama- Height: 6-3. Weight: 320. Jonathan Cooper, G/C, North Carolina- Height: 6-3. Weight: 295. Dallas Thomas, G/OT, Tennessee- Height: 6-5. Weight: 308. Barrett Jones, C/G/T, Alabama- Height: 6-5. Weight: 311. Larry Warford, G, Kentucky- Height: 6-3. Weight: 333. Travis Frederick, C/G, Wisconsin- Height: 6-4. Weight: 338. Alvin Bailey, OT/G, Arkansas- Height: 6-5. Weight: 319. David Quessenberry, C/G, San Jose State- Height: 6-5. Weight: 294. Braden Hansen, C/G, BYU- Height: 6-6. Weight: 310. I don't think it is worth listing the OT available at the top of the draft. The Browns aren't going for one of those. If you are looking for an interior lineman, this year's draft is said to be very strong. I've seen projections that have as many as 3 guards going in the first round. That's unheard of in today's draft. There will be quality available in the third and fourth round if the Browns want to target a player there. Honestly, it would surprise me a bit if they did.
Original Story:
http://www.waitingfornextyear.com/201...
THE BACKYARD
BEST OF MAXIM
RELATED ARTICLES
The Cleveland Browns have agreed to terms with RB Chris Ogbonnaya according to the Plain Dealer's Mary Kay Cabot- https://twitter.com/MaryKayCabot/status/311944395639365633 Ogbonnaya has been with the team since October of 2011. Last season he appeared in 15 games with the Browns, but only had 8 rushing attempts. Over his two seasons with Cleveland he has rushed for 364 yards ...
I've known about Brendan Leister and his work analyzing the Browns for a long time. He's been active in various capacities for years, in fact. 70,000+ tweets if you need him. Anyway, he doesn't approach the Browns like a fan, preferring to stick to the technical scouting approach. With that in mind, I wanted to talk to him about the Browns' signings so far, what it means...
According to ESPN, outside linebacker Paul Kruger agreed to a 5 year deal to play for the Cleveland Browns. Kruger had an outstanding 2nd half of the 2012 season that made him one of the hottest linebackers on the market. Going to the Browns will keep Kruger in the 3-4 defense as an outside pass rushing linebacker. ESPN notes: 'Kruger became the driving force in the Baltimore...
The Cleveland Browns have agreed to terms with running back Chris Ogbonnaya (O-bin-eye-ya) on a two-year contract. Ogbonnaya made one start and played in 15 games last season, usually replacing Trent Richardson on third down. He finished with 24 receptions for 187 yards and gained 30 yards on eight carries. He made a career-high six receptions for 73 receiving yards in a win at...
Last night Rick and I were intent on talking Browns. We didn't know all the details of Desmond Bryant's deal yet, let alone the Quentin Groves pickup. Still, there's a lot of good Kruger talk. Here's what else… Paul Kruger signing and whether he'll be a "leader" Signing starters, team leaders, or both Comparing signings to Scott Fujita Desmond Bryant and "the mugshot"...
According to ESPN's Adam Schefter, the Cleveland Browns have reached an agreement on a five-year deal with free agent linebacker Paul Kruger. Browns reached agreement in principle on a five-year deal with Paul Kruger. — Adam Schefter (@AdamSchefter) March 12, 2013 Kruger had 42 tackles, 9 sacks, 1 forced fumble and 1 interception in 2012. Update: Kruger's deal is for $41 million...
Ian Rapoport reports that the Cleveland Browns have signed DT Desmond Bryant. ESPN's Adam Schefter reports that the Bryant will receive a five-year, $34 million contract. Bryant was the best available defense tackle on the open market, so this is a great addition for the the Browns who are currently in the process of adding some extra talent to their front-seven. They signed OLB...
At this rate it won't be long until this place is nothing but a Vic Carucci meta-site. Kruger identifies with Browns fans By Vic Carucci, Senior Editor (www.clevelandbrowns.com) Paul Kruger credits his childhood in Utah with helping to shape him into the type of person who should be right at home in Northeast Ohio. He grew up near mountains … Mountains! . . . . . . and loving...
Former Cleveland Browns wide receiver/return specialist and current free agent Josh Cribbs has flown mostly under the radar this offseason. The dynamic wide out has reportedly narrowed his search for his next team down to two, the New England Patriots and the Arizona Cardinals, according to Mary Kay Cabot of The Plain Dealer. #browns Josh Cribbs has it narrowed down to the patriots...
So that's that RT @marykaycabot: Josh Cribbs to Arizona, source told Pd.— Jeff Howe (@jeffphowe) March 14, 2013 So maybe "losing out" is a little bit of a stretch, but the Patriots were pursuing him and at one point were the favorites to sign him. Perhaps the Danny Amendola signing had them a little less interested. Amendola can be a returner too, though not Josh...
The Cleveland Browns are not wasting time going into free agency with their new ownership. They have signed linebacker Paul Kruger away from the Super Bowl winning Ravens. The terms of deal are being reported at 5-years for $40 million. Kruger had a breakout season in 2012, as he recorded 9 sacks after becoming a starter in the second half of the season.  His offseason is when he...
According to Aaron Wilson of the Baltimore Sun, the Cleveland Browns are closing in on Ravens' linebacker Paul Kruger. Sources say Browns are closing in on their target: Ravens pass rushing outside linebacker Paul Kruger. Nothing official yet of course — Aaron Wilson (@RavensInsider) March 12, 2013 The Browns and Colts are the two teams that seem to be the most interested in...
NFL News

Delivered to your inbox

You'll also receive Yardbarker's daily Top 10, featuring the best sports stories from around the web. Customize your newsletter to get articles on your favorite sports and teams. And the best part? It's free!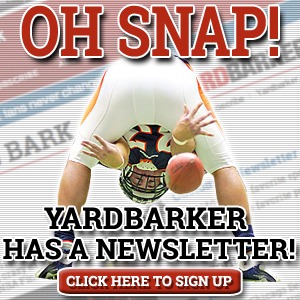 Latest Rumors
The Backyard

Today's Best Stuff

For Bloggers

Join the Yardbarker Network for more promotion, traffic, and money.

Company Info

Help

What is Yardbarker?

Yardbarker is the largest network of sports blogs and pro athlete blogs on the web. This site is the hub of the Yardbarker Network, where our editors and algorithms curate the best sports content from our network and beyond.