Found October 24, 2013 on Optimum Scouting:
Currently on pace for more than 4,400 yards passing this season, Baylor quarterback Bryce Petty has made as smooth a transition into a starting position as anybody in the country. His pristine 15-1 TD to interception ratio is glistening, but more importantly he looks comfortable and confident as a first year starter.

If there's anything you should know about Baylor head coach Art Briles, it's that his quarterback resume is borderline impeccable. If you toss out his first season at Baylor when he started a true freshman (named Robert Griffin III) and attempted less than 300 passes, Briles' starting quarterbacks have averaged over 300 yards passing per game and completed over 65 percent of their passes. With those numbers in mind, Petty is performing well above the mean this season by averaging nearly 340 yards passing per contest and completing over 71 percent of his passes through the team's first six games.
It's easy to discount these numbers, due to the weak competition Baylor has faced to this point, but to put their level of competition into perspective Baylor's 93rd rated strength of schedule ranks three slots ahead of Louisville's highly criticized 96th rated strength of schedule. As we've pointed out here at Optimum Scouting with regards to the top draft eligible quarterback Teddy Bridgewater, good quarterback is good quarterback play.

Standing 6'3 and carrying a solid 230 pounds, Petty possesses an ideal body type to stare down the gun barrel, operate within the pocket and take a hit. Beyond that, Petty also has more than enough mobility and athleticism to extend plays outside the pocket. In using his feet, Petty is far more concerned with delivering the ball downfield, keeping his vision downfield and anticipating separation down the field. To top it off, Petty has a plus arm to go along with plus accuracy across the board.

With Baylor's talented group of speedsters at receiver, namely Tevin Reese and Antwan Goodley, Petty has been able to access their vertical potential in a similar fashion to Robert Griffin III's success with Kendall Wright and Terrence Williams in 2011. The only difference between Baylor's offense this year compared to 2011 is the fact that this year's team has a Heisman candidate at running back in Lache Seastrunk, increasing the effectiveness of play action and mesh point action in the backfield.


Touch, Timing, Buckets
When you watch Bryce Petty operate, it's obvious that he's extremely comfortable throwing with loft, trajectory and touch. Whether it's vertically down the field or in the red zone, he excels at throwing what scouts and coaches refer to as "bucket throws."

1. On this simple play action pass, Petty pulls Tevin Reese away from the cornerback in coverage, driving the throw outside the numbers and over his receiver's outside shoulder. Spinning the ball cleanly with an easy flick of the wrist, these are the throws Petty appears most comfortable making.



Given his subtle shoulder pump fake at the top of the drop, this was a stutter-go, double move route by the receiver. Throwing with ideal trajectory and velocity to hit Tevin Reese in stride down the sideline, Petty's combination of touch and timing result in a big gain of 40 yards.

2. Highlighting the same skill set, only with a smaller margin for error in the redzone, Bryce Petty places the football only Antwan Goodley can make a play on the ball.



Because the throw is made from the opposite hash mark to the opposite field, Petty knows that a back shoulder throw low and outside is a low percentage play. Opting for trajectory and turning the pass into a bucket throw, you see Petty's touch on full display.


3. On this last throw, you see more of the same –high difficulty throw, small margin for error and limited real estate to work with.



Keeping his vision down the middle of the field for a half count and resetting to the outside, Petty attacks this 2-man under coverage beautifully. Instead of throwing blindly to Goodley, he hitches forward in the pocket while confirming his coverage read. From there, Petty's rapid fire release and natural throwing ability take over as he snaps off an accurate pass over his receiver's shoulder and away from the defender's hands.

While you may be wondering why he didn't throw Goodley downfield with the safety inside the hash mark, I'll direct your attention to Goodley's extremely wide split from the sideline. With anywhere from a yard to 2 yards width from the sideline, few quarterbacks are able to drop the ball into that narrow window.  


Big Time Arm Talent
1. While bench patterns and comeback routes can showcase a quarterback's ability to drive the football downfield, there's arguably no throw more difficult than a deep post versus sound coverage. On this throw, Petty beats a soft cover 3 zone look by attacking the void along the left hash mark –splitting the deep third cornerback and deep middle safety.



While the safety and corner both appear in ideal position, Petty is able to complete this pass thanks to his perfect ball placement (high and away from the cornerback) but also because of the back end velocity. Too much air on that throw would result in an interception or pass breakup by the rolling safety, but not enough air would let the corner get a hand on the football. Here you see there's no defense for an accurately placed pass.

2. Most big time throws are vertical or down the field like the GIF presented above, but shorter ranged throws also present difficulty to quarterbacks at the NFL level.



The catch is bobbled incomplete, but Petty's plus release, ball placement and velocity allow him to fit this throw between two defenders in the back part of the endzone. Again, there's a small margin for error and he fits the throw into a tight window. You see this throw quite a bit in Baylor's offense, where the mesh point is purposed to pull the linebackers down into the box in order to create a throwing window; on this snap, it's important to realize that Petty throws this pass from the far hash mark to the wide side of the field, resulting in an unconventionally far throw from quarterback to receiver.


Base Footwork and Reset Issues
Because of Petty's natural ability, you do see some laziness to his lower half mechanics at times. On the following throw, Bryce fails to step entirely to his target line and delivers the pass from an opened stance.



Goodley nearly makes a shoestring catch, but the ball placement is low. If you followed a straight line from Petty's front foot, you'd eventually run into Tevin Reese. In this instance, Petty's presnap read told him to hit Tevin Reese; however, after seeing the linebacker drop into position, he made a last second decision to hit his secondary target Antwan Goodley. Quick decision-making is a premium in this offense and I'm splitting hairs here, but critical errors happen when quarterbacks lock their feet into a play action pass and work through the progression without resetting their base.

2. In the next throw, Baylor comes out in a bunched doubles formation where the splits of both sets of receivers are aligned outside the numbers. Petty correctly reads the safety and holds his single high protection to the middle of the field with eye discipline, however pressure forces an off balanced throw.



Although he pulls the trigger late, Petty has the range to drive the ball from far hash to the far sideline. The slight underthrow forces the receiver to fight back through the cornerback's positioning, resulting in a pass interference as the corner failed to locate the football. Again, Petty's ball placement is affected by his inability to reset his feet on a late read and backside throw. The read was correct –attacking a one-on-one situation with your leading wide receiver– but a quick reset to the target line is required to complete this high difficulty throw. 

3. Returning to the West Virginia game and a similar type progression later in the game, Petty makes the proper adjustment with his feet, resulting in an accurate throw towards the sideline hitch route. Seeing the slant window occupied by a linebacker, Petty is taught to immediately work to the sideline, where he'll have a simple hitch route from the Z receiver. This is the proper footwork I want to see moving forward, particularly when Petty is switching targets through a progression.




Conclusion
The reasons for Petty's emergence in this offense are also why I view him as a potential first rounder–his velocity control, ball placement and release quickness all deserve "plus" marks on a scouting report. As often stated by ESPN analyst Trent Dilfer, there are a ton of quarterbacks that have tremendous arm strength and ability to gun the football. The difference between arm strength and true "arm talent" is the ability to control the flight of the ball, adjust trajectory and velocity as required, and most of all throw with consistent accuracy across the field. While he's a big guy and has a big arm, Petty has proven early this season to be in possession of true arm talent and he's a prospect to keep an eye on as the season progresses.
Original Story:
http://www.optimumscouting.com/draft/...
THE BACKYARD
BEST OF MAXIM
RELATED ARTICLES
Brian Orakpo and Reed Doughty collaborated on a pick-six last week. What does the defense have in store for the encore? (Photo: Toni L. Sandys / Washington Post) Open up your eyes, open up your ears, Get together and make things better by working together. It's a simple message, and it comes from the heart. Believe in yourself, For that's the place to start. If you're a product...
START   QB: Robert Griffin III at DEN – While rushing for 161 yards over his past two games, Robert Griffin III has helped solidify the belief that "he's back." Rushing for 55.1 yards per game last season, RGIII finished as the No. 5 fantasy quarterback – despite missing a game. Facing a Broncos defense that is allowing the most fantasy points per game to opposing quarterbacks...
Start RGIII against the Broncos. Robert Griffin III seems to be returning to form. He is poised to repeat his second half performance from 2012. ESPN notes that RGIII is at 100% for the first time this year. The Broncos are the only team in the NFL who gives up over 350 yards per game to opposing QBs. This is mostly because teams who play Denver are playing from behind, but nonetheless...
Robert Griffin III won a Heisman Trophy in 2011 and helped Baylor win 10 games for the first time since 1980. Without those accomplishments, Baylor's new 250 million home along the Brazos River never happens. There aren't any plans now, but Griffin would be OK with his name being somewhere on the new stadium or field. "I think it would be an honor. It's not anything...
In 2012, the story was Robert Griffin III, an impossible combination of athleticism and accuracy, a quarterback who had more rushing touchdowns than he did interceptions and completed 65 percent of his passes. From the vantage point of this season looking backward, it's still amazing to think that RGIII somehow threw and ran for 27 scores and only threw five picks -- although...
Washington Redskins safety Brandon Meriweather will only have to serve a one game suspension, the NFL announced Wednesday. Meriweather's two game suspension was reduced to one on appeal. He will miss the Redskins game against the Denver Broncos and will be able to rejoin the team next Monday. The NFL announced Monday that Meriweather had 
Words don't really do this picture justice, but for the sake of clarity, what you behold here is indeed an inquisitive cat reading a newspaper, the Los Angeles Times to be exact, while taking care of its usual business in a litter box. From the looks of it, the cat is just simply reading up on San Diego Chargers news.  For the record, the Chargers go for their...
This is the game 6 report card for the offense of the Washington Redskins against the Chicago Bears. QUARTERBACK: This was clearly the best game of the season for Robert Griffin III, the one in which he looked the most like the man who propelled the Redskins to the division championship in 2012. RG3 completed […]
Injuries and unusual penalties ruled the NFL headlines in Week 7. The league's IR welcomed a few more Pro Bowlers to its already crowded list, and football fans everywhere were vexed by the call that essentially handed the Jets an overtime win against the Patriots. But there was more to the NFL's Week 7 than might meet the eye. The Giants finally won a game, leaving the Jaguars...
Redskins News

Delivered to your inbox

You'll also receive Yardbarker's daily Top 10, featuring the best sports stories from around the web. Customize your newsletter to get articles on your favorite sports and teams. And the best part? It's free!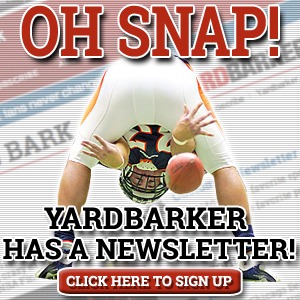 Latest Rumors
Best of Yardbarker

Today's Best Stuff

For Bloggers

Join the Yardbarker Network for more promotion, traffic, and money.

Company Info

Help

What is Yardbarker?

Yardbarker is the largest network of sports blogs and pro athlete blogs on the web. This site is the hub of the Yardbarker Network, where our editors and algorithms curate the best sports content from our network and beyond.