Found January 11, 2013 on NorthWest Sports Beat:
PLAYERS:
Drew Bledsoe
,
Matt Hasselbeck
,
Mike Holmgren
,
Steve Hutchinson
,
Dennis Norman
,
Trent Dilfer
,
Seneca Wallace
,
Russell Wilson
,
Jon Kitna
,
Jerramy Stevens
,
Jerome Bettis
TEAMS:
Seattle Seahawks
,
Tennessee Titans
,
Cleveland Browns
,
Dallas Cowboys
,
Tampa Bay Buccaneers
,
New England Patriots
,
Notre Dame Fighting Irish
Ever wonder how it might have been? There are a few "what if" questions that come to mind right off the bat when it comes to the Seattle Seahawks, and I will touch on those for sure, but I want to take a look at some other questions that have had me wondering over the years. The two big ones are Drew Bledsoe, and Super Bowl XL. Of course they are, right? Was there any other bigger what if questions in Seahawks history? I think so, and I will start with the biggest one first. What if there was no Largent? Steve Largent was what dreams were made of for us fans growing up during his tenure in Seattle. It's true that we never won any titles with him here, or were big enough to garner the national spotlight that other greats of his time were, but he was our "greatest wide receiver of all time." A player from the heartland, who was on the verge of being cut by the Houston Oilers, was ultimately traded to the Hawks for an 8th round pick. (What a bargain). That pick ended up being Steve Davis, who never even played a single down in the NFL. (Once again, what a bargain). But just think if the Seahawks had landed Steve Davis instead of making the trade the previous year? Number 80 would not have had the same effect that it does on us today, nor would we have had our first Hall of Famer, and record holding receiver. Steve Largent was our notoriety for many, many years. Could the Seahawks actually have survived without the great #80? (Photo: Google) What if Holmgren never brought Matt Hasselbeck to the Northwest? Another bargain deal for the Seahawks. Matt Hasselbeck who would become the best QB to date to ever wear a Seahawks uniform, was acquired from Green Bay by his former coach Mike Holmgren. Hasselbeck, and the Packers first round (17th overall), and a 7th round pick were traded to the Seahawks for the 10th overall pick, and a third round pick. The Packers used their picks on DE Jamal Reynolds, and ILB Torrance Marshall. Reynolds ended up playing only three seasons in the NFL, while Marshall played the same amount of years in the NFL before going on to other leagues to finish out his career. The picks that the Seahawks used in the draft ended up being G Steve Hutchinson, who needs no introduction, and OT Dennis Norman. Hutchinson will one day be a hall of famer, as should Hasselbeck, while Norman spent three years in Seattle before playing with Jacksonville and San Diego before retiring in 2009. So without a doubt, the Seahawks made out like bandits on this deal as well. What would life have been like without Hasselbeck? Well, we had Trent Dilfer there for a bit, but he was on the downside of his career. It could have led the way for Seneca Wallace to be our number one, but we all know he was a better WR and special teams player than a QB. You get my drift about how we would have been waiting a long time for Russell Wilson if Holmgren never pulled the trigger on that one. What if New England hadn't balked at Mirer? A decade of a dynasty in the making is exactly what the New England Patriots got when they pulled a fast one and went with Drew Bledsoe instead of who the world thought they were going to take, Rick Mirer. Rick Mirer; the butt of more than just a few jokes around the NFL (Photo: Seattle PI) So, while New England were off planning playoff trips and a future as the best team of the decade, the Seahawks were stuck with possibly one of the worst picks in the history of sports. Well, the Greg Oden one may top this one. Just a stab at Blazers fans, sorry. Mirer was tabbed as the savior of a franchise, and brought the hype of an All American coming out of Notre Dame. Boy were we ever wrong. Jon Kitna couldn't arrive soon enough. No more on this one, because there's no sense in reliving the heartache and pain of a bad era of Seahawks football. What if Jerramy Stevens didn't drop that ball in the end zone? Trash talk has been in sports for as long as there have been sports. It's part of the game, and will not be going away anytime soon, especially with today's world of Twitter. But, if you are going to do it, back it up on the field right? Well, obviously Jerramy Stevens didn't get that memo back in Super Bowl XL. With three drops in the game (which was an epidemic for all Hawks receivers that season), including one in the end zone, Stevens may have single handily lost that game for us. In my eyes it was only half of the problem, the "home town" refs being the other half, but that's a story for a different time. So what would've happened had Stevens caught that ball? We may have walked away with a win that day, officially. We could have been the champions of the world on that day. And we could have sent Jerome Bettis off into the night a loser, and not a winner. But that's the point of this piece, all these questions are hypothetical. None of these things actually happened. You win some (Largent and Hasselbeck), and you lose some (Mirer and Stevens). All I know is that when the time actually comes when Russell Wilson does lead us to a Super Bowl Championship, it will be that much sweeter after all the turmoil this franchise and us fans have suffered going on four decades. So with that in mind, we all need to be focused and get the next win on Sunday! CLICK HERE CHECK OUT THE SEAHAWKS BLOG IN OUR CLUBHOUSE SECTION AT NWSB!
Original Story:
http://www.nwsportsbeat.com/seahawks/...
THE BACKYARD
BEST OF MAXIM
RELATED ARTICLES
MISUNDERSTOOD
Seahawks cornerback Richard Sherman says he is a good guy and that he doesn't know why people find reasons to dislike him.
When Seattle took on Washington in the NFC Wild Card playoff matchup Richard Sherman was all over the field. Although he did not have a direct impact in the box score he was locking down receivers and laying licks on Redskins players all night long. Sherman is known as a lock-down defender and is arguably the best cornerback in the NFL this year. The Redskins dominated the first...
Rookie quarterback Russell Wilson has already surpassed fellow first year signal callers Andrew Luck and Robert Griffin III. While they were getting eliminated in their game, Wilson was downfield blocking for Marshawn Lynch on a touchdown run. It was impressive to see Wilson sprint past everyone and spring his running back. Every week he does something the other two rookies haven't...
The Seattle Seahawks didn't exactly get out to the start they were hoping for on Sunday, getting down by two touchdowns early.  However they were able to overcome the sluggish start as well as a key goal line fumble by Marshawn Lynch in order to beat the Washington Redskins.  The win at Washington solidified the Seahawks as a real contender seeing that their weakness this season...
Zach Miller came to Seattle in 2011 with a big contract and a penchant for catching a lot of passes. After the tight end spent his first season with the Seahawks mainly as a blocker and catching very few balls, there were plenty of questions about whether the team made a smart investment. If they weren't before, those questions were gone after Miller's performance in last...
We've all heard by now how bad the grass really was at FedEx Field last Sunday for the wild card round matchup between the Washington Redskins and the Seattle Seahawks. The field, which looked dangerous from the get-go, proved to be harmful. Redskins quarterback Robert Griffin III reaggravated a knee injury that led to surgery, and the Seahawks moved on to the divisional round...
The wild card weekend is over,it's time to separate the men from the boys. Weaknesses that can be hidden on a normal Sunday, will be exposed like George Clinton at an insurance seminar. Atlanta has been very good, dominant at times (just ask the Giants). What does 13-3 and the number one seed in the playoffs buy you? Not a lot of respect if you are the Falcons.People view them...
It starts with the coach In a classic NFL birds of prey matchup, the Seattle Seahawks are set to take on the Atlanta Falcons in a win-or-go-home playoff battle. Here is how head coach Pete Carroll will keep the Falcons grounded and winless in the postseason since quarterback Matt Ryan joined the dirty birds. Marshawn Lynch should carry the ball at least 25 times against the Atlanta...
The Falcons and Matt Ryan have the worst match-up against Seattle if they want to get their first playoff win. The Wildcard games disappointed for one reason, quarterback play.  That will not be a problem this weekend.  The marquee quarterbacks are off their bye weeks and are ready to lead their teams onto the field. Here is a look at the games and my selection of the winners...
For years, stats geeks and old-schoolers have been fighting over the importance numbers and trends possess when it comes to predicting future outcomes. The champion of the stats side of that argument is Nate Silver, who comes from the world of sabermetrics and who also happened to use his advanced system to predict the winner of all 50 states and all but one Senate race in November...
NFL News

Delivered to your inbox

You'll also receive Yardbarker's daily Top 10, featuring the best sports stories from around the web. Customize your newsletter to get articles on your favorite sports and teams. And the best part? It's free!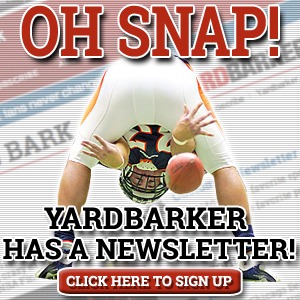 Latest Rumors
Best of Yardbarker

Today's Best Stuff

For Bloggers

Join the Yardbarker Network for more promotion, traffic, and money.

Company Info

Help

What is Yardbarker?

Yardbarker is the largest network of sports blogs and pro athlete blogs on the web. This site is the hub of the Yardbarker Network, where our editors and algorithms curate the best sports content from our network and beyond.