Found January 09, 2013 on Buddy Nixon:
PLAYERS:
Mike Pettine
,
Rex Ryan
,
Buddy Ryan
,
Mario Williams
,
Kyle Williams
,
Marcell Dareus
,
Stephon Gilmore
,
Aaron Williams
,
Bryan Scott
,
Alex Carrington
,
Jarvis Jones
,
Barkevious Mingo
TEAMS:
Baltimore Ravens
,
New York Jets
,
Chicago Bears
,
Buffalo Bills
,
LSU Tigers
Now that the Bills have hired former Jets assistant Mike Pettine as their defensive coordinator, many fans have wondered how they are going to utilize their current defensive personnel, which is currently tapered to play a 4-3 style of defense. Pettine, a student of Jets head coach Rex Ryan, spent seven years as an assistant with the Baltimore Ravens, and the last four as defensive coordinator of the Jets. There has been some debate over who actually called the defensive plays in New Jersey, so I can only go off of the fact that Pettine stated that they shared that responsibility depending on the game situation. In terms of which defense the Bills are going to play next season, I don't have an answer to that. Mike Pettine is the defensive coordinator. I'm just a guy. But I can give a background on him, the defenses he has used, and what that could all mean. Most of the response from Bills fans thus far has been concern that the Bills will transition back to a 3-4 defense, which is probably closest thing you could label Pettine and Ryan's defense with the Jets. I don't find this as much of a concern as other fans seem to, as one of their strengths as defensive architects was their ability to switch up fronts based on offensive personnel. Erik Frenz wrote an article about this today, which contained some interesting tidbits about the fronts that the Jets used in the past. In 2011, the Jets ran a 3-4 front 37% of the time, which was the entirety of their base packages of that season (meaning sets with four players in the secondary). So a little over a third of their plays were run in a standard 3-4 (in 2012 they began running more 4-3 concepts, but certainly not enough to label it a 4-3 defense). What's interesting is the array of different formations that they used in 2011. The Jets ran 19% of their plays out of a 3-3-5, a defense only recently utilized beyond Morgantown, WV, and ran 16% of their plays out of a 1-3-7. These defenses are built to confuse highly complex, timing-driven offenses, which can be said about most of the NFL's teams at this point. These defenses are rooted in 46 concepts, which were created by Buddy Ryan in the 80′s (for the Super Bowl Champion Chicago Bears) and passed on to his sons, Rex and Rob. It's a high-volume blitz concept that worked extremely well in the 80′s for stopping the run and creating quarterback pressure, and more recently has worked in varying degrees of success in flustering quarterbacks. Just a quick refresher on the original 46: Three members of the defensive line line up over the center and two guards. The weak side defensive end (I would call it "defensive end", but pretty much every position in the 46 could be put into "quotes") lines up outside of the tackle. Two  outside linebackers line up on the strong side, and then generally the strong safety moves into the box to serve as an additional middle linebacker (with the middle linebacker). That's a very general description of it, but the modern version of it generally looks like this: (from Buffalo Rumblings)   The 46 is intended to frustrate the quarterback and occupy blockers to make space for linebackers to make tackles. This defense still calls upon a pass rusher on the line of scrimmage and defensive tackles that can occupy blockers and occasionally make plays. The Bills possess these players in Mario Williams, Kyle Williams and Marcell Dareus. Linebackers with pass rushing ability are also important, as is a strong middle linebacker against the run (though I suppose all defenses could use one). The Bills won't be running a 46. That's not what Pettine and Rex Ryan ran in New Jersey, and for the most part, a straight 46 has been phased out of the league. There are still people that defend the 46 as a defense that can be used in any situation, but in general, the defensive play callers of the league have not displayed that sort of confidence in it. Modern NFL offenses simply use too many receivers and too many quick reads for an eight-in-the-box defense to work effectively. And like the intelligent football coaches that they are, proponents of this system like Rex Ryan have adapted to the league and introduced some of the aforementioned formations like the 1-3-7. You can quibble all you want about the number of players on the line of scrimmage, but I don't think that's nearly as important as it's being made out to be. Pettine will more than likely implement a system that requires versatile players. It will also require pass rushers. Mario Williams qualifies as both, possessing both the athleticism and size to play on the line of scrimmage or standing up. Remember, Williams had five sacks in five games in 2011 as an outside linebacker. But whether the Bills defense looks more like a 4-3, a 3-4, or a Super Mighty Taco, they are going to need another pass-rushing linebacker. Pettine is going to send pressure. He's going to send it from many different angles and positions. Another concern for Pettine's defense is our secondary. The Jets cornerbacks were in man coverage a good portion of the time, often on islands, in either man-free or bump-and-run coverage. This is a lot easier to get away with when you have two Pro Bowl cornerbacks (like the Jets have). The Bills have Stephon Gilmore, who seems up to the task, and essentially nobody else who has proven to be effective in man coverage. This is a situation where Aaron Williams could either thrive at cornerback or possibly move to free safety (or if those don't work, another team). The hiring of Pettine tells me that the Bills will probably address defense heavily in the offseason. Although there are some players well-suited for this sort of defense (Williams x2, Dareus, Gilmore, Byrd, and to a lesser extent Bryan Scott and Alex Carrington), there is very little second-level pass rush pressure on this Bills roster. It also makes the second cornerback spot even more of a glaring weakness. I believe that the Bills will address one of those needs in the first round of the draft (much to the chagrin of those projecting the Bills to take a quarterback and wide receivers in the opening rounds). This is a reasonably strong draft for addressing defense, with pass rushers like Georgia's Jarvis Jones, LSU's Barkevious Mingo, and Texas A&M's Demontre Moore looking likely to go high in the draft. Alabama cornerback Dee Milliner would also be an excellent fit for this new defense if he chooses to enter the 2013 Draft. All in all, I approve of the hiring of Mike Pettine (I'm making a statement like my opinion matters). Jets fans seem to have him in high regard, as does their local media. According to Football Outsiders, who are considerably more intelligent than I, the Jets defense was ranked 1st, 5th, 2nd, and 9th in Pettine's four year tenure as defensive coordinator. Yes, four top-ten ranked defenses. So I'm going to give this a chance. Maybe the defense is going to change, maybe the defensive personnel is going to change; most of all, I'm just hoping that the results change.
Original Story:
http://www.buddynixon.com/analysis/mi...
THE BACKYARD
BEST OF MAXIM
RELATED ARTICLES
With the Buffalo Bills' recent hiring of Mike Pettine as the new defensive coordinator, much has been made regarding the style of defense that the team will play in 2013. The Bills failed in their attempt to operate out of the 3-4 defensive front in 2011, only to revert back to the four man front [...]The post Mike Pettine's Hybrid Defense, And How It Works appeared first on Queen City Sports.
Mike Pettine's reported move from New York Jets defensive coordinator to Buffalo Bills defensive coordinator is lateral by definition, but in reality, it's a step up.Working under head coach Rex Ryan, Pettine was "in charge" of the Jets' defense the past four years, but it was never truly his defense. At least that was the perception.His responsibilities and...
This will be the last Q&A ever!! I promise. I gotta get back to writing. Anyways, the Bills have a new coordinator and I wanted to pick the brain of Jets writer Daniel Krieg from Rexsanchez.com to see what the deal was with Mike Pettine. Enjoy and tell a friend. 1) Can you desrcibe the pros/cons of the Jets' defense? The Jets defense was pretty solid overall. Its...
BY NICK ST. DENISMike Pettine went to the Buffalo Bills to escape New York Jets coach Rex Ryan's shadow. Pettine already appears to be bringing some of that shadow to Western New York.Pettine discussed his plans for the Bills' defense with BuffaloBills.com Thursday. (photo credit: BuffaloBills.com)"I think the fans will be excited about it because we're going to be...
Hot News for C Doug Marrone
ESPN's Chris Mortensen reports that the Buffalo Bills have hired former Jets defense coordinator Mike Pettine to run their defense. Pettine's contract recently expired with the Jets and they made it pretty clear that they were prepared to move in a different direction. Pettine joins the two men from Syracuse to round out the Bills' coaching staff. He's produced some pretty...
Mike Pettine has been hired as the Buffalo Bills new defensive coordinator and Nathaniel Hackett will be running the offense as part of newly hired coach Doug Marrone's staff. Pettine spent the past four seasons as the New Jets defensive coordinator, before turning down the team's offer to extend his contract last season. He's known for his aggressive approach, and has...
New York Jets coach Rex Ryan announced Tuesday that offensive coordinator Tony Sparano was fired and defensive coordinator Mike Pettine is leaving the team. It was the first time Ryan has met with the media since the regular season ended. Sparano was let go after just one season. The move comes on the heels of quarterbacks coach Matt Cavanaugh being told Monday that his contract...
Buffalo has hired former New York Jets defensive coordinator Mike Pettine to fill the same role with the Bills, according to several reports Wednesday. Pettine's deal is for three years, ESPN.com reported. However, the Bills have yet to announce the move. After working as the Jets defensive coordinator for four years, Pettine left New York at the end of the regular season...
The New York Jets' defensive coordinator wouldn't come back, the offensive coordinator couldn't come back, and the quarterbacks coach shouldn't have been there to begin with.A week after giving general manager Mike Tannenbaum the axe, the Jets fired offensive coordinator Tony Sparano and won't bring back quarterbacks coach Matt Cavanaugh or defensive coordinator...
The Buffalo Bills are quickly putting together a new coaching staff.  They recently hired former Syracuse head coach Doug Marrone and offensive coordinator Nathaniel Hackett. According to ESPN's Chris Mortensen, the Bills have now hired former Jets defensive coordinator Mike Pettine to lead their defense this season. As expected, the Bills have hired Mike Pettine as defensive...
The Buffalo Bills hired offensive coordinator Nathaniel Hackett and defensive coordinator Mike Pettine to serve on new head coach Doug Marrone's staff. Hackett is a familiar name in NFL circles, as his father, Paul Hackett, was a longtime quarterbacks coach and offensive coordinator in the league. Nathaniel Hackett has built his own impressive resume as an offensive-minded coach...
NFL News

Delivered to your inbox

You'll also receive Yardbarker's daily Top 10, featuring the best sports stories from around the web. Customize your newsletter to get articles on your favorite sports and teams. And the best part? It's free!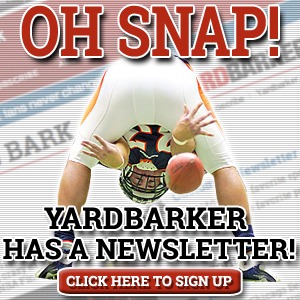 Latest Rumors
Best of Yardbarker

Today's Best Stuff

For Bloggers

Join the Yardbarker Network for more promotion, traffic, and money.

Company Info

Help

What is Yardbarker?

Yardbarker is the largest network of sports blogs and pro athlete blogs on the web. This site is the hub of the Yardbarker Network, where our editors and algorithms curate the best sports content from our network and beyond.