Found November 02, 2012 on Extra Pine Tar:
PLAYERS:
Mickey Mantle
,
Tom Brady
,
Mark Sanchez
,
Ben Roethlisberger
,
Dan Marino
,
Peyton Manning
,
Eli Manning
,
Aaron Rodgers
,
Drew Brees
,
Rob Gronkowski
,
Antonio Cromartie
,
Robert Griffin III
TEAMS:
Boston Red Sox
,
New England Patriots
,
New York Jets
,
Pittsburgh Steelers
,
New York Giants
,
Green Bay Packers
,
New Orleans Saints
,
Washington Redskins
My dad is good for many things. Picking up the tab at dinner. Telling me stories about Mickey Mantle. Falling asleep with his mouth open on the couch. More than all of those, though (well, except the dinner one), he's best at good ol' fashioned football talk. For years, the Red Sox – and baseball – were his baby, but as the Patriots have become a surefire 11-win each year over the past decade, he's directed the bulk of his attention towards the Pats. He loves all the local teams, and he's as irrationally nuts about these teams as I am, but the Patriots are his unquestioned No. 1. That means he reads everything ever written about the New England Patriots. He goes through four different newspapers daily. He can rattle off the 53-man roster, the practice squad, the 40-time of the Pats' sixth round DE pick and the reason that the team lines up in a four-wide set more often then a three-wide. He talks about back shoulder throws and cover zero and zone blitzes. He never played football, but he's spent enough learning about the game and reading about the game to be as credible a football mind as I know in person. But this isn't all about singing my dad's praises. I am driving at something here. Last night, we got into a little bit of a discussion about the Patriots, and the notion that Tom Brady is having a "down" year came up. That seems to be a popular storyline around the country, predominately because the Pats are 5-3 and not their usual 8-0. My dad disagreed with the idea that Brady isn't playing well, and he started rattling off stats (from his head…) to back his argument up. And it made sense, with the basic numbers he provided. He mentioned yards and touchdown passes and what Brady was on pace for over a full season in both categories. Before you knew it, I was buying in to the idea that Brady was not having a "down" season by any means, but actually one for the ages. Then I remembered – while knowledgeable, my dad also has another trait as it relates to the Pats. Homerism. He's never predicted them to lose a game. He thinks Brady should take Lincoln's place on Mount Rushmore. If they sign a guy or draft a guy, you better believe he thinks it's going to work out. In Bill he trusts. So that brings me to today, when I decided to check out his premise. Maybe Brady really hadn't been having a below average year. I mean, it has certainly seemed to the naked eye that he hasn't been as good this year as he was last year, 2010 or 2007, but maybe my eyes were deceiving me. Maybe my dad wasn't just being a homer. I researched. I looked at lots and lots of numbers, both past and present. Guess what? My dad was right after all. Tom Brady isn't having a bad year at all. In fact, he's having one of the great years of his career. Don't believe me? Hear me out. First of all, let's remember that we're not talking about whether Brady is having a "bad year." He's not. Nobody would really insinuate that. Blaine Gabbert has "bad years." Mark Sanchez has "bad years." Brady may have "down" years, but that refers strictly to his performance compared to his other performances. Therefore, when we're referring to a "down" year, it's in relation to his best years, when he became a stats machine and started records. This season, through eight games, Brady has thrown for 2,408 yards and 16 touchdowns against just three interceptions. Those numbers look great on paper, but are they? Yes. Brady leads the league in yards passing, is fifth in touchdown passes and has thrown the fewest interceptions among starting quarterbacks in the NFL, tied with Ben Roethlisberger, Robert Griffin III and Blaine Gabbert (Gabbert?). Paced out for 16 games, Brady would throw for 4,816 yards and have 32 touchdowns with six interceptions. For his career, that yardage total would be the second-most he's ever thrown for. He threw for 5,235 last season. Even in his record-setting, 50-touchdown season in 2007, Brady didn't throw for that many yards. He threw for 4,806. Touchdown wise, the 32 would give him the fourth-highest total of his career. Keep in mind this is his 11th season as  a starting QB. But looking deeper, his 32-6 touchdown-to-interception ratio would be a mindblowing 5.33-to-1. To put that in perspective, Brady's career TD-INT ratio is 3.19-to-1, which is the best of all-time. Only twice during his career has he exceeded the 5.33-to-1 pace he's currently on. In 2007, the aforementioned 50-8 season, his ratio was 6.25. In 2010, he threw 36 touchdowns and four picks for a record-setting 9-to-1 ratio. Both of years he won the MVP, and he's not far behind that 2007 pace at all. Oh, that means that this year's ratio is actually better than last year's – when he broke Dan Marino's passing yardage record. He threw 39 touchdowns and 12 interceptions last year, good for a 3.25-to-1. Lest we also forget that this year the Patriots are fifth in the NFL in rushing yardage, which is not the way they have been in the past. Brady is standing behind center and throwing the ball every down like the Saints or the Packers. The Patriots are running – at least in some games. His stats aren't inflated because of a lopsided pass-run balance. Some other quick numbers from this season: Brady in sixth in QB rating, ninth in completion percentage and ninth in yards per attempt. The Patriots have the league's highest-scoring offense, and it's not even close with any other team. Yet, even if all of that means nothing you, there's one more stat that I think really shows off how good a year Brady has had, even if it's gone slightly under the radar (if that's possible for a QB with five Super Bowl appearances, three wins and a spot already reserved in Canton). Remember ESPN's Total QBR stat, which is basically a more efficient quarterback rating system? Quarterback rating can be inflated by garbage time stats and things like that. Total QBR cannot be. It takes into account fourth quarter performance (something Brady has been criticized this year for), performance when the team is trailing, performance when pressured, drops by receivers – all of those things that actually should factor in to a real evaluation of how a quarterback has played. Right now, Brady is second in the league in QBR, with a 79.2 (out of 100) rating. Peyton Manning is the only player ahead of him. Brady is ahead of Matt Ryan, Eli Manning, Aaron Rodgers, Drew Brees, Ben Roethlisberger, RGIII and everybody else in the league not named Peyton Manning. In all of the games played by every single quarterback around the league this season, Brady owns the second and sixth-best QBR games. His 98.4 QBR in the 45-7 win over the Rams last week was the second-best game played by any quarterback this season – using this stat – and his 96.5 QBR in the 52-28 win over Buffalo in Week 4 was the sixth-best game played by any quarterback this season. Does that make sense? Of all quarterbacks through nine weeks – however many total games that is – Brady has had two of the top six games. Nobody in the league has two games in the top 10 besides Brady. In fact, Brady's Total QBR this year is the seventh-best of any quarterback dating back to 2008. Translation: Over the last five years, Brady is having the seventh-best season of any quarterback during that span. To borrow one of my dad's favorite sayings, "Hows that grab you?" I think we can put to bed the Brady having a down year discussion now. Sure, the Pats have faltered at times late in games, but they also put together a late, game-tying drive against the Jets and an overtime game-winning drive in the same game. They can't be faulted for occasionally blowing out teams either, which has happened this season. At the end of the day, the offense can't do everything, and it can't come through on every drive. That's why the team is 5-3 and not 8-0. That's why the same team doesn't win the Super Bowl every year. Players aren't perfect. But we want Brady to be perfect because of how good he has been. When he tried to force that ball to Rob Gronkowski down the right sidelines late in the game against the Jets, and Antonio Cromartie dropped the interception, we all said "What's wrong with Tom?" I'll tell you what's wrong with him. He's human. It happens. And more often then not, he still plays the quarterback position better than any human alive.
Original Story:
http://www.extrapinetar.com/2012/11/0...
THE BACKYARD
BEST OF MAXIM
RELATED ARTICLES
Wes Welker is the next high-profile New England Patriots free agent that is set to hit the market in 2013. Welker, in an interview with Comcast Sports New England following his 13-catch, 104-yard, touchdown effort, ribbed Belichick for limiting his offensive snaps earlier in the 2012 season. "Yeah it's kind of nice to stick it in Bill's face once in awhile," Welker said...
FOXBORO, Mass. -- Brandon Spikes turned 25 just before the start of the regular season, which actually makes him one of the more senior players on the Patriots defense. But even at his "old age," in the locker room at least, Spikes says he feels like a teenager again. "Honestly, this is the best I've ever felt in my life. I feel like I'...
Tampa, FL- Aqib Talib's rollercoaster ride in Tampa Bay is over. After 4 1/2 eventful years, the Tampa Bay Buccaneers gave up on the potentially talented cornerback and shipped him to the New England Patriots as the trade deadline expired on Thursday.  Please Click Here To Read This Story
The Patriots have a lot of work to do during their bye week. But first things first -- they need to get healthy. That should be the team's focus this week, according to Mike Lombardi, despite the team's other concerns on the field. Lombardi joined The Dennis and Callahan Show on WEEI on Friday morning, and was asked what Bill Belichick should be honing...
New England Patriots trade for Buccaneers' Aqib Talib The good old Pats are at it again, zigging when everyone thought they'd zag by actually making a trade at the deadline for cornerback Aqub Talib. Talib is currently suspended for Adderall but is eligible to return next week. There's no question he could be useful in the Patriots secondary, especially if they'd like to...
A.B. Meet the newest member of the New England Patriots, Aqib Talib. The 20th overall pick in the 2008 NFL draft can definitely get his groove on but can he stay out of trouble? Here's a look at some of his troubled past: July 2008 – fistfight with Buc's teammate Cory Boyd. August 2009 – battered a Florida taxi driver and was arrested for simple battery. March 2011 – aggravated...
  While their 5-3 record indicates the Patriots have some holes, this team could very well be 8-0 if not for a few fourth-quarter lapses. As the offense continues to put up huge numbers, the defense has had its moments of brilliance and embarrassment. After dedicating six draft choices to the defense, the results have been mixed. First-rounders Chandler Jones...
The Patriots don't have a game this weekend, but they remain in the headlines thanks to yesterday's deal for troubled Tampa cornerback Aqib Talib. The deal, which cost the Patriots a fourth-round pick in the coming draft (and got them back a 7th rounder) has been the subject of much debate and discussion already, with much of the talk centered around Talib's considerable rap...
The New England Patriots secondary has clearly been the eyesore of the team so far during the 2012 season and are currently 29th in NFL in total passing defense. In order to fix the problem, the team made the only move in the NFL on trade deadline day but acquiring talented but troubled Tampa Bay [...]
Stevan Ridley has been a pleasant surprise for Pats fans this season, as he is on pace to eclipse 1,400 yards by season's end.   For those of you who honestly believed that the Patriots would slaughter the St. Louis Rams this past Sunday, you have more faith than I in the hometown team.  Sure, I expected the Pats to win, but I thought they would barely cover the three-and-a-half...
Tweet The New England Patriots have acquired cornerback Aqib Talib from the Tampa Bay Buccaneers. Terms of the deal were not immediately available. Talib has had multiple run-ins with law enforcement since the Bucs drafted him 20th overall in 2008, but still has a world of talent. Talib has been arrested twice in his young [...]
MIGHT BE BIASED
Dolphins center Mike Pouncey believes that Ryan Tannehill is the best rookie quarterback in the NFL and predicts that the rookie will be an elite quarterback like Tom Brady.
NFL News

Delivered to your inbox

You'll also receive Yardbarker's daily Top 10, featuring the best sports stories from around the web. Customize your newsletter to get articles on your favorite sports and teams. And the best part? It's free!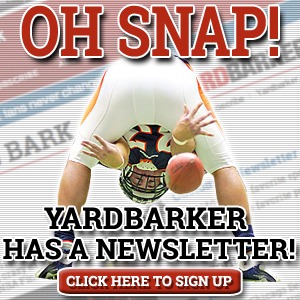 Latest Rumors
Best of Yardbarker

Today's Best Stuff

For Bloggers

Join the Yardbarker Network for more promotion, traffic, and money.

Company Info

Help

What is Yardbarker?

Yardbarker is the largest network of sports blogs and pro athlete blogs on the web. This site is the hub of the Yardbarker Network, where our editors and algorithms curate the best sports content from our network and beyond.