Found September 06, 2012 on Fox Sports Southwest:
PLAYERS:
Bill Parcells
,
Peyton Manning
,
Andre Johnson
,
Gary Kubiak
,
Aaron Rodgers
,
Ray Lewis
,
Ed Reed
,
Mario Williams
,
Blaine Gabbert
,
Connor Barwin
,
Kobe Bryant
,
Tom Brady
,
Andrew Luck
,
Adrian Peterson
TEAMS:
Miami Dolphins
,
Jacksonville Jaguars
,
Denver Broncos
,
Houston Texans
,
Tennessee Titans
,
Green Bay Packers
,
Baltimore Ravens
,
Buffalo Bills
,
Chicago Bears
,
Detroit Lions
,
Los Angeles Lakers
,
New England Patriots
,
Indianapolis Colts
,
Minnesota Vikings
,
New York Jets
This is the Texans year, people keep saying. And yes, it does have that feel to it. But how many of them are breaking down the season game by game? Well, I am. Right here. Sept. 9: Miami Dolphins The best thing about Hard Knocks was watching Dolphins coach Joe Philbin talk to his players. He spends most of his time trying to come up with ways of saying things without really saying them. It's a lot of hemming and hawing, followed by a "You get what I'm saying?" My favorite moment was when he was trying to reprimand Chad Johnson for dropping a bunch of F-bombs during a press conference. Now, I assume most coaches would get after a player for doing something like that, but I can't imagine Bill Parcells, for example, saying the following as a way of telling Johnson to stop cursing at press conferences: "I have a better sense of humor than I let out. But I temper my comments at times. You catching what I'm saying?" I would be shocked if this isn't something players laugh about amongst themselves. There must be 11 guys in that locker room with dead-on Joe Philbin impressions. This does not fill me with confidence for the future (or the present) of the Dolphins organization. Also, this is a team with no receivers that is going to be relying on a rookie quarterback who wasn't exactly known for coming through under pressure in college. Texans 34, Dolphins 14. Sept. 16: @Jacksonville Jaguars Despite a population of only 1.3 million, Jacksonville found a way to be more spread out than Houston, which is mind-boggling. Most people in Houston walk a 5k to their mailbox every morning. Jacksonville is the largest city by land area in the U.S. Jacksonville! What does this have to do with the game? Absolutely nothing. Texans 27, Jaguars 24. Sept. 23: @Denver Broncos The Texans' pass rush is really good and utterly relentless, and everybody knows Peyton Manning tends to play poorly against teams like that. And if this game were in Houston, I would pick the Texans to win it. But it is in Denver, and if I learned nothing else about the NFL from all my years in the Kansas City area, it is that you do not just go into Mile High and win, whether the Broncos are good or not. You just don't do it. It is the most aggravating thing about being another team in the AFC West. Broncos 23, Texans 17 Sept. 30: Tennessee Titans This feels like the point in the season we get the first "how bad is it?" Andre Johnson injury. Johnson's injuries are always like that. It's never simple. One of Johnson's feet could fall off and the Texans would flood the whole thing in ambiguity. All the fans would ever know is that Johnson could either play this week, or he could never play again, because all Gary Kubiak would ever say about it is, "He looked better today, but we'll have to wait and see later in the week." Texans 27, Titans 20. Oct. 8: @New York Jets The Wildcat Offense is really just the Single-Wing Offense, and the Single Wing Offense was devised by Walter Camp. Walter Camp died in 1925. His offense predates the forward pass. Nonetheless, the New York Jets plan to implement this offense into their overall offensive scheme every week. They expect their opponents will have difficulty stopping it. I am not going to go so far as to predict failure, but it seems to me the Wildcat Offense worked against NFL defenses for part of one year, that year being 2008. Texans 28, Jets 10 Oct. 14: Green Bay Packers The Texans are 4-1, Reliant Stadium is over capacity and all riled up. The Texans get a huge boost early, especially to the pass rush. They sack Aaron Rodgers twice in the first quarter. The game goes down to the wire, but the Texans make one big defensive play to seal it. Texans 28, Packers 27. Oct. 21: Baltimore Ravens It's funny how these things work out in sports. For every team on the rise, there is always that annoying team they keep having to play, and keep not quite being able to beat. For the Texans, that team has been the Baltimore Ravens. But Ray Lewis and Ed Reed are not immortal are they? I mean, how long is Ed Reed going to be awesome? I swear, this guy has been jackhammering the AFC so long that when he first devastated your team with an improbable interception you had to boot your sister off the phone and dial-up the Internet to send a cranky e-mail about it. The Texans should be the better team on paper and the game is in Houston and so logic tells me to pick the Texans in this game, which I am going to do with the utmost level of self-doubt. Texans 16, Ravens 11. Oct. 28: Bye A good time for Andre Johnson to recover from whatever injury he sort of has. Nov. 4: Buffalo Bills I would say that Mario Williams will return with a vengeance to put it on the team that let him go, and I am sure someone in the media will advance that storyline. But I just don't think it's true. Has Mario Williams ever given any indication he is a vengeful person? Is he even capable of anger? I think he's a lot more likely to blow kisses to the fans after the game than, say, point up at the owner's box after a sack. Texans 34, Bills 17. Nov. 11: @Chicago Bears November in Chicago at night. Bears 24, Texans 21. Nov. 18: Jacksonville Jaguars Somewhere along the way, if the Texans are as good as I think they are, they are going to humiliate some team in a way that makes half that team's fans immediately give up on both the coach and the starting quarterback. Mike Mularkey is that coach, Blaine Gabbert is that quarterback, and this that place along the way. Texans 45, Jaguars 3. Nov. 22: @Detroit Lions Well here the Texans are at 8-2, playing on the road against a decent team that nobody really respects. This could easily be a loss for most teams in this situation. Here's the thing, though: Connor Barwin is from Detroit and as a result will, I assume, be allowed to make the locker room musical selections on the way. As the team's resident hipster, Barwin's obsure musical choices will remind the Texans that this game is unique and important and will no longer be cool once everyone starts talking about it. Texans 38, Lions 34. Dec. 2: @Tennessee Titans This is the toughest divisional game the Texans will have all year. It's on the road, and Tennessee is the second-best team in the AFC South. However, this game would give the Texans 10 wins, which tends to be a magical number as far as NFL playoff berths are concerned. Chances are good that winning this game would lock up a playoff spot or possibly even the division. So it's a carrot game. Texans 31, Titans 20. Dec. 10: @New England Patriots I am not going to say no way, no how, because there is always some way and somehow, but the Patriots are 67-13 (.838) all-time at Gillette Stadium. Also, by the time this game actually kicks off the Patriots are going to be so tired of hearing about how the Texans are the new hotness and how this is the year when the balance of power finally shifts in the AFC. Nobody this side of Kobe Bryant takes little things like that more personally than Tom Brady, who is still mad about getting picked in the sixth round. This game is going to be one of those ultimate "whoa, maybe we're not as good as we thought" moments that every ascending team experiences. Patriots 38, Texans 20. Dec. 16: Indianapolis Colts One of the interesting little quirks of this schedule is that the Texans don't get to face Andrew Luck until he's had almost the whole season to figure it all out. Especially when you have a pass rush like the Texans do, you'd like to catch Luck early in the season when you might be able to squeeze one of those three-interception-two-fumble games out of him. That won't be happening this late in the year, but Houston should still win the game. Texans 29, Colts 18. Dec. 23: Minnesota Vikings Adrian Peterson should be done for the year by this point, so I don't see this game as a huge problem for the Texans. Although this trip could be convenient for Peterson if he happens to have a court date. Texans 24, Vikings 20. Dec. 30: @Indianapolis Colts The only question remaining in the Texans' season at this point would be whether this game could guarantee them home-field advantage in the playoffs. More often than not, it takes 14 wins to finish with the best record in the AFC, so for the purposes of this column we will say homefield advantage throughout the playoffs is out of reach for the Texans. Houston rests its starters. Colts 23, Texans 20.
Original Story:
http://www.foxsportssouthwest.com/09/...
THE BACKYARD
BEST OF MAXIM
RELATED ARTICLES
According to the Houston Texans' official Twitter account, wide receiver Andre Johnson fully participated in practice on Wednesday. Kubiak: said @johnson80 was back to his full load at practice. @shauncody95 practiced today. — Houston Texans (@HoustonTexans) September 5, 2012 This is a good sign for this week's game since Johnson has been dealing with a groin injury throughout...
(Eds: APNewsNow.) By CHRIS DUNCAN AP Sports Writer Andre Johnson got to make his NFL debut in his hometown when the Houston Texans opened the 2003 season in Miami. Big underdogs, the Texans upset the Dolphins 21-20 that day and Johnson began what seems now to be a Hall of Fame career. Houston opens the season with Miami again on Sunday, this time at Reliant Stadium. The Texans...
Texans receiver Andre Johnson fully participated in practice Wednesday and is 100 percent to start the year.Fantasy Spin:Johnson had a minor groin injury early in camp and he also had the wind knocked out of him in the third preseason game. Johnson's top-five upside makes him a worthwhile risk in spite of his injury history.
Today the Houston Texans named their team captains for the 2012 season, and there is not much change on who will be wearing the "C" on their jersey this season. For the offense quarterback Matt Schaub and wide receiver Andre Johnson were elected and for the defense, defensive end Antonio Smith and linebacker Brian Cushing were elected also. For the special teams, second year...
NFL News

Delivered to your inbox

You'll also receive Yardbarker's daily Top 10, featuring the best sports stories from around the web. Customize your newsletter to get articles on your favorite sports and teams. And the best part? It's free!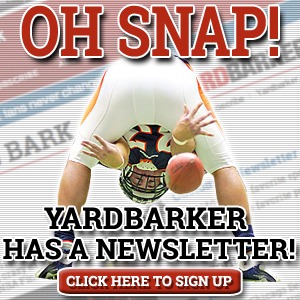 Latest Rumors
The Backyard

Today's Best Stuff

For Bloggers

Join the Yardbarker Network for more promotion, traffic, and money.

Company Info

Help

What is Yardbarker?

Yardbarker is the largest network of sports blogs and pro athlete blogs on the web. This site is the hub of the Yardbarker Network, where our editors and algorithms curate the best sports content from our network and beyond.