Found July 31, 2012 on Grits Blitz:
PLAYERS:
Matt Ryan
,
Michael Vick
,
Andy Reid
,
Asante Samuel
,
Nnamdi Asomugha
,
LeSean McCoy
,
Dirk Koetter
,
David Garrard
,
DeSean Jackson
,
Jeremy Maclin
,
Brent Celek
,
Akeem Dent
,
Sean Weatherspoon
,
Jason Peters
,
Sam Baker
,
Trent Cole
,
Jason Babin
,
Fletcher Cox
,
DeMeco Ryans
,
Julio Jones
,
Michael Turner
TEAMS:
Philadelphia Eagles
,
Atlanta Falcons
,
Miami Dolphins
After a week off to coincide with the bye week, BDTS is back and this time with the very familiar Philadelphia Eagles. The Falcons and Eagles have matched up every year since the Mike Smith era began. The Eagles have dominated the series winning three of four, but they fell to the Falcons last year in the Georgia Dome. This time the Matt Ryan led Falcons will head to Lincoln Financial to face the Eagles led by former Falcons QB Mike Vick. The Falcons head to Philly to take on Vick and his dynasty   When you look at the coaching match up several things stand out. For starters, Andy Reid has had Mike Smith's number in the series, but the Falcons managed to grab a win last year. The Eagles DC is still their former OL coach Juan Castillo. Castillo was heavily criticized for being in over his head last year and not utilizing a scheme that played to the strengths of his players, specifically CBs Asante Samuel and Nnamdi Asomugha. After much debate between the media the Eagles chose to retain Castillo and traded Asante Samuel to the Falcons a few days before the draft. Looking at the head to head between the coordinators we'll start off with Mike Nolan. When the Dolphins defense under Nolan matched up with the Eagles in 2011, Mike Vick was held to a 50% completion rating, 208 yards, one TD, nine yards rushing, and was picked off once. LeSean McCoy was held to only 38 yards on 27 attempts. Needless to say the Dolphin's D did their job. When Dirk Koetter and the Jaguars met the Eagles in 2010 they came out on the losing end of a 28-3 affair. David Garrard was limited to 13/30 for 108 yards and a touchdown while also throwing an INT and being sacked seven times. MJD was held to 88 yards on 22 carries. Needless to say Koetter's boys didn't play up to par in this game. I'll give the Eagles an edge in this category as they have been the winning team in this series. On offense the Eagles are a very explosive and dangerous team. They have playmakers at all the skill positions. Specifically their biggest play-makers are Mike Vick, Shady McCoy, DeSean Jackson, Jeremy Maclin, and Brent Celek. Atlanta did a great job on D-Jax last year limiting him to only 2 catches for 21 yards. Jeremy Maclin on the other hand had a field day reeling in 13 balls for 171 yards and 2 touchdowns. With the addition of Samuel, the Falcons should be able to cover both of the Eagles wideouts without any troubles. The big issues wil be stopping McCoy. McCoy is a very shifty back and the loss of Curtis Lofton might show through here. A lot of pressure will be on second year man Akeem Dent and Sean Weatherspoon to keep McCoy in check. Atlanta must contain Michael Vick to the pocket and not let him break free. If Atlanta can contain the Eagles they will have more than a fighting chance in this game. Another thing to factor in is the loss of Jason Peters to an achilles injury. The Eagles signed Demetress Bell to make up for the loss, but he isn't on Peters level. On Defense is where the Eagles can be very dangerous. Their DL in particular could pose some major problems for Atlanta. Sam Baker struggled mightly against Trent Cole last year and Jason Babin was a monster. The addition of Fletcher Cox will on make their DL that much more dangerous. The LB corp is where Philly is weak. They did add former All-Pro Demeco Ryans, but they still have issues at the OLB spots. The Eagles have a strong secondary led by Nnamdi Asomugha, but Rodgers-Cromartie hasn't lived up to his expectations since being acquired from Arizona and he may have issues against Julio Jones. The Eagles have two very solid safeties as well. The big issue here for Atlanta will be protecting the QB, they can do this by running the ball and running screen plays. Coming off a bye week Michael Turner should be extra fresh and able to carry a large load. This could play key for Atlanta as the Eagles still aren't that great against the run. If Atlanta can play very good D and protect Matt Ryan they can come out this game victorious, they'll have the plus of having an extra week to prepare in the Bye Week. However, this game could really swing either way, but Atlanta must play solid football this week and execute on all levels to get the win.   Previously on "Breaking Down the Schedule": 9/9 at Kansas City 9/17 vs Denver 9/23 at San Diego 9/30 vs Carolina 10/7 at Washington 10/14 vs Oakland [follow]
Original Story:
http://gritsblitz.com/2012-articles/j...
THE BACKYARD
BEST OF MAXIM
RELATED ARTICLES
Hey Eagles Addicts, do you like to play Fantasy Football?  Do you want a chance to win a brand-spankin' new Nike LeSean McCoy jersey? If so, sign up to join our FF league here at EA and compete against myself as well as the two other EA writers: Ron Pasceri and Jasen Shen! Brand new jersey, made by Nike We'll be creating a 12-team league so we need nine more players.  The first...
The weather is hot and the days are long, but the sounds and smells of football are in the air. It's time for training camp, and once again the Philadelphia Eagles meet at Lehigh University for their summer preparations for the fast approaching football season. There is not much to cheer about in Philadelphia these days. The Phillies stink, the Flyers have missed out on three of...
Eagles left defensive end Jason Babin could miss most of training camp with a partially torn muscle in his left calf. An MRI exam revealed Babin has a second-degree strain, which occurred Saturday during a one-on-one pass-rushing drill against right tackle Todd Herremans. Babin was voted to the Pro Bowl in 2011 with 18 sacks and three forced fumbles after re-joining the...
To be honest not really a day off, as teammates and coaches were in meetings all day... but a day off in the sense it gives guys 24 hours to assess their sore bodies and put together a plan to avoid unnecessary pain today...Too bad that notion does not apply to WR Ron Johnson, who was unceremoniously waived by the team with a relatively paltry injury settlement of $60,000 for the...
Camps are just underway and this is typically when news starts to heat up. Every once in a while, there's a blip we just can't ignore. Bryce Brown has been on our radar for quite a while and his story is so interesting we feel we have to  something out there to answer a very important question. Who is Bryce Brown? There are many adjectives you could use to describe Brown's...
Wide receiver Andrew Brewer was signed by the Eagles, who waived/injured wide receiver Ron Johnson. Brewer played the past two seasons in the UFL for the Omaha Nighthawks, where Eagles player personnel executive Rick Mueller was the general manager. Brewer set a Northwestern single-season record in 2009 by averaging 16.2 yards per catch, with current Eagle Mike Kafka his quarterback.
The first practices featuring pads for the Philadelphia Eagles took place this weekend and there were some casualties. Riley Cooper suffered a broken left collarbone at Saturday's practice. The wideout is expected to have a big season in 2012 but will be out for at least six weeks. Cooper will have surgery on Monday to plate his collarbone. The lost time in training camp is a disappointment...
Tier 1: The Elite 1. Arian Foster 2. LeSean McCoy 3. Ray Rice Who I want the most: LeSean McCoy. I love Arian Foster. I love Ray Rice. But like last year, I really love LeSean McCoy. And after these guys, well, let's just say the running backs are a crap-shoot. These are hands down the elite, the most proven, and the closest to a surefire running back you will get this...
9. Michael Vick will finish in the top 5 ranked Quarterbacks. After a disappointing campaign last season, both team-wise and individually, Vick will bounce back stronger than ever. He finished outside the top 10 QB ranks via Yahoo last season. But with a boosted Eagles confidence, I predict Vick to finish right atop the biggest names in Fantasy with Aaron Rodgers, Drew Brees, Tom...
NFL News

Delivered to your inbox

You'll also receive Yardbarker's daily Top 10, featuring the best sports stories from around the web. Customize your newsletter to get articles on your favorite sports and teams. And the best part? It's free!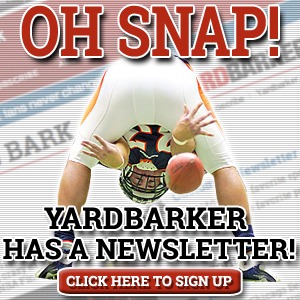 Latest Rumors
Best of Yardbarker

Today's Best Stuff

For Bloggers

Join the Yardbarker Network for more promotion, traffic, and money.

Company Info

Help

What is Yardbarker?

Yardbarker is the largest network of sports blogs and pro athlete blogs on the web. This site is the hub of the Yardbarker Network, where our editors and algorithms curate the best sports content from our network and beyond.