Posted April 17, 2013 on AP on Fox
PLAYERS:
Elvis Dumervil
,
Von Miller
,
Peyton Manning
,
Andrew Luck
,
Champ Bailey
,
Josh Mcdaniels
,
John Elway
,
Dwight Freeney
,
Robert Ayers
,
Malik Jackson
,
Derek Wolfe
,
Wesley Woodyard
TEAMS:
Denver Broncos
,
Baltimore Ravens
,
Indianapolis Colts
(Eds: Updates with details) By EDDIE PELLS AP National Writer It sounded more like a bad episode of a bad reality series than the NFL. The Denver Broncos had agreed to a new contract with Elvis Dumervil. Then they hadn't. The culprit - well, that all depends on whose version of events you want to believe. But a fax machine was definitely involved. Back together for offseason workouts without the man who has accumulated 63 1/2 sacks for the franchise over his six healthy seasons in Denver, Dumervil's ex-teammates all agreed that they'll miss their erstwhile pass rusher, team captain and, as linebacker Von Miller calls him, their ''rock'' in the locker room. But the Dumervil debacle also provided them a refresher course on one of the most important NFL lessons: It's a business, and not always a pretty one. ''It's probably the least favorite part of it for me,'' Broncos quarterback Peyton Manning said of the business side of the league. It was, ultimately, a business decision that led the Colts to part ways with Manning in favor of Andrew Luck. The Dumervil-Broncos relationship started unraveling when the franchise asked its 2006 fourth-round draft pick to take a $4 million pay cut from the $12 million he was scheduled to make in 2013. Not that unusual of a request, especially considering the circumstances - with top defensive ends commanding only around $7 million in the market this offseason. Dumervil took his time deciding and things got squirrely on deadline day, when he finally agreed to the pay cut but the communications between team, player and agent - three parties situated in three different cities - broke down. The Broncos awaited a signed, faxed contract but with a deadline ticking it didn't show up. (No explanation, as of yet, on why a fax machine was in play to begin with). They were forced to cut Dumervil or owe him all $12 million of his original contract, which would have put them in salary-cap trouble. The Broncos and Dumervil's agent, Marty Magid, who was subsequently fired by Dumervil, had different versions of the timing of the events. Regardless, Dumervil was a free agent. With similar offers on the table from the Broncos and the Baltimore Ravens, Dumervil decided a fresh start was in order. He conveyed no outward bitterness, though some who knew him said he certainly wasn't happy with the way things went down. ''That was a prime example of how this business works,'' said cornerback Champ Bailey, who would be an ex-Bronco today had the team not fired coach Josh McDaniels, the man who gave Dumervil his fat contract and, separately, had no intention of re-signing Bailey, the All-Pro cornerback, feeling he'd passed his prime. ''Being in Elvis' shoes, I kind of understood where he came from as far as wanting to sign somewhere else,'' Bailey said. ''You really don't know. You've got to take care of yourself. If you don't take care of yourself, your career, who's to say where you'll end up? I respect his decision. I wish we could've found a way to keep him, but it just didn't work out that way.'' With Dumervil long gone, the Broncos are a week away from the draft and haven't made a definitive move to replace him yet. John Elway, who runs Denver's front office, says he has a plan. Dwight Freeney, formerly of the Colts, is a free agent and could still join the team. But as things stood as of Wednesday, Robert Ayers - a first-round draft pick in 2009 with 6 1/2 sacks in four seasons - would take over Dumervil's spot at right end. The Broncos are also expected to look at defensive ends in next week's draft. One theory is that the team wants to see what Ayers can do, especially with Miller playing behind him. Miller had 18 1/2 sacks and there's a thought that with his talent, almost anyone playing in front of him - possibly second-year lineman Malik Jackson, as well - will look good. ''Losing Elvis, it's not fun for anybody,'' said defensive lineman Derek Wolfe, a second-year player who will also be asked to pick up some slack. ''It's not fun for me, it's not fun for this team, it's not fun for this defense. But that's the game. It's a business and sometimes, things like that happen. I'm losing a great friend and a great mentor, but we'll stay in contact. I'll still call him and ask him for advice.'' Indeed, most of the players have tread delicately around the business-versus-loyalty topic this week, as they reconvene without the man Miller called ''our leader in the locker room. He was our rock.'' Miller said he'll always be ''brothers'' with Dumervil, but he, and the rest of the Broncos, know he plays for the enemy now - the team that knocked the Broncos out of the playoffs last year, then signed one of their best players. All part of the business of the NFL. ''There's something you learn every year,'' linebacker Wesley Woodyard said. ''Something different happens. You've got to expect the worst. I talked to `Doom' about the offseason and we're still friends. He's excited about new opportunities and so are we.''
Original Story:
http://msn.foxsports.com/nfl/story/Br...
THE BACKYARD
BEST OF MAXIM
RELATED ARTICLES
Because the Baltimore Orioles weren't willing to move their September 5 game against the White Sox, we already knew that the Ravens were going to be the first defending champ to play on the road since the NFL instituted its recent tradition of having the Super Bowl winners host the season opening kickoff game, typically on a Thursday, though it was moved to Wednesday last year...
Denver Broncos linebacker Von Miller says no matter if you're drafted No. 1 overall or No. 253, everyone gets ridiculed in an NFL locker room. Miler appeared on the 200th episode of "The Rich Eisen Podcast" 
VP John Elway wants to step up the work ethic in Denver, and he wants Peyton Manning to lead the charge. In military training exercises, the training is done under the most intense circumstances to increase the ability to endure and overcome. It's similar in football, the harder the practice, the more prepared the team is come game time. Manning is one of the hardest working...
Champ Bailey has had a hall of fame career, but he wants to finish it with a championship. The Denver Broncos came within range in 2012 with the top seed in the AFC, but a divisional loss to the eventual champions Baltimore Ravens ended their run. Bailey himself had a rough game against Ravens wideout Torrey Smith and wants redemption in the postseason. However, 2013 looks promising...
April 25th marks the day that the Super Bowl reigning champion Baltimore Ravens will hang their second Vince Lombardi Trophy into their trophy case for good and move past their 2012 campaign to focus on the 2013 season by way of the NFL Draft. The Ravens send a key player away, released another and allowed several more to pursue their 'greener' pastures. According to Ravens'...
Court officials say charges have been dropped in a felony case alleging that Denver Broncos safety Quinton Carter added $5 to craps bets after the dice were thrown. Carter didn't appear Monday in North Las Vegas Justice Court while defense lawyer Andrew Leavitt arranged to have the third-year NFL player forfeit $1,000 in bail money as part of the agreement. Leavitt says the...
The Baltimore Ravens remain in contact with free agent offensive lineman Bryant McKinnie, and general manager Ozzie Newsome told reporters – including Matt Zenitz of The Carroll County Times – that the team could still re-sign the veteran to be the team's starting left tackle. "Could he [McKinnie] be our left tackle? He potentially could be," Newsome said. &quot...
Super Bowl Champion running back Ray Rice turns the table on some angry rude parents after their kids don't get into a free football camp. Rice's statement pretty much speaks for itself, but if I had to add one thing, it would be to take this opportunity to get more active with your kid. Try and teach and practice football together as a family. Ray Rice is a pretty cool hero...
I've heard of people suing doctors for different reasons, but on the behalf of someone else, this might be the first time.  USA Today is reporting that former Florida State and Baltimore Ravens cornerback Samari Rolle is suing the doctor that recently cleared top linebacker prospect Jarvis Jones. Former NFL All-Pro defensive back Samari Rolle has filed a lawsuit against a North...
NFL News

Delivered to your inbox

You'll also receive Yardbarker's daily Top 10, featuring the best sports stories from around the web. Customize your newsletter to get articles on your favorite sports and teams. And the best part? It's free!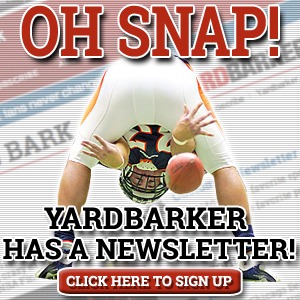 Latest Rumors
The Backyard

Today's Best Stuff

For Bloggers

Join the Yardbarker Network for more promotion, traffic, and money.

Company Info

Help

What is Yardbarker?

Yardbarker is the largest network of sports blogs and pro athlete blogs on the web. This site is the hub of the Yardbarker Network, where our editors and algorithms curate the best sports content from our network and beyond.