Denver, CO. The NFL is full of stats, as anything and everything that happens on the gridiron is tracked without fail. Numbers rule this game, and many times it is these numbers that explain why a given team is not living up to expectations, or on the other hand, why another given team is surprising everyone and getting the job done. A lot of the stats truly do end up being somewhat meaningless though, whether they have to do with a team or a certain player. Anyone can look at total yards gained, passing yards, penalty yards, or time of possession for instance. But over the years, as the NFL has changed and evolved into the offensive showcase that it currently is, certain numbers still matter, and matter greatly. One of those stats that still seems to tell the tale of which teams end up being successful and making the playoffs, and which teams do not, is turnover differential. It's pretty simple actually….how many times does team "A" give away a fumble or throw an interception versus how many times they cause and recover a fumble and intercept the opposing teams' passes. Turnover differential, without a doubt, is one of the biggest factors in determining how far an NFL team will go, come the end of the regular season and also in the playoffs. For the Denver Broncos, this statistic is becoming a fly in the ointment of sorts, as this team just can't seem to get it right.Through five games now, the Broncos are -6 in this stat called turnover differential. Only three other teams currently have a worse ratio than Denver does, as those three teams are Dallas, Philadelphia, and Kansas City. For anyone who has watched the Broncos so far this year, the way they have given the ball to the other team has been basically equally through the air and on the ground. Early on, it appeared that Peyton Manning enjoyed tossing it to defenders on the Atlanta Falcons more than his own guys in orange and blue. Lately, it has been offensive weapons Demaryius Thomas and Willis McGahee who have had varying degrees of fumblitis. Fumbles and interceptions are going to happen from time to time, and securing the rock will undoubtedly be an emphasis in practice until the offense does a better job of this. But the troubling part in my opinion, is how the defense, although improved from the last few years, is still not causing nearly turnovers. Anyone can see that this side of the ball for the Broncos is definitely better and has more speed and playmaking ability than in the recent past. But unless they can figure out how to jar the ball loose from opposing runners, or deflect passes that land in some defenders hands, this team will simply not achieve what they are set out to do in 2012. The proof is in the pudding. Here are some hard facts to consider. In 2010, the Denver Broncos finished at -9 in turnover differential. Only 4 other teams finished that season with a worse ratio. In 2011, the Broncos finished at -12 in turnover differential. Only 5 other teams finished that season with a worse ratio. As mentioned above, this season Denver is currently -6, as only 3 teams have a worse ratio. Seeing a pattern here? Getting back to last year, of the 8 best teams in turnover ratio in the entire NFL, 7 made the playoffs. The fact that the Broncos made the playoffs last year with a -12 differential was a fluke, and keep in mind, they only finished the year at 8-8. The best teams in the league, year in and year out, cause more turnovers than they commit. It's not rocket science here, and it's not earth shattering information either. It's very simple. Simply put, if this defense does not start to create more fumbles and interceptions, it won't matter how great Peyton Manning is. It won't matter how many yards they accumulate through the air and on the ground. This Denver Broncos team will end up losing a few games they shouldn't. And it will not be because the offense is committing a ton of turnovers. It will be because the defense is just not creating many, if any. Consistently losing the turnover differential battle week after week will produce more losses, and losses against teams they should defeat. That is just how this league has always operated, and continues to do so to this day. The good news is that the Broncos schedule is about to ease up quite a bit. At 2-3, Denver is very much in the thick of things, and with a win this coming Monday, they will be in first place. But even though the schedule appears to be quite a bit easier going forward, this team has to correct this turnover epidemic, and soon. If Denver continues down this road of a negative turnover differential, they will not win the AFC West and they will have an extremely disappointing year. There is absolutely still time to turn things around, and versus Philip Rivers and the Chargers would be a perfect time to reverse this negative turnover trend. Denver Sports by J Simp The post Denver Broncos turnover differential again becoming glaring problem appeared first on Denver Sports Chat.
Original Story:
http://feedproxy.google.com/~r/Denver...
MORE FROM YARDBARKER
Broncos News

Delivered to your inbox

You'll also receive Yardbarker's daily Top 10, featuring the best sports stories from around the web. Customize your newsletter to get articles on your favorite sports and teams. And the best part? It's free!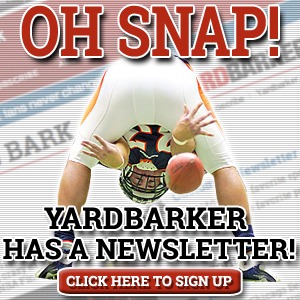 Latest Rumors
Best of Yardbarker

Today's Best Stuff

For Bloggers

Join the Yardbarker Network for more promotion, traffic, and money.

Company Info

Help

What is Yardbarker?

Yardbarker is the largest network of sports blogs and pro athlete blogs on the web. This site is the hub of the Yardbarker Network, where our editors and algorithms curate the best sports content from our network and beyond.