The second half is here, and since the Bengals had a chance to change things up, I did the same thing with my picks.  I'm changing it up a little bit to prove to (fool) myself that this season is far from over.  If Andy, Ray and the other leaders on this team take what Marvin said to heart then hopefully we'll be seeing a new group of guys out there today.  I'm all for fresh starts and second chances so lets hope our boys in orange and black take this opportunity and do something with it. Week 1: Mon, Sep 10 – Cincinnati at Baltimore Ravens, 7 p.m. ET (ESPN) 13-44  L 0-1 1-0 on Picks Week 2: Sun, Sep 16 – Cleveland Browns at Cincinnati, 1 p.m. ET (CBS) 37-27   W 1-1 2-0 on Picks Week 3: Sun, Sep 23 – Cincinnati at Washington Redskins, 1 p.m. ET (CBS) 38-31 W 2-1 3-0 on Picks Week 4: Sun, Sep 30 – Cincinnati at Jacksonville Jaguars, 4:05 p.m. ET (CBS) 27-10 W 3-1 4-0 on Picks Week 5: Sun, Oct 7 – Miami Dolphins at Cincinnati, 1 p.m. ET (CBS) 17-13  L 3-2 4-1 on Picks Week 6: Sun, Oct 14 – Cincinnati at Cleveland, 1 p.m. ET (CBS) 34-24 L 3-3 4-2 on Picks Week 7: Sun, Oct 21 – Pittsburgh Steelers at Cincinnati, 8:20 p.m. ET (NBC) 12-17 L 3-4 4-3 on Picks Week 8: BYE Week 9: Sun, Nov 4 – Denver Broncos at Cincinnati, 1 p.m. ET (CBS) Three winnable games…three losses.  Let's get a win.  Here's how they do it.  First, be creative…defensive and offense.  The defense has to find creative ways to put pressure on Manning.  Our D-line needs to get aggressive and find those holes and put Peyton on his back.  Once the pressure comes, the rest of the D needs to step it up as well.  The linebackers need to keep close over the field.  Manning has been checking it over the middle a lot lately because defenses have been shutting him down up top so we need to make sure that we eliminate that cushion that we've been giving.  And finally, we need to see first round play from our first round corner.  I hope that Kirkpatrick took every opportunity to get ready for the NFL 'cause his day has arrived. As for the offense, they need to find creative ways to get the ball to Green.  Mix Sanu, Hawkins and Green up in different places to open up the field more.  Of course, this is only good if our O-line got stronger in the bye.  Whether it's Robinson or Faine up front, those three guys in the middle need to be a wall.  Give Dalton more time to throw.  Speaking of the Red Rifle, I agree with what Marvin said.  It's time for him to be the leader of this offense, and with that leadership comes more pressure to perform.  Dalton works well under pressure so I think leadership will help create that.  And lastly, we did see a little fire from Green-Ellis in the Steelers game so I think that if we can run the ball like we did in that game it should help. All-in-all, desperate times call for desperate measures.  I think the Bengals are desperate enough to win and I think it will happen.  A late field goal to win it in the end of the 4th. 24-21 Bengals!  WHO DEY!!! W 4-4 Week 10: Sun, Nov 11 – New York Giants at Cincinnati, 1 p.m. ET (FOX) L 4-5 Week 11: Sun, Nov 18 – Cincinnati at Kansas City Chiefs, 1 p.m. ET (CBS) W 5-5 Week 12: Sun, Nov 25 – Oakland Raiders at Cincinnati, 1 p.m. ET (CBS) W 6-5 Week 13: Sun, Dec 2 – Cincinnati at San Diego Chargers, 4:15 p.m. ET (CBS) W 7-5 Week 14: Sun, Dec 9 – Dallas Cowboys at Cincinnati, 1 p.m. ET (FOX) L 7-6 Week 15: Thu, Dec 13 – Cincinnati at Philadelphia Eagles, 8:20 p.m. ET (NFL) W 8-6 Week 16: Sun, Dec 23 – Cincinnati at Pittsburgh, 1 p.m. ET (CBS) W 9-7 Week 17: Sun, Dec 30 – Baltimore at Cincinnati, 1 p.m. ET (CBS) W 10-6
Original Story:
http://whodeyfans.com/2012/11/04/buck...
MORE FROM YARDBARKER
NFL News

Delivered to your inbox

You'll also receive Yardbarker's daily Top 10, featuring the best sports stories from around the web. Customize your newsletter to get articles on your favorite sports and teams. And the best part? It's free!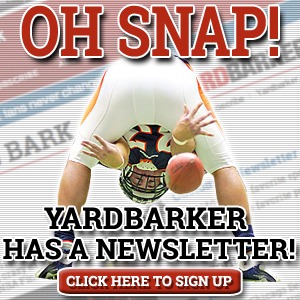 Latest Rumors
Best of Yardbarker

Today's Best Stuff

For Bloggers

Join the Yardbarker Network for more promotion, traffic, and money.

Company Info

Help

What is Yardbarker?

Yardbarker is the largest network of sports blogs and pro athlete blogs on the web. This site is the hub of the Yardbarker Network, where our editors and algorithms curate the best sports content from our network and beyond.