Originally written on
Buddy Nixon
| Last updated 10/29/14
A few days ago the Bills posted a video that's a mini documentary of sorts that gave a glimpse inside the Bills draft process. It was bit propaganda-y, but Buddy Nix made a comment that made our ears perk up, and offered some insight into the difference between media/fan draftnik'n and player evaluation and how the pros do it. I don't think I'm telling any tales out of school when I say most people were a bit surprised when the Bills took TJ Graham in the 3rd. This was in large part to where most publications had him ranked, which was somewhere in the 5th or 6th round. The Pro Football Weekly draft mag I picked up didn't even deem him worthy of a full profile, instead relegating him to the "Random Guys We Didn't Really Scout" box with only a sentence of description. So he wasn't really on anyone's radar at that point, to say the least. Further confusing matters were the fact that the Buddy Nix pulled the trigger on one of the stranger trades I can remember. Nix channeled his inner "riverboat gambler" and sent one of Buffalo's 7th rounders to Washington to move up 2 spots and jump Jacksonville, who sensed a run on punters and subsequently took Anger off the board. As a result, most of us were bewildered that Buffalo not only felt the need to trade up, but to do it for some guy that was apparently a dime a dozen fast guy that could be had on day 3. Ay, there's the rub! At least according to our esteemed patron namesake in the previously mentioned video. Against a soundtrack that Jerry Bruckheimer would have found melodramatic, Bills reporter extraordinaire Chris Brown put it to Buddy: Why trade up? Nix said that they had a group of 4 guys that were in a category who had 4 attribues: speed, vertical ability, ability to play outside, and size. He didn't really get into any detail as far as what the cutoffs were, but they had 4 guys who they felt fit that role. Buddy just about said Graham was the last guy, so they eliminated any doubt by trading up. That probably means Devier Posey was one of them, which would have triggered the Bills get extra antzy when he went three spots before Buffalo. The reason I delved into such depth about something as trivial as a seventh round pick trade up is that what the Bills did here draws a stark contract between what Kiper and Mayock and the rest of the industry says and what teams actually think. Sure, it was a huge reach… by the media's standards. But as far as Buffalo was concerned, he was one of 4 guys they felt could fill a very specific need for the team, so that increased the value to the Bills. Look at Seattle's pick of Bruce Irvin (or just about any pick the Seahawks make). Everyone thought it was a huge reach (including yours truly) for him to go at 15, but PFT came out afterward and said 7 teams had him in the top 15. The point here is the difference between what the media and draft industry slots a guy and where he goes is basically based on two things: one, both Mayock,  Kiper and NFL scouts are doing the same thing, grading and evaluating players. But obviously there's value in NFL teams doing they're own scouting, or else they could just draft off of any of these schmucks big board. Secondly, when NFL teams draft a player, they generally do so with a specific use for that player in mind (Lombardi calls it team building, as opposed to collecting talent). The Bills knew exactly what they wanted a guy like TJ Graham to bring to the team, which is much different than comparing a guy on the whole to 400 other NFL players at every different position. So when you're watching the draft next spring, keep in mind that NFL teams are looking at the event through a very different lens than any of us will ever get the chance to.
Original Story:
http://www.buddynixon.com/analysis/bu...
MORE FROM YARDBARKER
NFL News

Delivered to your inbox

You'll also receive Yardbarker's daily Top 10, featuring the best sports stories from around the web. Customize your newsletter to get articles on your favorite sports and teams. And the best part? It's free!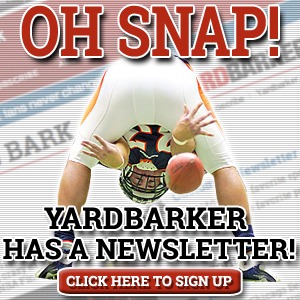 Latest Rumors
Best of Yardbarker

Today's Best Stuff

For Bloggers

Join the Yardbarker Network for more promotion, traffic, and money.

Company Info

Help

What is Yardbarker?

Yardbarker is the largest network of sports blogs and pro athlete blogs on the web. This site is the hub of the Yardbarker Network, where our editors and algorithms curate the best sports content from our network and beyond.