Found July 08, 2013 on Buddy Nixon:
In the 16 months since Mario Williams signed a lucrative six-year, $100 million contract with the Bills, it has been anything but smooth sailing for the former first overall pick.  An up-and-down 2012 campaign and an offseason full of distraction have left the Bills' top pass rusher with the task of winning back the fans he so lovingly gushed about when he first came to Buffalo. Before I discuss his 2012 shortcomings, let me say that I think Mario's "underachieving" last season was grossly overstated.  Bills fans needed a scapegoat for another disappointing start to a season and who better to blame than the $100 million man.  I will be first to admit that Williams played well short of what you would expect from a guy who signed that sort of monster free agent contract, but three games into 2012 you would've thought that he had already limped through the entirety of his six-year deal with Buffalo.  Talks of a wrist problem contributing to Mario's slow start only seemed to anger the fan base even more, as they saw the "phantom injury" as a copout. Well come to find out Mario's wrist injury really was hindering his play and upon getting it surgically repaired, he began to look like the player who was paid to lead Buffalo's defense.  In his first six games after the procedure, Williams racked up seven sacks and ended the season with 10.5, the most for any Bills player since 2006 when Aaron Schobel got to opposing quarterbacks 14 times. However, a disappointing end to 2012 and a rocky offseason featuring a nasty "he said, she said" lawsuit situation with his ex-fiancee and an innocent-but-ill-timed Instagram post have the Mario doubters out in full force again.  And even if Mario is able to put all of those off-the-field issues behind him, on the field he will be playing in his third defensive system in as many years in 2013, which will bring about plenty of challenges and growing pains. The good news for Mario (and the fans) is that new defensive coordinator Mike Pettine's system may just be the welcome change that he needs.  While some look at Pettine's hybrid 3-4 defense as an awkward fit for a guy like Williams, it is actually built around players like him who possess both the size and speed to fill multiple roles on the field. I believe that Mario will greatly benefit from playing under Pettine.  I believe the new system will allow him to stop overthinking on the field and just make plays, which we know he has the ability to do.  Furthermore, while some of his offseason issues did carry weight (anytime the words "suicidal thoughts" are involved in rumors, there is plenty of reason for concern), I also think several situations were overblown, including the Instagram debacle and the "kill 'em" reference involving Pettine's defensive philosophy.  I know that is the responsibility of players and coaches to carefully monitor what comes out of their mouths, especially in light of the recent bounty scandal in New Orleans, but those comments were about a defensive attitude and nothing more. Still, at the end of the day, when Bills fans see #94, they see the cool $100 million that Bills brass forked out to get him to Buffalo.  It is entirely on Williams to put the distractions and excuses aside in 2013 and play up to the lofty expectations that come with the massive free agent contract he received a year ago. The post BuffalOkie Mondays: Mario Williams Enters 2013 With Plenty to Prove appeared first on Buddy Nixon.
Original Story:
http://www.buddynixon.com/opinion/buf...
THE BACKYARD
BEST OF MAXIM
RELATED ARTICLES
It was one year ago that Buffalo Bills defensive lineman Marcell Dareus was a man ready to be a star. Instead, the No. 3 overall pick in the 2011 draft hasn't made the jump and now is struggling to earn a starting job on the team's defensive line. Dareus' younger brother was tragically murdered a week before the start of the NFL season, and he was unable to focus on football...
Buffalo Bills DT Marcell Dareus wants give himself a bit more mobility this season when he comes into training camp. "I want to be lighter this year because I want to be able to fly around the field and run to the ball and be an every down player," he said, via the Bills' official website. "I want to be able to play every down." During OTAs and minicamp...
Talks between safety Jairus Byrd and the Buffalo Bills are at a stalemate according to ESPN's James Walker. "All has been quiet on both sides with the deadline to negotiate an extension fast approaching," the report says. The deadline for signing players with the franchise tag to longer-term deals is July 15, just over a week away. Under the franchise tag, Byrd...
Marcell Dareus was forced to deal with a horrible family happening. Dareus's brother Simon Gilmore was shot to death shortly after the Bills started the regular season. Dareus said it was very hard to focus on football. "It's really tough to come back and think about work when every time you turn around you lose someone that's close to you," said Dareus. "And you really...
There has been extreme optimism and positive energy among Buffalo Bills fans ever since the franchise revamped the front office and coaching staff. An influx of multiple new players brings a bright outlook going into the 2013 season for many. But do the Bills have a legitimate chance at making a playoff run? Here at BuddyNixon, I decided to make cases both for and against the team...
Queen City Sports is proud to announce that Buffalo Bills writer Carl Pfeiffer has released his third book entitled Someday! In Someday! Pfeiffer takes you on a twisted and emotional, journey through Bills history. For countless people who call Buffalo and Western New York home, the Bills are more than a football team; they are a member of the family. A family member who sometimes...
It was one year ago that Buffalo Bills defensive lineman Marcell Dareus was a man ready to be a star. Instead, the No. 3 overall pick in the 2011 draft hasn't made the jump and now is struggling to earn a starting job on the team's defensive line. Dareus' younger brother was tragically murdered a week before the start of the NFL season, and he was unable to focus on football...
According to WGR 550 in Buffalo, there haven't been any contract talks scheduled between the Bills and safety Jairus Byrd. According to Tim Graham of The Buffalo News, a source tells him that there have been no contract talks scheduled between the Bills and his agent Eugene Parker, and that there are no plans to have those contract talks any time soon. I get the feeling the Bills...
BY DAN BEGNOCHEWhile the Buffalo Bills' defense has been plugging along this offseason without its key playmaker Jairus Byrd, the offensive unit has had ample time together to get acclimated.Except for the crux of the tight end crew, that is.Despite his remarkably fast recovery, first-string tight end Scott Chandler has still missed a legitimate amount of time with his two new...
According to ESPN's John Clayton,  safety Jairus Byrd isn't optimistic that he'll get the long-term stability from the Buffalo Bills that he's looking for and he might end up holding out from training camp. I'm still trying to figure out why the Bills are so reluctant to sign Byrd to a long-term extension.  They have over $18 million in cap room and he's  one of their...
Living in Jacksonville, Florida, I knew about C.J. Spiller in high school. I knew about him long before his days at Clemson, I knew about the size, the speed, the agility and the Heisman aspirations in college before he made the move to the pros.And when Buffalo pulled the trigger in the 2010 Draft and his name was called with the ninth pick, one ahead of my Jacksonville Jaguars...
Obviously, I have given a lot of thought to being a fan. How else could I have come up with a whole book on the topic? I think being a fan is important. So important that I have some rules that help all of us real fans weed out the pretenders. First, fan is short for fanatic. Webster defines fanatic as – excessive enthusiasm and often intense and extreme devotion. The word itself...
Bills News

Delivered to your inbox

You'll also receive Yardbarker's daily Top 10, featuring the best sports stories from around the web. Customize your newsletter to get articles on your favorite sports and teams. And the best part? It's free!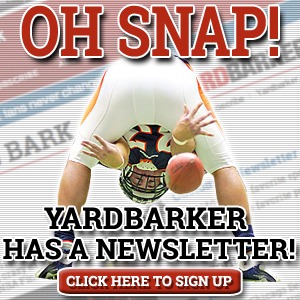 Latest Rumors
Best of Yardbarker

Today's Best Stuff

For Bloggers

Join the Yardbarker Network for more promotion, traffic, and money.

Company Info

Help

What is Yardbarker?

Yardbarker is the largest network of sports blogs and pro athlete blogs on the web. This site is the hub of the Yardbarker Network, where our editors and algorithms curate the best sports content from our network and beyond.