Found September 22, 2012 on 60 Max Power O:
Fantasy football can at times be a very funny place to seek help when you need it most. One week, a so called "expert" will tell you to start "Player A" because "Player A" is a "can't miss" starter who will blow up that week. A week later, that expert will deny giving that advice to their readers or followers but will be more than happy to tell you to start "Player B" this week. It would be almost comical in some instances if it wasn't so tragic for the people who take the advice of these charlatans.
As a staff member of DLF, I can tell you that everyone affiliated with this site both loathes and detests this behavior. Every staff member on the DLF team constantly tries to learn and better ourselves so we may be of better help to you. Part of that process is being accountable for our successes, as well as our failures. We're doing that each and every week as we're offering personalized lineup advice as part of our premium content. We're answering every question posted in a timely manner and helping out as best we can – those answers are public knowledge and we'll stand by them every week.
We've also decided to roll out this new series entitled, "Calling Our Shots." The premise of this series is to get some predictions for the upcoming week. Some writer's predictions are bold, some are solid, while others, well, we wouldn't place too much money on them in Las Vegas!
When we're right, we'll share our successes. When we're wrong, it should present a great way for our loyal readers to give us a good (and hopefully friendly) ribbing. The point is we don't hide from the advice we give or the predictions we make.
We also want to give you the same chance.
Our community is an essential part of the success of DLF. This weekly series also asks YOU, the readers, to post your own shots in the comments below. We all have that coach in our league who says, "Yeah, I could have told you not to start that guy" and perhaps that's even you who thinks that! Well, here's your chance to make those bold predictions when they count - before the games are played. We invite everyone to blow up the comments section again today and make any player predictions you want for the week – this will give you a perfect opportunity to officially say, "I told you so," or offer a brutally embarrassing piece of ammunition for your opponent to use against you next week. Either way, this is a great way for the community and the writers to have some good old fashioned fun each and every week!
Every person who is featured in subsequent weeks will be put into a drawing after week 17 for a free yearly membership or their renewal to our premium content and a free DLF T-shirt!
Week two is in the books and yet another week of pretty weird performances. While Eli Manning is a great quarterback, who would have guessed he would thrown for 510 yards in one game? Better yet, how many people would have guessed that Danny Amendola would catch 15 passes for 160 yards and a touchdown? I'm probably one of the biggest Amendola fans out there, but even that was a huge shock to me! Many people believed CJ Spiller was going to have a great game, but few would have thought that he would have totaled 170 total yards and two touchdowns.  If nothing else, the 2012 NFL season has provided a lot of excitement and surprises in just two short weeks.
Last week, as a staff, we saw 11 successful shots called relating to week one – this week we've more than doubled that amount with 24 successful predictions that came true in week two.
Of  special note is how well Eric Olinger did, pulling down six correct predictions, just barely edging Eric Hardter and Dan Hasty who both had five correct shots called. Here are the correct shots called by the DLF staff last week:
Eric Dickens – Dwayne Bowe has a nice day with over 100 receiving yards.
Eric Olinger – Brandon Weeden throws for more yards than Andy Dalton.
Eric Hardter - Trent Richardson gets back on track with 90 yards and a TD, in a losing effort.
Dan Hasty – Cam Newton will run for more yards than Mark Ingram.
Eric Olinger – Maurice Jones-Drew finds no running lanes and is held under 65 yards rushing.
Ken Kelly – Lamar Miller is active for the first time and has at least 30 yards rushing.
Eric Hardter - Carson Palmer exceeds 300 yards passing.
Dan Hasty – Larry Fitzgerald scores single-digit fantasy points.
Eric Olinger – Eli Manning throws for over 300 yards and 3 TDs.
Jarrett Behar – Hakeem Nicks goes for 100 yds, 1+ TDs
Eric Hardter - Vincent Jackson has over 100 yards receiving, with 1 TD.
Eric Olinger – RGIII throws for less than 250 yards but has 50+ yards rushing.
Ken Kelly – Alfred Morris has more rushing yards than Steven Jackson.
Eric Hardter - Danny Amendola leads all WR's on either team in receptions and yards receiving.
Eric Olinger – Kevin Ogletree comes back down to earth and gets fewer than 5 catches and 50 yards. Zero TDs!
TheFFGhost – Witten recovers more completely and posts better stats than Ogletree.
Dan Hasty – Kevin Ogletree will go back to being irrelevant.
Jacob Feldman – Jets slip back to near pre-season form and only manage one TD against the Steelers. Greene rushes for under 50 yards.
Chris Rohrer – Antonio Brown has more targets, receptions, and receiving yards than Mike Wallace.
Eric Hardter - Mark Sanchez is held to under 220 yards passing, with a negative turnover differential.
Eric Olinger – Chris Johnson continues to be the new Chris Johnson and finishes the day under 3.0 YPC. He stinks!
Jacob Feldman – Chris Johnson will have another bad game, averaging under 3.0 YPC once again.
Dan Hasty – The Lions kick more field goals than score touchdowns.
Jacob Feldman – Roddy White posts more catches and more yards than Julio Jones this week due to Champ Bailey shadowing Julio.
Dan Hasty – Roddy White will outscore Julio Jones.
Just as we doubled our correct shots called in week two, we also doubled the amount of shots we just barely missed. In this category TheFFGhost claims the crown:
TheFFGhost – Remember last week when I said McCluster was going to emerge? He's not done yet with another 5+ receptions in this game.
TheFFGhost – Both Arian Foster and Ben Tate have over 75 yards of rushing.
Eric Olinger – Ray Rice tops 150 total yards and scores at least one TD.
Eric Hardter - Ray Rice exceeds 25 touches, for 140+ total yards.
So we can see how well the staff did, but who is the big winner this week from our readers? This week 'KCGuzz' takes the crown with eight correct shots called, which is pretty impressive given the weird season we've seen thus far. Congratulations KCGuzz, your name will be entered into our year end drawing for a chance to win a free year of DLF Premium as well as a DLF t-shirt. Good luck!
Here were KCGuzz' shots:
-Bowe gets a TD.
-Luck goes for 2 scores, primarily getting Indy caught up in garbage time.
-NO loses again, frustrated by the runs of Cam.
-Not much in the way of surprises here, as Foster goes for 100 YDs and a score.
-Reggie Bush gets in the end zone at least one time, and that is saying something with this offense.
-Jets offensive fireworks are over, and they are held to less than 10 points.
-Johnson does it again, or doesn't do it again, however you look at it. 50YDs and no score are not exactly what fantasy owners were thinking about when they drafted him.
-Rivers has another clean game with 2 TDs and 250+ YDs.
So with two weeks down, the DLF staff seems to be catching on to how things are going in the NFL, for better or worse, we seem to have wrapped our brains around it. Or have we? Let's see what the staff thinks will happen in Week Three:
St. Louis @ Chicago
Eric Dickens – Danny Amendola & Brandon Marshall set an NFL record for most combined receptions by two receivers in a single game.
TheFFGhost – The Rams secondary holds Marshall under 90 yards of receiving.
Eric Olinger – Chris Long finally breaks out and registers at least 1.5 sacks.
Jacob Feldman – Marshall flirts with 10 receptions on 15+ targets.
Andy Miley – Cutler and Bradford throw for over 300 yards each and will throw for 4 touchdowns between them.
Eric Hardter – Jay Cutler is sacked six times by an aggressive Rams front, and yells at his teammates some more.
Chris Rohrer – Danny Amendola records at least 10 receptions for 100 yards and Michael Bush totals over 100 yards from scrimmage and a TD.
Jeff Beran – Michael Bush plods his way to 85 yards and 2 TDs on 27 carries.
Buffalo @ Cleveland
Jeff Haverlack – TRich disappoints in week 3, showing that more than great talent is needed to be a fantasy performer.  No TDs and less than 70 yards rushing.
Paymon Shokoohi – Trent Richardson follows up a good week 2 with a great week 3, rushing for 150 yards and 2 TDs.
TheFFGhost – Chandler posts another touchdown in this game.
Eric Olinger – Brandon Weeden has a QB rating over 100 for the second straight week.
Andy Miley – Both Richardson and Spiller have over 150 yards combined and score touchdowns.
Eric Hardter – Greg Little goes for over 100 yards against a suspect Bills secondary.
Dan Hasty – Trent Richardson rushes for more yards than CJ Spiller.
Tampa Bay @ Dallas
Jeff Haverlack – Mike Williams continues to climb the "buy-low" ladder, scoring another TD.
TheFFGhost – Austin goes for over 80 yards and posts a touchdown.
Eric Olinger – Miles Austin continues to outperform Dez Bryant. Austin goes 100+ yards receiving, Dez less than 100 yds receiving.
Jacob Feldman – Austin and Bryant both show up with 200+ yards and 2 TDs between them while Witten lags behind them.
Andy Miley – Romo and Dez owners are rewarded with productive days. Romo will throw for 3+ touchdowns, 350+ yards and Dez gets 100 yards and a score.
Eric Hardter – Tony Romo throws for over 400 yards in a shootout.
Chris Rohrer – Dez finally lives up to the hype when he beats the Bucs D worse than he beat his mom, recording multiple scores.  — (if deemed too inappropriate: Dez finally lives up to his potential with multiple scores against a Bucs D that has been weak against the pass.)
Jeff Beran – Ogletree has a nice bounceback game with 70 yards and a TD; Murray racks up 140 rushing yards, 40 receiving yards, and 2 TDs.
Jacksonville @ Indianapolis
Jeff Haverlack – Donald Brown gets his first 100 yard rushing game of the year and teases fantasy owners … again.
TheFFGhost – Fleener grabs over 7 receptions and posts over 70 yards.
Eric Olinger – Luck throws for 275 and 2 TDs.
Eric Hardter – Justin Blackmon records more than six catches.
NY Jets @ Miami
TheFFGhost – Hartline grabs over 7 receptions.
Eric Olinger – Shonn Greene is held under 70 yards rushing and 0 TD.
Jacob Feldman – Reggie Bush doubles Greene's yardage numbers on the day.
Andy Miley – Tannehill has another decent day with 250 total yards and scores 2 touchdowns.
Eric Hardter – Tim Tebow gets his first rushing score of the season.
San Francisco @ Minnesota
Jarrett Behar – Christian Ponder 200+ yards, 0 INTs.
TheFFGhost – Jared Allen adds two sacks to his career total.
Eric Olinger – Randy Moss scores at least one time in his return to Minnesota.
Jacob Feldman – Crabtree manages 6+ catch, 100+ yards, and a TD.
Eric Hardter – Adrian Peterson is held to fewer than 60 total yards.
Kansas City @ New Orleans
Eric Dickens – Jamaal Charles gets on track with over 100 rushing yards.
Paymon Shokoohi – Drew Brees throws for 4 TDs, matching his season total.
TheFFGhost – Graham has a great day with two touchdowns.
Eric Olinger – Dwayne Bowe goes over 125 yards receiving with a TD.
Jacob Feldman – Saints get on track with 5 total touchdowns against the Chiefs.
Andy Miley – Colston gets 125 yards and 2 scores after two quiet weeks.
Eric Hardter – Jamaal Charles finally breaks out with 130 total yards as the Chiefs squeak by the Saints.
Dan Hasty – Darren Sproles goes over 100 yards with a touchdown as the Saints finally get a win.
Detroit @ Tennessee
Jeff Haverlack – Titus Young is finally a fantasy factor with 110 receiving yards and a TD.
Eric Dickens – Kenny Britt goes for 100+ yards and a TD.     Matt Stafford & Calvin Johnson hook up for 2+ scores.
Jarrett Behar – Chris Johnson 20+ yards 2.0+ ypc
TheFFGhost – Britt has a modest return to full time duty with fewer than five receptions.
Eric Olinger – Brandon Pettigrew gets 8+ catches for 75 yards a TD.
Jacob Feldman – Ringer plays on 3rd downs and Chris Johnson is under 3.0 YPC once again.
Eric Hardter – Megatron gets his first score of the season…and then two more.
Dan Hasty – Jake Locker gets back on track against a vulnerable secondary. 300 yards and 3 touchdowns as the Titans shock the Lions.
Cincinnati @ Washington
Jeff Haverlack – This is the week that RGIII becomes an every week starter, totalling (4) touchdowns and 400+ yards of offense.
TheFFGhost – RGIII throws for over 250 yards and rushes for another 50+ yards.
Eric Olinger – Andy Dalton throws for 300 yards and 2 TDs.
Jacob Feldman – Garcon misses the game outright or is on the sidelines for most of the game if active. A few weeks from now we learn his injury is the dreaded LisFranc injury.
Andy Miley – RG3 throws for 350 yards, 3+ touchdowns, rushes for 80+ yards and a score.
Eric Hardter – AJ Green goes off for 130 yards and a score.
Chris Rohrer – Fred Davis gets out of his early season funk recording 5+ receptions for 75+ yards and a touchdown.
Dan Hasty – BenJarvus Green-Ellis runs for 100 yards and two touchdowns as both teams score upwards of 30 points.
Philadelphia @ Arizona
Jeff Haverlack – Larry Fitzgerald stays cold with less than 60 yards receiving and 4 or less receptions.
TheFFGhost – Fitzgerald is still held well below his draft position with less than four receptions.
Eric Olinger – No Arizona Cardinal scores an offensive TD.
Jacob Feldman – Fitzgerald continues to struggle but salvages his fantasy day with a short red zone TD.
Eric Hardter – Michael Vick tosses another three INT's.
Dan Hasty – Larry Fitzgerald goes another week without scoring a touchdown.
Jeff Beran – Eagles D/ST scores 2 TDs
Atlanta @ San Diego
TheFFGhost – Gonzalez has more receptions and yards than Gates.
Eric Olinger – Ryan Mathews gets 150 total yards but fails to reach the endzone.
Jacob Feldman – Mathews starts but misses snaps due to some other injury. Ryan throws for 3 more TDs.
Eric Hardter – Ryan Mathews gets dinged up again, in some way, shape or form.
Chris Rohrer – We finally get a bit more of Jacquizz Rodgers.  Nothing too crazy, but surpasses 50 yards from scrimmage and makes an argument for severely limiting Michael Turner going forward.
Dan Hasty – Julio Jones returns to dominance with over 100 yards and a touchdown.
Jeff Beran – Ryan Mathews plays; Chargers equipment manager accidentally sews "MATTHEWS" onto the back of his jersey; chaos ensues.
Houston @ Denver
Jeff Haverlack – Andre Johnson makes fantasy owners forget about last week with more than 100 yards receiving and a TD
TheFFGhost – Demaryius Thomas out performs Andre Johnson in receptions and yards.
Eric Olinger – Arian Foster rushes for 130+ yards. Ben Tate rushes for less than 50.
Eric Hardter – The Broncos are held to under 300 yards of total offense.
Chris Rohrer – Peyton manning redeems himself throwing for 3 touchdowns and no interceptions.  Demaryius Thomas scores in his third consecutive game.
Dan Hasty – Andre Johnson gets shut down for a second straight week, this time by Champ Bailey in being held under 50 yards receiving.
Jeff Beran – Titus Young finishes with more than one reception for 12 yards.
Pittsburgh @ Oakland
TheFFGhost – Palmer throws for over 300 yards in a loss.
Eric Olinger – In an unexpected shootout both Palmer and Roethlisberger throw for 300+ yards and 3 TDs.
Jacob Feldman – McFadden continues to struggle with under 3.0 YPC.
Eric Hardter – Big Ben tosses three touchdowns as the Steelers win big.
New England @ Baltimore
Eric Dickens – Rob Gronkowski goes "Gronk" on the Ravens, accounting for 2 TD's & multiple injured defenders.
Paymon Shokoohi – Joe Flacco gets his revenge on the Patriots, going for 300 yards and 3 TDs.
TheFFGhost – Welker gets a touchdown and over 7 receptions.
Eric Olinger – Ray Rice runs wild on NE accounting for 175+ total yards of offense.
Eric Hardter – After Julian Edelman rolls up on Gronk's ankle, Welker gets off the bench and goes for 160 yards receiving.
Chris Rohrer – Wes Welker reminds us why he was franchised tagged and gets his first 100 yard game and touchdown of the season.
Dan Hasty – Ray Rice has his first off-week against the NFL's #2 rushing defense, being held to under 70 total yards.
Jeff Beran – Wes Welker, backed by an army of his fantasy owners, storms the Foxboro Castle and overthrows Czar Belichick's empire, thus reclaiming his rightful throne as the #1 WR in PPR leagues.  Or he gets traded back to Miami for like 19 1st round picks. One or the other.
Green Bay @ Seattle
Jarrett Behar – Jordy Nelson 75+ yards, 1+ TDs.
TheFFGhost – Crosby kicks more field goals than both teams touchdown totals combined.
Eric Olinger – Clay Matthews collects 2 more sacks.
Jacob Feldman – Seattle holds the Packers to under 300 total yards of offense.
Eric Hardter – Seattle's defense forces Aaron Rodgers into two interceptions and fewer than 25 points.
Dan Hasty – Russellmania begins in Seattle. Russell Wilson throws for 250 yards and two touchdowns as the Seahawks shock Green Bay.
Once again, congratulations to KCGuzz for his winning shots. Let's see what the rest of you have got. Can you outwit your fellow readers and make sense of what has been a crazy NFL season thus far? We judge entries on difficulty, number or correct shots called and the uniqueness of what is being predicted. Fire away!
Don't forget, if we select your entry we'll enter you into a drawing for a full year of DLF premium content and a free DLF t-shirt!
For more great articles, check out Dynasty League Football.
Original Story:
http://www.60maxpowero.com/patriots/c...
THE BACKYARD
BEST OF MAXIM
RELATED ARTICLES
CAUTION: SLIPPERY SURFACE
A scab ref threw his hat to indicate a player came back in bounds after stepping out of bounds and Kevin Ogletree of the Cowboys immediately slipped on it. Why not click the Google +1 & the... Full story at Bob's Blitz ~ http://www.bobsblitz.com
As they were last week, the Cowboys will be without the middle of their offensive line and defensive line once again this week as center Phil Costa will miss with back problems and nose tackle Jay Ratliff will miss with an ankle problem. Costa left during their week 1 game against the Giants, while Ratliff has yet to play a snap this season after injuring himself in the preseason...
The Cowboys made a stir earlier this year when they announced that wide receiver Dez Bryant would be playing under a different set of team rules this season. Bryant had a curfew set up and his off-field entertainment choices curtailed by the team, which has been trying to find a way to keep Bryant from inhibiting himself in his free time so he can go back to being a downfield threat...
Tony Romo, Dez Bryant and the Dallas Cowboys could be facing a disappointing 1-2 start if they do not fix the problems that led them to a head-scratching blowout loss against the Seattle Seahawks last week. The loss led many fans and critics to wonder what kind of the team the Cowboys are this year? Although the first weeks of the NFL season always contain a degree of parody, a loss...
Sean Lee was a hero yet again, picking off a pass on a deflection the first quarter. The play set up the Cowboys' lone touchdown. We're using the following to define regression: 2. Relapse to a less perfect or developed state. We use that word today because of this— 13 penalties for 105 yards. An interception in Dallas territory in the first quarter, which led to a Tampa...
(Eds: Updates. With AP Photos.) Tony Romo and the Dallas Cowboys have had to go a long way to score their touchdowns this season. Their four touchdown drives have averaged 78 yards, including a 95-yarder for their only score in the last game. ''You have to do a lot of things right to go 80 yards, 60 yards, whatever,'' Romo said Thursday. ''When you have...
Poor Tony Romo, not only did he get destroyed on this sack by the Tampa Bay Buccaneers Gerald McCoy but he didn't even get a penalty for a helmet-to-helmet hit from the replacement officials:
The replacement refs have been under incredible scrutiny for their performance in the first few games of this NFL season, and this latest incident won't help anything. Kevin Ogletree of the Dallas Cowboys slipped during a play on a replacement refs cap, which was thrown in order to mark the fact that a WR has gone out of bounds. Just when you think it can't get worse… via...
When it comes to hanging tough on the road against NFC East powerhouses, the Tampa Bay Buccaneers are getting far more experience than they'd like these days. And much to their dismay, they're also finding themselves with plenty of time to practice head coach Greg Schiano's controversial blitz-the-victory formation call. Even with some impressive play along the way...
Injured wideout Miles Austin has returned to action for the Cowboys after leaving earlier with a rib injury.Fantasy Spin:Dez Bryant could see more targets down the stretch if Romo is unsure about throwing Austin's way.
Each time they head to the practice field, Dallas Cowboys players pass motivational messages posted outside the locker room. One poster stresses three characteristics that head coach Jason Garrett wants to see from his squad: Passion, emotion and enthusiasm. Garrett should consider adding a fourth word to the list. Consistency. Dallas continues to display none heading into Sunday...
Cowboys News

Delivered to your inbox

You'll also receive Yardbarker's daily Top 10, featuring the best sports stories from around the web. Customize your newsletter to get articles on your favorite sports and teams. And the best part? It's free!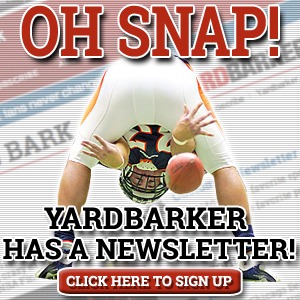 Latest Rumors
Best of Yardbarker

Today's Best Stuff

For Bloggers

Join the Yardbarker Network for more promotion, traffic, and money.

Company Info

Help

What is Yardbarker?

Yardbarker is the largest network of sports blogs and pro athlete blogs on the web. This site is the hub of the Yardbarker Network, where our editors and algorithms curate the best sports content from our network and beyond.