Originally posted on
Sportsnaut
| Last updated 6/11/14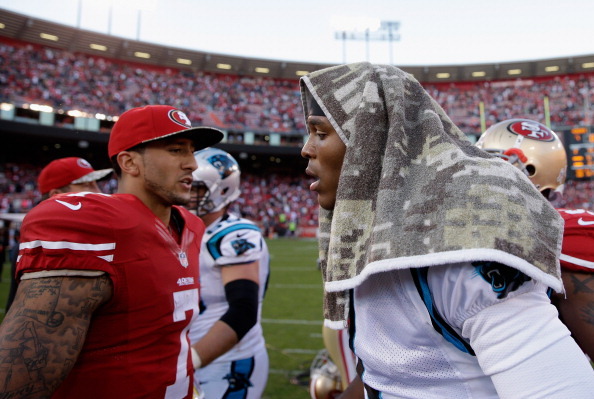 Carolina Panthers' quarterback Cam Newton is in the last year of his rookie deal. And speaking of deals, San Francisco 49ers' quarterback Colin Kaepernick just inked his new contract extension. However, reports are surfacing that Newton doesn't want a pay as you go type of contract like Kaepernick just signed. Good stuff from @RapSheet last night on Cam Newton avoiding a Colin Kaepernick-like deal http://t.co/UB53wORaOh — NFL: AroundTheLeague (@NFL_ATL) June 11, 2014 Kaepernick's six-year contract extension, with just $13 million in guaranteed money, basically allows the 49ers to evaluate him year-to-year. This type of contract, with less guaranteed money, reported by NFL Media Insider, Ian Rapoport, via NFL.com.. Really scares people who know Cam Newton very well. There is a fear in Newton's circle that Kaepernick's deal is a sign of things to come in how teams do business with franchise quarterbacks. According to Rapoport, Newton is looking for a contract which provides more guaranteed money and a higher salary per year than Kaepernick signed. Official contract discussions between Newton and the Panthers have not started, as Newton's camp is waiting for the Panthers to initiate the conversation. It looks like news of Newton's preference of not signing a Kaepernick-type of contract, is already not settling well with some folks. Looks like Cam Newton isn't as much a team player as Colin Kaepernick… Doesn't want a pay as you go contract… — Lamont Broadus (@TheSportologist) June 11, 2014 Photo: Huffington Post The post Cam Newton Doesn't Want a Colin Kaepernick-Type Contract appeared first on Sportsnaut.com.
MORE FROM YARDBARKER
NFL News

Delivered to your inbox

You'll also receive Yardbarker's daily Top 10, featuring the best sports stories from around the web. Customize your newsletter to get articles on your favorite sports and teams. And the best part? It's free!