Found August 09, 2012 on Rams Herd:
PLAYERS:
Jason Smith
,
Rodger Saffold
,
Scott Wells
,
Michael Vick
,
Quinn Ojinnaka
,
Tyson Clabo
,
Todd Weiner
,
Harvey Dahl
,
Mike Martz
,
Richie Incognito
,
Fred Taylor
,
Mark Brunell
,
Byron Leftwich
TEAMS:
St. Louis Rams
,
Philadelphia Eagles
,
Atlanta Falcons
,
Chicago Bears
,
Miami Dolphins
,
Jacksonville Jaguars
,
New England Patriots
,
Pittsburgh Steelers
Image credit: StLouisRams.com Paul Boudreau knew when he came on board as the Rams' offensive line coach that he had a fight on his hands. He inherited the one of the worst-ranked offensive lines in the game, whose franchise tackles were both undermined by injuries and ineffective play. Two weeks into Rams camp, 30 days before the start of the season, and Rodger Saffold is playing two of every four downs with the first team, and Jason Smith has been bumped to the second team in favor of a guy who bombed out of Kansas City. Writes Mike Sando for ESPN: "We're going to play the best five," Boudreau said during an interview at Rams camp last week. "Don't matter if you're a draft choice, doesn't matter if you're a free agent, doesn't matter if you've been cut by four teams." While it may not be heartening to think of the current state of our "best five" -- especially with newly-signed center Scott Wells still doing all his work in the film room -- this isn't the first time Boudreau has been in this situation. Flash back to 2007 with me, if you will. The Falcons' offense was in a shambles after Michael Vick's infamous arrest and suspension, and the offensive line was Football Outsiders' worst-rated unit in the game. The offensive line, decimated by injury, was reduced to starting 2nd-year players Quinn Ojinnaka (5th round pick) and Tyson Clabo (undrafted) at tackle. Enter Paul Boudreau, who was hired by new coach Mike Smith in the 2008 offseason. Working with mostly inherited pieces, including a healthier swing tackle in Todd Weiner and undrafted benchwarmer Harvey Dahl, and an offense geared more on power-running and passing efficiency, the Falcons' line took a massive step forward. ATL 2007: 3.42 adj. line yards (32). 7.9% sack rate (24)
ATL 2008: 4.22 adj. line yards (9). 3.6% sack rate (5) He pulled off a similar recovery in his previous top in St Louis, from 2006-07 in the waning years of Mike Martz. Pass protection didn't improve, though that might be chalked up to Martz's insistence on seven-step drops and a long-developing route tree. Oh, and Alex Barron. Again, the appearance of a brash, slab-handed rookie guard (Richie Incognito) figured prominently. STL 2005: 3.80 adj. line yards (23). 7.4% sack rate (19)
STL 2006: 4.41 adj. line yards (8). 7.9% sack rate (24) Let's go back even further, to his arrival in Jacksonville in 2003. The Jaguars already had a strong run-blocking unit in support of Fred Taylor, but their pass-protection of a rapidly aging Mark Brunell was abysmal. Enter a new coaching staff, and another rookie guard, Vince Manuwai. Throw in a new, more mobile quarterback in Byron Leftwich, and you have another Boudreau miracle. JAX 2002: 4.46 adj. line yards (6). 9.1% sack rate (30)
JAX 2003: 4.44 adj. line yards (7). 5.1% sack rate (6) Now. Let's reset our expectations. Arguably, the Rams have even less to work with on the line than any of his previous stops. Boudreau was able to inherit at least three healthy starters in each of his previous stops -- here, he may have only one guaranteed in old friend Harvey Dahl. But Boudreau has a clear track record of getting players into fighting shape, and getting them working as a unit. Boudreau's criticism of Smith underscores his overall unit-building philosophy: "His whole thing that he needs to work on the most is understanding angles in protection, understanding he has long arms but he doesn't use them and try to get his length back in protection. He wants to hit a guy all the time and you don't have to hit a guy in pass protection. You just have to stay in front of him." In other words, don't be selfish. Don't try to overcome years of frustration and ineffectiveness in a single snap. Keep it simple. Stay with your teammates. Be aware of your surroundings. Or find yourself benched in favor of someone else.
Original Story:
http://www.ramsherd.com/2012-articles...
THE BACKYARD
BEST OF MAXIM
RELATED ARTICLES
ST. LOUIS This is a moment Lance Kendricks will work to forget. Its early in a drill Wednesday at Rams Park. The second-year St. Louis Rams tight end jogs toward the middle of a practice field, churning and grinding and laboring with his 6-foot-3, 247-pound tank of a frame while trying to leave a positive impression on new offensive coordinator Brian Schottenheimer. Quarterback...
Today we tackle the St. Louis Rams cheerleaders and superfans. Like most of you, we are itching for football season to start. In the midst of the dog days of summer, many get sick of baseball and start turning their attention to football. Don't blame you a bit. To help quench your thirst, BC is going on a 32 team, 32 day, 32 gallery tour of NFL cheerleaders & superfans. Sorry...
The St. Louis Rams appear to have options in easing the workload on running back Steven Jackson. Jackson remains the feature back but he might find himself getting fewer carries - and fewer bumps and bruises - after recording 70 percent of the team's carries the past seven seasons. St. Louis took two backs in this year's draft, grabbing Isaiah Pead with the third of three...
ST. LOUIS -- Here Isaiah Pead stands, yards behind Steven Jackson as the ninth-year veteran cradles a pass from reserve quarterback Tom Brandstater during drills at Rams Park, the rookie resembling the lightning to Jackson's thunder. "Of course, we're two different types of running backs," says Pead, all of 5-feet-10, 197 pounds. "But you can always learn...
Rookie Janoris Jenkins draws a vivid description of how he wants to play cornerback for the St. Louis Rams. ''I play like a ninja, an assassin,'' Jenkins said Thursday after practice at Rams Park. ''I love to be around the ball. I'm quick and physical. I just play the position with a chip on my shoulder.'' The 5-foot-10, 193-pound Jenkins has...
ST. LOUIS, Mo. (AP) -- The St. Louis Rams appear to have options in easing the workload on running back Steven Jackson. Jackson remains the feature back but he might find himself getting fewer carries -- and fewer bumps and bruises -- after recording 70 percent of the team's carries the past seven seasons. St. Louis took two backs in this year's draft, grabbing Isaiah Pead...
Getty Images St. Louis Rams quarterback Sam Bradford recently claimed that his ankle still isn't 100 percent.  Head coach Jeff Fisher isn't concerned about it. "There's going to be residual effects from high-ankle sprains, especially when you come back into practice like he is," Fisher said. "But we don't anticipate it to be a problem, and it hasn't been one. He's...
By X Ramsondemand.com Jeff Curry/US Presswire It's still early, and you can only put so much stock in reports coming out of Rams Camp right now, but when reports start
The most intriguing home game on the slate for the Rams this season jumps off the page for a laundry list of reasons. They already will have had a tough first-half schedule leading up to this contest, facing Detroit, Chicago, and Green Bay, along with a couple divisional games against the Cardinals and Seahawks. After all of that, they will square off with the New England Patriots...
Do the Rams finally have plan in place to protect Steven Jackson? For what appears to be the first time since splitting time with Hall of Famer Marshall Faulk the St. Louis Rams appear to have options in easing the workload on running back Steven Jackson. One year closer to the ominous wall of turning 30 as an NFL running back.  Jackson remains the feature back but he might find...
NFL News

Delivered to your inbox

You'll also receive Yardbarker's daily Top 10, featuring the best sports stories from around the web. Customize your newsletter to get articles on your favorite sports and teams. And the best part? It's free!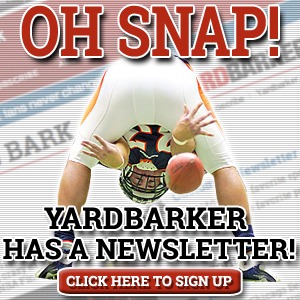 Latest Rumors
Best of Yardbarker

Today's Best Stuff

For Bloggers

Join the Yardbarker Network for more promotion, traffic, and money.

Company Info

Help

What is Yardbarker?

Yardbarker is the largest network of sports blogs and pro athlete blogs on the web. This site is the hub of the Yardbarker Network, where our editors and algorithms curate the best sports content from our network and beyond.