Image credit: StLouisRams.com Paul Boudreau knew when he came on board as the Rams' offensive line coach that he had a fight on his hands. He inherited the one of the worst-ranked offensive lines in the game, whose franchise tackles were both undermined by injuries and ineffective play. Two weeks into Rams camp, 30 days before the start of the season, and Rodger Saffold is playing two of every four downs with the first team, and Jason Smith has been bumped to the second team in favor of a guy who bombed out of Kansas City. Writes Mike Sando for ESPN: "We're going to play the best five," Boudreau said during an interview at Rams camp last week. "Don't matter if you're a draft choice, doesn't matter if you're a free agent, doesn't matter if you've been cut by four teams." While it may not be heartening to think of the current state of our "best five" -- especially with newly-signed center Scott Wells still doing all his work in the film room -- this isn't the first time Boudreau has been in this situation. Flash back to 2007 with me, if you will. The Falcons' offense was in a shambles after Michael Vick's infamous arrest and suspension, and the offensive line was Football Outsiders' worst-rated unit in the game. The offensive line, decimated by injury, was reduced to starting 2nd-year players Quinn Ojinnaka (5th round pick) and Tyson Clabo (undrafted) at tackle. Enter Paul Boudreau, who was hired by new coach Mike Smith in the 2008 offseason. Working with mostly inherited pieces, including a healthier swing tackle in Todd Weiner and undrafted benchwarmer Harvey Dahl, and an offense geared more on power-running and passing efficiency, the Falcons' line took a massive step forward. ATL 2007: 3.42 adj. line yards (32). 7.9% sack rate (24)
ATL 2008: 4.22 adj. line yards (9). 3.6% sack rate (5) He pulled off a similar recovery in his previous top in St Louis, from 2006-07 in the waning years of Mike Martz. Pass protection didn't improve, though that might be chalked up to Martz's insistence on seven-step drops and a long-developing route tree. Oh, and Alex Barron. Again, the appearance of a brash, slab-handed rookie guard (Richie Incognito) figured prominently. STL 2005: 3.80 adj. line yards (23). 7.4% sack rate (19)
STL 2006: 4.41 adj. line yards (8). 7.9% sack rate (24) Let's go back even further, to his arrival in Jacksonville in 2003. The Jaguars already had a strong run-blocking unit in support of Fred Taylor, but their pass-protection of a rapidly aging Mark Brunell was abysmal. Enter a new coaching staff, and another rookie guard, Vince Manuwai. Throw in a new, more mobile quarterback in Byron Leftwich, and you have another Boudreau miracle. JAX 2002: 4.46 adj. line yards (6). 9.1% sack rate (30)
JAX 2003: 4.44 adj. line yards (7). 5.1% sack rate (6) Now. Let's reset our expectations. Arguably, the Rams have even less to work with on the line than any of his previous stops. Boudreau was able to inherit at least three healthy starters in each of his previous stops -- here, he may have only one guaranteed in old friend Harvey Dahl. But Boudreau has a clear track record of getting players into fighting shape, and getting them working as a unit. Boudreau's criticism of Smith underscores his overall unit-building philosophy: "His whole thing that he needs to work on the most is understanding angles in protection, understanding he has long arms but he doesn't use them and try to get his length back in protection. He wants to hit a guy all the time and you don't have to hit a guy in pass protection. You just have to stay in front of him." In other words, don't be selfish. Don't try to overcome years of frustration and ineffectiveness in a single snap. Keep it simple. Stay with your teammates. Be aware of your surroundings. Or find yourself benched in favor of someone else.
Original Story:
http://www.ramsherd.com/2012-articles...
PLAYERS:
Jason Smith
,
Rodger Saffold
,
Scott Wells
,
Michael Vick
,
Quinn Ojinnaka
,
Tyson Clabo
,
Todd Weiner
,
Harvey Dahl
,
Mike Martz
,
Richie Incognito
,
Fred Taylor
,
Mark Brunell
,
Byron Leftwich
TEAMS:
St. Louis Rams
,
Philadelphia Eagles
,
Atlanta Falcons
,
Chicago Bears
,
Miami Dolphins
,
Jacksonville Jaguars
,
New England Patriots
,
Pittsburgh Steelers
MORE FROM YARDBARKER
NFL News

Delivered to your inbox

You'll also receive Yardbarker's daily Top 10, featuring the best sports stories from around the web. Customize your newsletter to get articles on your favorite sports and teams. And the best part? It's free!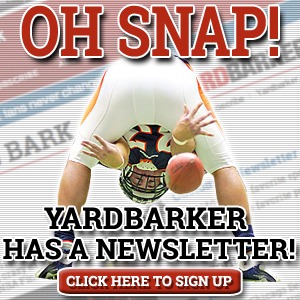 Latest Rumors
Best of Yardbarker

Today's Best Stuff

For Bloggers

Join the Yardbarker Network for more promotion, traffic, and money.

Company Info

Help

What is Yardbarker?

Yardbarker is the largest network of sports blogs and pro athlete blogs on the web. This site is the hub of the Yardbarker Network, where our editors and algorithms curate the best sports content from our network and beyond.