Found October 03, 2012 on Fox Sports Arizona:
This is a story about the NFL. But its not really a story about football. This is about a defensive lineman for the undefeated Arizona Cardinals and what that 6-foot-3, 305-pound lineman will be wearing on the field during Thursday nights game in St. Louis against the Rams. But its not really a story about Nick Eason. Make it all about Iris Wilcox, Eason instructed me, not Nick Eason. Iris Wilcox isnt the only reason Nick Eason will be wearing pink cleats and pink wristbands and pink gloves throughout the month of October. That will happen throughout the NFL, as players will be speckled in pink to honor Breast Cancer Awareness Month and add to the 3 million the league has raised for the American Cancer Society. But when Eason tugs on those cleats and wristbands and gloves before each October game, Iris Wilcox, who was Easons mother, will be the reason hell say a prayer and give thanks for the time he had with her. He used to save his game-worn gloves and cleats as mementos for his mom. Now, they are a memory of the woman who supported him every step of the way, who was tough and loving at the same time, and who died of breast cancer this summer at age 50 as Easons Cardinals began preseason action. This is a story about Iris Wilcox and the NFLs pink-tinged October representing a rare and beautiful thing: When professional athletes do good with no eye toward public perception. When they do good because it is the right thing. When they recognize the fight against cancer because they know the disease touches us all. Id wear pink even if my mom didnt have breast cancer, Eason told FOXSports.com. Any time anyone dies from a terminal illness, its a battle for them, a battle for that person and their caretaker. Eason was happy to take on the role of caretaker during his mothers last days. How could he not after all shed done for him? Shed had him at 19 in small-town Georgia, but that was no reason for Iris Wilcox not to move forward in life. The single mother of three got a degree in mathematics, became a high school teacher, went back for a degree in counseling and focused on down-and-outers like teen moms and troubled kids. Most of all, she loved the Lord. She had a strong moral code; when Eason asked her to lie for him so he didnt get in trouble with his football coach, Iris Wilcox would have none of it. Im not going to tell a lie, she said, so you might as well tell the truth. She teased her oldest son all the time. She called him Black, because his skin was a darker complexion than hers -- Black, whathu doin? -- but when Eason played at Clemson and later in the NFL, she couldnt have been more proud. It was the high moment of Easons football career, before Easons Pittsburgh Steelers faced the Cardinals in Super Bowl XLIII in 2009, when his mother was diagnosed with breast cancer at age 47. Days before the Super Bowl, Iris Wilcox had her first chemo treatment. Then she traveled to Tampa to watch her son play. Easons Steelers won, but his mother celebrated by going back to his hotel room and falling in bed, exhausted from the cancer treatment. They thought she had it beat. Then, this summer, Eason took her to the hospital to check out swelling in her throat and fluid in her lungs. The cancer was back, now at stage 4. Eason missed the Cardinals final few OTAs and some of training camp as he became his mothers primary caregiver. He moved her Arizona so she could be treated at the Cancer Treatment Centers of America. But the cancer had spread -- to her chest, heart, liver and lungs. It was terminal. The doctor gave the bad news to Eason, and it was Eason who told his mother. She said, 'Just take me home,'" Eason said. She said, 'My life is good with the Lord.' And she started singing this song about how Jesus is real, 'He is real to me,' right after I told her the bad news. So Nick chartered a plane and took his mother back home to Toombs County, Ga., a cozy place between Macon and Savannah known for the worlds best Vidalia onions. As she took her last breaths in a hospice, Eason spoke to her: "Ill do my best to live the life you taught me to live so I can see you on the other side." Hundreds of her high school students came to her funeral, where Eason played a video of his mother singing that song about Jesus. So when you watch NFL games this October and you notice the pink ribbon on the game balls, the pink tees for kickoffs, and the pink cleats and wristbands and gloves that players such as Nick Eason will wear, dont cynically assume this is some marketing ploy to appeal to female fans. For once, this might be something pure and good thats happening right before us, even if were busy paying attention to something else. This game is about winning, dont get me wrong, but its also about giving, giving back to the community, Eason said. Its a great cause, man. Thats why I believe God put me in this position: to be a role model. "Ill wear pink every game. Im all in. Because of what it represents. It represents the people whove lost their lives and the people who are still fighting.
Original Story:
http://www.foxsportsarizona.com/10/03...
THE BACKYARD
BEST OF MAXIM
RELATED ARTICLES
It wasn't pretty but the Arizona Cardinals are 4-0 following their 24-21 overtime victory over the Miami Dolphins yesterday at University of Phoenix Stadium in Glendale. Wow, it was not easy. Let's take a look at Arizona's Report Card for Week Four:   Offense: C The offensive line was a disaster, allowing a season-high eight sacks. It was a lucky thing that Kevin Kolb...
John Skelton – remember him? It seems like a long time ago when he was the Arizona Cardinals' starting quarterback (week one actually). It does seem like a long time ago though. Anyway, Skelton, recovering from a low ankle sprain, may finally be healthy enough to be activated for Thursday's game against the St. Louis Rams. Skelton certainly won't start in place of Kevin...
The Arizona Cardinals are off to their best start in 38 years despite a ground game that isn't keeping pace. Even though the Cardinals are one of three 4-0 teams in the NFL, their running game ranks 29th out of 32 teams at 68 yards per game. Only Dallas, Pittsburgh and Oakland are worse. While the Cardinals say they're happy to be winning regardless of the statistics, quarterback...
Denver, CO. Week 4 of the regular season was a little bit more normal, after a wild week 3 where there were several upsets. Yours truly went 11-4, as I am now a decent 40-23 for the season. My colleague, "Headline", also went 11-4 and is a paltry 34-29 for the season. The byes are now starting to really hit, so let's get on to the week 5 NFL picks…… J Simp's Picks...
If Kevin Kolb goes up to each of his offensive lineman, and slaps them, they better not do anything back to him. Ever.Kolb was sacked nine times in last night's game in St. Louis. Nine times. And that doesn't count the number of times he threw under pressure and was tossed to the ground after the ball was out of his hands. Chris Long, the Rams defensive end standout, said...
Every Wednesday until the Super Bowl, Brian Billick will write a weekly column looking in-depth at different aspects of the modern NFL and will discuss experiences and insights he gained while coaching and broadcasting. This we know: The NFL is a quarterback league, as much as it has ever been. And also this: The large trends that define the game are moving toward an even greater...
When you casually reviewed the Thursday night schedule at the end of the preseason, I'm fairly certain that you whizzed right past this Week 5 matchup between the Rams and Cardinals. Sure, you were looking forward to tracking potential Larry Fitzgerald points. You certainly weren't anticipating a matchup between an undefeated Arizona squad and a 2-2 Rams squad under Jeff...
Thirty-eight years ago, the last time the Arizona Cardinals were 4-0, their home was St. Louis and they were known affectionately as the Big Red. Nearly a quarter century since departing for the desert, they're on top of their game again. The surprising Cardinals don't have one of the best offenses in the NFL, far from it actually. Throw out the big plays on defense and...
The Texans, Falcons and Ravens hold their own atop this week's power rankings, but, there is plenty of movement in the middle ranks... including the Arizona Cardinals making their climb upwards.
NFL Arizona Cardinals (-2.5) @ St. Louis Rams – 8:25PM In this week's edition of NFL Thursday Night Football, the overachieving Arizona Cardinals go on the road to meet Sam Bradford and the St. Louis Rams.  The Cards are currently 2.5 point favorites, while the total has moved to 39.5.  Arizona is coming off a [...]
ARIZONA CARDINALS @ ST. LOUIS RAMS (+2) I'm taking the Rams tonight. This is solely a situtional play for me here. 60% of the public likes the Cardinals. The Rams are at home twice in a row where they start the season 2-0. They found a win over the Seahawks and beat the Redskins at home thus far this year. The Cardinals aren't going 16-0 and they should have lost to the Dolphins...
NFL News

Delivered to your inbox

You'll also receive Yardbarker's daily Top 10, featuring the best sports stories from around the web. Customize your newsletter to get articles on your favorite sports and teams. And the best part? It's free!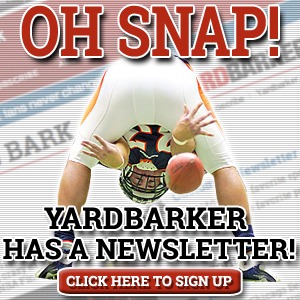 Latest Rumors
The Backyard

Today's Best Stuff

For Bloggers

Join the Yardbarker Network for more promotion, traffic, and money.

Company Info

Help

What is Yardbarker?

Yardbarker is the largest network of sports blogs and pro athlete blogs on the web. This site is the hub of the Yardbarker Network, where our editors and algorithms curate the best sports content from our network and beyond.