Found August 28, 2012 on Fox Sports Arizona:
PLAYERS:
Jeremy Bridges
,
D.J. Young
,
Kamerion Wimbley
,
D`Anthony Batiste
,
Bobby Massie
,
Ken Whisenhunt
,
Russ Grimm
,
Mike Gandy
,
Jared Allen
TEAMS:
Arizona Cardinals
,
Tennessee Titans
,
Minnesota Vikings
TEMPE, Ariz. -- Maybe you see the Cardinals offensive-line shuffle as a modified version of the shell game -- a frantic attempt to hide the weakness and inexperience at the tackle position in the wake of Levi Browns season-ending triceps injury. Veteran Jeremy Bridges sees a more competitive game. Its like playing musical chairs, Bridges said. Well see where we land when the music stops. Well see what opening week brings. In Week 4 of their preseason, the Cards gave 2011 practice squad member D.J. Young a crack at replacing Brown at left tackle. He was promptly burned on the games first two plays by Tennessee defensive end Kamerion Wimbley for a sack and a quarterback hurry. Young was eventually replaced by undrafted, seven-year veteran DAnthony Batiste, who was supposed to start the season as the right tackle. The line seemed to stabilize for a stretch with Batiste on the left side and rookie Bobby Massie at right tackle. I felt like I did improve on some things as far as picking up twists and stuff like that, Batiste said. I felt like me and (left guard) Adam (Snyder) getting on a better page and playing (alongside) each other a little more really helped out. But Batiste struggled the week before against the Raiders, and his body of work is lacking. He will start the clubs preseason finale Thursday against the Broncos so the Cardinals coaching staff can affirm the progress it believes it has seen and anoint Batiste the Week 1 starter. I would say thats fair, coach Ken Whisenhunt said. We felt very strongly about DAnthony coming into this season because of his work in the offseason and what he did for us last year in spot play. I just want to see him do it again this week, and I expect him to do that. If you are expecting Whisenhunt to throw his players under the bus, you will be disappointed, but rest assured, the Cardinals coaching staff is more than a little concerned about starting the season with Batiste and rookie Bobby Massie at the two tackle positions. Massie has made great progress and the fifth preseason game is an experience bonus, but he is still a rookie who only played three years of college ball. The Cardinals will watch the final NFL roster cuts very closely next week, and if theres a way to get better, well certainly look at signing another lineman, Whisenhunt said. But if this is as good as it gets, it raises an interesting question about the teams faith in Bridges. When asked if Bridges is still a possibility at starting left tackle, Whisenhunt said: We know what Jeremy can do. This process has been about finding what these other guys can do. But if hes using Thursdays game as affirmation that Batiste and Massie should be the starters, it begs the question of what Whisenhunt and line coach Russ Grimm dont see in Bridges as a possible starter. Bridges is a 10-year veteran who came into the league as a tackle and played well on the left side in 2009 when starter Mike Gandy went down. His best moment came when he utterly negated Vikings pass rush specialist Jared Allen. Left tackle is what got me into the NFL, Bridges said. Its like riding a bike. You might have to jump on that bike and take it around the corner a couple times, but its never left me. Bridges admits he has no idea how the lineup will shake out, but he believes hes up for the starting task. I feel great. I dont have any major bumps or bruises, he said. All I can do is continue to work hard, continue to show them that I am worthy, I am still trustworthy and I can still do it. Whisenhunt insists he is not uncomfortable with Bridges at tackle," but thats a long way from saying he feels comfortable. Its a curious statement given the lines lack of experience. Doesnt it make sense on some level to go into the season with a stabilizing veteran presence at the lines most difficult position? Dont you want a guy whos seen everything before? The Cardinals may well come to that opinion if Batiste struggles, but for now, it appears that, as defensive coordinator Ray Horton likes to say, its a young mans game. Well see if youthful energy prevails over wisdom.
Original Story:
http://www.foxsportsarizona.com/08/28...
THE BACKYARD
BEST OF MAXIM
RELATED ARTICLES
The Arizona Cardinals have yet to name a starter for week one of the regular season. Will Kevin Kolb get the nod to start the first game? (Credit: AP Photo) For some reason, the Arizona Cardinals have yet to name a starting quarterback for week one of the regular season. While neither John Skelton or Kevin Kolb have looked impressive in any of their pre-season games, it is shocking...
TEMPE -- Colin Parker walked into the Cardinals dressing room on Friday morning and was greeted by a depressing remodeling job. Gone were the lockers for former Arizona State teammate Eddie Elder and former University of Arizona rivals Paul Vassallo and Gino Crump. No name tags, no equipment, no trace of their former presence. I knew cuts were coming, but it was crazy how fast...
Arizona coach Ken Whisenhunt is shifting D'Anthony Batiste to left tackle and moving in rookie Bobby Massie at right tackle as he works to stabilize what has been a shaky offensive line since the loss of Levi Brown to a season-ending injury. Whisenhunt liked the combination in last Thursday's loss at Tennessee and plans to play them only a small amount of time in Thursday...
TEMPE, Ariz. (AP) -- With 13 days remaining before the regular-season opener, the Cardinals still don't have a starting quarterback. Coach Ken Whisenhunt said Monday that he's still not ready to announce whether Kevin Kolb or John Skelton will start the Sept. 9 game against the Seahawks, making the Cards the only team in the NFL that hasn't selected a starter. &quot...
Getty According to Kent Somers of the Arizona Republic, quarterback Kevin Kolb has looked better in practice than John Skelton, but not by a lot. "From my perspective, one of the difficulties for coaches in evaluating the quarterback situation are some of the poor practice performances by John Skelton. He plays better in games, no question. And he wasn't bad in every practice...
The Arizona Cardinals' quarterback competition plays on, but it won't be decided in Thursday's preseason finale against the Denver Broncos. Coach Ken Whisenhunt will hold Kevin Kolb and John Skelton out of this week's preseason game and decide which quarterback will start the regular-season opener Sept. 9 based on practice performance. Kolb has been viewed as...
Mike Leach has rejuvenated Washington State's football program - and produced some restless nights for opponents - all before he's even coached a game. A Brigham Young defensive assistant acknowledged as much as he prepared for Leach's Air Raid attack in Thursday night's opener in Provo. BYU coach Bronco Mendenhall is familiar with the Air Raid: He was New Mexico...
Larry Fitzgerald or Calvin Johnson? If you were asked this question, it would be extremely tough to give an answer. Both wide receivers are elite. Both have the determination. And both have the hands. These two guys are NFL players you would want on your team and are arguably the two best receivers in the league right now. Coming out of Pittsburgh University, Larry Fitzgerald got...
The Arizona Cardinals opened as a 2.5-point favorite against the Seahawks for their Week 1 game, but the line has switched by five points — the most of any other Week 1 line — and Seattle is now favored in the game. The Seahawks are favored by 2.5 points most sports books, and favored by 2 points at other places. The line change can be attributed to factors related to each team...
HER HUSBAND, the new football coach at Washington State, is always in the spotlight. But she's a huge college football fan and says she might be more consumed by the game than her famous husband. Though we rarely hear about her, Mike Leach's wife is everywhere - running the household, taking her teen-aged kids to school and practice when she's not preparing meals, paying...
With the season opener against the Brigham Young Cougars quickly approaching, Washington State Head Coach Mike Leach held a conference call over the weekend to discuss his Cougars' season opening game at BYU. Leach called BYU "a good team," as well as a team that "plays hard" and that is "well coached." He recognized that BYU has a "great tradition, great setting...
When Mike Leach was the head coach at Texas Tech, his offensive line lined up in a wider-split stance. When former Texas Tech offensive line coach and Leach assistant Robert Anae was BYU's offensive coordinator, BYU's offensive line employed a similar split formation. This Thursday, BYU's defensive line will once again face the splits.
NFL News

Delivered to your inbox

You'll also receive Yardbarker's daily Top 10, featuring the best sports stories from around the web. Customize your newsletter to get articles on your favorite sports and teams. And the best part? It's free!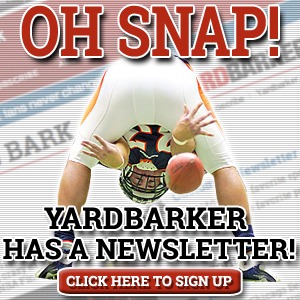 Latest Rumors
The Backyard

Today's Best Stuff

For Bloggers

Join the Yardbarker Network for more promotion, traffic, and money.

Company Info

Help

What is Yardbarker?

Yardbarker is the largest network of sports blogs and pro athlete blogs on the web. This site is the hub of the Yardbarker Network, where our editors and algorithms curate the best sports content from our network and beyond.