Found April 30, 2012 on isportsweb.com:
While making my standard rounds through my favorite Chargers websites this weekend waiting for each of the rounds of the Draft to start, I came across a very interesting set of articles. This series is called Fan Perspective and it gives fans a very rare opportunity, the chance to be interviewed like the players. I thought this was a wonderful idea as it gives fans a chance to be in the spotlight for once. So I talked to the man behind the idea, Dave Peters aka BoogaP. After a friendly bet on Twitter (which I lost) I got the opportunity to let BoogaP take center stage as I interviewed him. So let me get out of the way and let this very talented writer take the stage for his moment in the spotlight. Since I figured he probably knows himself better than I ever could, I let BoogaP give his own introduction. "My name is Dave Peters and I am a staff writer at BoltBeat.com. I write as BoogaP because Booga has been my nickname since I was a baby and P stands for my last name, obviously. Plus, my awesome editor, Ernie Padaon, asked me what I wanted to write as and I gave him the options of Dave Peters or BoogaP. In a response email he replied, "Of course, I chose BoogaP!" As I had mentioned, I now live in Charlotte, NC. I am a stay-at-home dad with a hot, amazing wife and the two most beautiful children in the history of kiddos because they look like my wife!! " Chargers fans come from all over. Some are born with lightning bolts, others find their thunder later. I asked BoogaP when and why he is a Chargers fan. "My dad has been a Chargers fans since 1967 when he got out of the Marine Corp. Therefore, I was born into the Bolt Family and haven't looked back since. Although I was born in Kalamazoo, MI my little sister was born in La Mesa, CA." While talking to him I came to learn that he lives all the way out on the east coast in North Carolina. Currently living in Denver and growing up a "Military Brat" (including 10 years in England) I know how it is to be a displaced bolts fan, so naturally I had to ask how his experience has been being a fan all the way across the country. "Being on the East Coast is tough in the sense that I don't exactly run into many Boltheads. But DirecTV Sunday Ticket certainly eases the pain , so to speak! " With all the additions and departures during this time of year with the draft and free agency I asked him who his favorite current and retired Chargers are. "My favorite player that is currently on the roster is Philip Rivers. Although he had a rough season overall last year, we all know that he was trying to do too much. In 2010 when a healthy Peyton Manning had a career high for passing yards in a season, he finished second to Rivers.
My favorite retired player is Lance Alworth. My "go to jersey guy" @Boltfan53, is hooking me up with a ridiculously sick Alworth jersey. If LaDanian Tomlinson does retire this year the answer would be simply put with two letters….LT." After recently getting into writing/blogging myself, I am always curious how people got into writing. BoogaP gave me the story of how he got started. " I've always wanted to have my opinion on the Chargers be heard by the masses. When I saw that BoltBeat.com was looking for writers, I immediately inquired. That's why I now do my "Fan Perspective" articles, giving the fans a voice while being featured in an article about their love as a true Charger Fan. " With BoogaP being out on the east coast I asked him who his most and least favorite AFC East teams are. "My least favorite and favorite AFC East teams are "two" in the same. They are New England Patriots and the New York Jets. Least favorite in that I can't stand, but respect Bill. As Far as the Jets are concerned, Rex Ryan is, well, Rex Ryan. I don't believe that I need to get into the playoff losses against both teams. They are my favorites due to the known fact that to be the best you have to beat the best. I am completely sick and tired of losing to both teams whether it be the regular season or post season. " One of the biggest decisions this off season was the decision to keep Norv Turner at head coach and AJ Smith at general manager. For the most part fans were either all for the idea or they were ready to "Occupy the Q." Here is BoogaP's take. "To be quite honest, initially, I was dumbfounded that, after two seasons of not making the playoffs, they were retained. I was also in the middle of a cross-country move from Walla Walla, Washington to Charlotte, North Carolina. Once I had a second to take a deep breath and reflect, I was ok with both having another season to prove themselves. Now that the draft is over, and A.J. completely CRUSHING the draft, I think it is now up to Norv and his coaching staff to put these uber talented players in the right place at the right time, all of the time. Too many weapons on offense and the additions on defense, through free agency and the draft, leave no excuses for Principal Skinner look alike Norval Turner." I recently did an article with my pre-draft predictions for the Charger's season. I called my 11-5 prediction very optimistic, but it was run of the mill compared to BoogaP. "I predict that we will go 13-3. The three losses being only one in the division and two where we just happen to make too many mistakes throughout the game. With that being said, I truly believe that the San Diego Chargers will bring home a Superbowl Championship to it's beloved fans and the city of San Diego. It's about time isn't it?" I'd like to thank BoogaP for letting me borrow his idea for this article and for taking the time to answer my questions. Fans like him make Chargers a great team to root for. So keep up the good work Charger fans and remember that you are just as important to the team as the players and coaches. It may not feel like it all the time, but hey without us buying tickets and jerseys and coming to their stadiums to buy hot dogs and beer, they wouldn't be able to get paid to play a game that we all love. He asked that I end the article with this:
"I'd like to thank Matthew for the interview and give one piece of advice to all of the BoltNation….BOLT UP!"
Original Story:
http://isportsweb.com/2012/04/30/char...
THE BACKYARD
BEST OF MAXIM
RELATED ARTICLES
Kendall Reyes, Melvin Ingram, Brandon Taylor A.J. Smith and crew can finally start to rest.  The job of the scouting department and general manager is all but over for this off-season.  The 2012 NFL Draft concluded Saturday evening after 3 days and 7 rounds.  San Diego had 7 picks in the Draft, one in each of the first 5 rounds and 2 in the 7th round.  With those 7 picks the...
According to Michael Gehlken of the San Diego Union-Tribune, San Diego Chargers wide receiver Robert Meachem confirmed that he underwent arthroscopic knee surgery after this past season. Meachem had the procedure done in late January and it's the same knee that ended up being surgically repaired before his rookie season in 2007 due to a torn meniscus. "I'm still young, so...
A.J. Smith and Norv Turner's jobs are on the line, so this was a critical draft for the San Diego Chargers. Entering the draft, there were rumors about the Chargers trading up, which made sense if Smith and Turner felt they needed to land an impact player to help save their jobs. But they stayed put on draft day, and it payed off. It was difficult to imagine a scenario in which...
San Diego Chargers tight end Antonio Gates said he's starting to feel like his old self in an interview Monday.  Although he conceded he's still not 100% following a painful and recurring case of plantar fasciitis over the past two seasons – an injury which sidelined him for three games last season and six games the previous season – he made it clear that his foot had improved...
Sad news to report in the NFL. TMZ and various media outlets are reporting that former San Diego Chargers linebacker Junior Seau has been found dead in his home in Oceanside, Calif. According to the TMZ report, police are investigating a shooting, according to several of their law enforcement sources. According to those same sources Seau died of a self-inflicted gunshot wound to...
It is evident that the San Diego Chargers are tired of drafting from the middle of each round every April, and it's time they lean one way or the other. Recent regular seasons indicate that they might as well tank in favor of selecting USC's Matt Barkley No. 1 overall next year and trading him for a new General Manager and Head Coach. 2012's edition, on the other hand...
Hot News for C Norv Turner
2012 NFL DRAFT GRADES – AFC WEST While we can assign more accurate grades once these draft classes have been given three seasons to perform for their collective teams, we can still assess the selections that were made. First, in terms of how effectively each team addressed their most glaring deficiencies. Along with how successful they were at accumulating depth, and by how effectively...
Johnnie Troutman's rookie season is over before it ever began. Literally. The 5th-round draft pick of the San Diego Chargers recently underwent surgery on his pectorals and is still recovering from a lingering knee injury. The timetable for recovery is estimated to be around 5 months, which in theory, would have him back by the first half of the season. The UT-San Diego article...
Chargers News

Delivered to your inbox

You'll also receive Yardbarker's daily Top 10, featuring the best sports stories from around the web. Customize your newsletter to get articles on your favorite sports and teams. And the best part? It's free!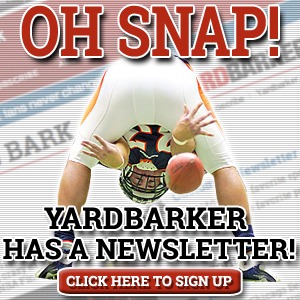 Latest Rumors
Best of Yardbarker

Today's Best Stuff

For Bloggers

Join the Yardbarker Network for more promotion, traffic, and money.

Company Info

Help

What is Yardbarker?

Yardbarker is the largest network of sports blogs and pro athlete blogs on the web. This site is the hub of the Yardbarker Network, where our editors and algorithms curate the best sports content from our network and beyond.