Found November 12, 2012 on Midway Illustrated:
PLAYERS:
Jay Cutler
,
Jason Campbell
,
Devin Hester
,
Arian Foster
,
Justin Forsett
,
Brandon Marshall
,
Gabe Carimi
,
Chilo Rachal
,
Kellen Davis
,
Michael Bush
,
Alshon Jeffery
,
Earl Bennett
,
Jerry Angelo
,
Jeremy Bates
TEAMS:
Chicago Bears
,
Houston Texans
Jay Cutler suffered a concussion and didn't return in the loss to the Houston Texans on Sunday night and backup Jason Campbell could only muster a field goal in relief.  However the biggest exposure for the Bears in this game may didn't come from the QB position, rather the offensive coordinator.   Mike Tice is learning on the job and he's not progressing from week to week.  At one point in the game the Bears faced a critical 3rd down and three deep in their own territory.  They needed a 1st down to keep from going three and out and giving the Texans the ball back in excellent field position.  Rather than run the ball or even run the double slant that worked so well in the closing minutes of the Carolina game, the Bears took a shot down the field to Devin Hester.  The play a sort of back shoulder fade required Hester to come back to and go up for the ball.  The defender had his hand up in between Hester's arms and the ball was not caught.   The Bears punt it away at that point and the Texans march down the field for the only touchdown of the game.  With the Bears defense exhausted from the Texans holding the ball for over 17 minutes of the first  half Arian Foster and Justin Forsett put together their best effort of the night.  Foster ripped off a 21 yarder and Forsett followed with a 25 yard run that led to the score.   Later in the game with the Bears facing a 3rd down and 10 the Bears did the completely opposite as Jason Campbell threw a quick pass three yard pass to Brandon Marshall.  Three yards when you need 10 and no first down for the Bears at another critical point in the game.   Other problems the Bears faced on offense that put them in the hole, false start penalties on 2nd down from both Gabe Carimi and Chilo Rachal that killed drives.   Add to it two horrible throws that led to interceptions from Jay Cutler, both into double coverage and two fumbles and the Bears were sunk.  Kellen Davis was rocked in the chest by Daniel Manning forcing a fumble and Michael Bush fumbled the ball away after getting big yards on 4th and 1.   The Bears' offense also struggled with dropped passes with Kellen Davis dropping one, Brandon Marshall dropping two including a sure fire touchdown from Cutler.  Marshall has dropped two touchdown passes on the season leading to  a never ending string of questions about his consistency.  Marshall has been fantastic and has had no help from Hester or Bennett, but he has to stop dropping passes in key situations.   Alshon Jeffery cannot get back quickly enough to help out this offense.  The Bears offense wasn't much better with Jeffery, but Jeffery is light years better than Earl Bennett and Devin Hester.  Hester is in the last year of his contract and will not, nor should he finish out his career in a  Chicago Bears uniform.  Hester has earned his money as a return man, but is now looking mortal late in his career.  He not only looks a step slower but all too often goes east and west when he should be going north and south costing the Bears crucial yards.   Earl Bennett is a complete waste of money and was the final debacle from the Jerry Angelo era when he was given a completely undeserved contract extension.  Bennett can't get open to save his life and should receive his walking papers or be pushed further down the depth chart.  If he wants to stay on the roster beyond 2012 he should take a significant pay cut.   Lastly after sticking up for and defending Kellen Davis over the last two season I have come to a conclusion.  Davis has played his final season in a Bears uniform and the Bears need an obvious upgrade at the position.  He runs routes and gains separation like a tin man in need of oil.   We can now say for certain what this Chicago Bears offense is, a very bad offense that is led by a completely inept offensive coordinator.  Mike Tice has no business calling plays and the man beneath has equal ineptitude as a play caller.  Jeremy Bates' relationship with Cutler has led to a regression from the quarterback that could very well prevent Cutler from becoming even a decent QB option at this point.   No, the season is not over and doom and gloom talk about the Bears missing the playoffs is completely unfounded.  However you can be certain that the 2012 Chicago Bears are a 10-6 type of team that will be bounced in the first round of the playoffs.
Original Story:
http://www.midwayillustrated.com/2012...
THE BACKYARD
BEST OF MAXIM
RELATED ARTICLES
It's déjà vu all over again for Chicago Bears fans in 2012.  The Chicago Bears went on a long winning streak which had people talking about them as a top team in the NFL, just like last season.  Now Jay Cutler is hurt, just like last season.  The question now is whether or not Cutler will miss extended time, and how Jason Campbell will perform in his absence. It could be seen...
Jay Cutler left the game against Houston at halftime having also been diagnosed with a concussion, but, for me the issue poses a bigger question than whether or not Jason Campbell can do enough to lead the Bears to victory (I'd suggest it just got quite a bit harder for them). The question is why wasn't a concussion test administered on Cutler before he went to the locker...
Join the guys for their observations and insights on Sunday night's loss to Houston on the next edition of "Bears Claws".  They'll discuss Jay Cutler's injury, the Bears offensive struggles, and whether they can rebound  next Monday night on the road in San Francisco. It will be a lively 30 minutes of blocking, tackling, and tongue-in-cheek humor, so make sure [...]
SEEING STARS
The constant rain has turned this Sunday Night Football game between the Houston Texans and Chicago Bears into an utter slop fest.  But even then it's not without its big plays.Tim Dobbins made a play to get after Jay Cutler and unfortunately for Cutler, despite absorbing a massive hit, it was all for nothing.  Cutler had barely crossed the line of scrimmage, making the pass...
Coach Lovie Smith says the Chicago Bears properly handled quarterback Jay Cutler's concussion on Sunday night. Smith says trainers immediately examined Cutler during a replay review after he took a helmet-to-helmet hit from Houston's Tim Dobbins late in the second quarter of a 13-6 loss to the Texans. He says Cutler showed no symptoms of a concussion immediately after the...
Bears quarterback Jay Cutler has left Chicago's game against the Houston Texans because of a concussion. A scrambling Cutler took a helmet-to-helmet hit from Tim Dobbins after unleashing a pass on third down at midfield late in the first half Sunday night. There were offsetting penalties on the play. Cutler got called for an illegal forward pass because he was beyond the line...
This was system failure, maybe system overload for the NFL. You get a big game like Sunday night, Houston at Chicago, and hope to see statements made, questions answered. We got statements, all right. When Houston linebacker Tim Dobbins cheap-shotted Jay Cutler -- in the officials' opinion -- by going helmet-to-helmet after Cutler had thrown a pass, Dobbins was allowed to stay...
Late in the second quarter on Sunday night, with the Chicago Bears down 10-3 to the Houston Texans, Jay Cutler stepped out of the pocket and eventually crossed the line of scrimmage to make a pass to Devin Hester. The play would be called back, and a review of whether Cutler stepped over the line would ensue. Bears fans everywhere would also soon suffer from scary memories of...
The Chicago Bears are expected to sign quarterback Josh McCown with Jay Cutler's status in doubt because of a concussion, ESPN Chicago reported Monday. Cutler sustained a concussion after taking a hard hit during the Bears' 13-6 loss to the Houston Texans on Sunday night. Jason Campbell replaced Cutler for the second half of the game. The Bears will need another backup...
I know why you're here. Week 10 has created so many question marks for teams heading in to Week 11. The biggest of all being at the quarterback position with injuries to the dominant Jay Cutler, Alex Smith, Ben Roethlisberger, and Michael Vick. Let's get to it! Fantasy Football Week 11 Waiver Wire Pickups Nick Foles, QB, PHI (Yahoo! 5%, FOX 1.2%) The big question for a lot of...
NFL News

Delivered to your inbox

You'll also receive Yardbarker's daily Top 10, featuring the best sports stories from around the web. Customize your newsletter to get articles on your favorite sports and teams. And the best part? It's free!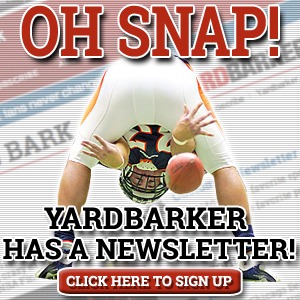 Latest Rumors
Best of Yardbarker

Today's Best Stuff

For Bloggers

Join the Yardbarker Network for more promotion, traffic, and money.

Company Info

Help

What is Yardbarker?

Yardbarker is the largest network of sports blogs and pro athlete blogs on the web. This site is the hub of the Yardbarker Network, where our editors and algorithms curate the best sports content from our network and beyond.