Found July 29, 2012 on Midway Illustrated:
PLAYERS:
Julius Peppers
,
Armando Allen
,
Garrett Wolfe
,
Brandon Marshall
,
Evan Rodriguez
,
Kyle Adams
,
Kellen Davis
,
Kelvin Hayden
,
Tim Jennings
,
Jonathan Wilhite
,
Nate Collins
,
Anthony Adams
,
Brian Price
,
Rod Marinelli
,
Shea McClellin
,
Corey Wootton
TEAMS:
Chicago Bears
The Bears wrapped up their second day in pads and fourth practice overall in Bourbannais on Sunday afternoon in front of another enthusiastic crowd. Julius Peppers participated in individual drills but received a veteran's day off during seven on seven and 11 on 11 action. On the day the offense did not execute very well in the passing game but there seemed to be a strong emphasis on the running game.  The competition for the third RB spot is fierce as Armando Allen is definitely pushing Khalil Bell for that job.  Allen is the player that Garrett Wolfe was supposed to be.  Allen is very fast, hits the hole hard and can get good yards even if he finds just a crease. Bell has struggled to hold onto the ball but didn't have a fumble on the day.  If the Bears are looking for a change of pace back, Allen might be that player. The Mike Tice offense is the polar opposite of the Martz offense.  Tice's offense is a two tight end power attack that gets the TEs heavily involved in the passing game.  If Tice goes four wide, he doesn't do it with the receivers he does it with a TE. Tice will also stack two tight ends to one side and run to that side with strength to that side.  This causes a major imbalance that the defense has to deal with with a safety in the box.  This frees up the passing game and more one on one opportunities for Brandon Marshall. The fact that the Bears force teams to deal with two TEs to one side of the formation really emphasizes how they want to open up the passing game. Evan Rodriguez worked in with the ones a lot and appears to be putting it on film enough to earn a second TE spot.  Kyle Adams as well is a threat in the passing game, he got a laser of a pass from Campbell right between the safeties and linebackers. Kellen Davis as well caught a big pass in red-zone work from Cutler. The offense put in a lot of their red zone work today but didn't have a lot of success against this defense. Overall the defense put the clamps down throughout the day with big plays from Kelvin Hayden, Tim Jennings, and Jonathan Wilhite at corner.  Numerous pass breaks and physical play by the corners today. Shifting around on the defensive line Nate Collins is likely moving up to be the favorite to grab the fifth DT spot.  The Bears carried five DTs with Anthony Adams and Okoye being the only departures from a year ago.  Brian Price received his first real live action in practice today, still without pads on. Price worked in all the drills he could do without pads, but will get into the rotation on Wednesday. Back to Collins who impressed for the second day in a row.   He is fast, strong and is taking to Rod Marinelli's coaching well.  Marinelli is a pleasure to watch because of how intently focused he is on those defensive linemen. If there is one concern  right now it's with first round pick Shea McClellin.  Right now McClellin simply looks over matched out there.  He's not as fast off the edge as Thadeus Gibson and he's not as strong as the other four competitors in front of him. It's way too early to push the panic button on McClellin and by most accounts today was  a far worse day than yesterday.   To be completely blunt about McClellin, he looks too small too weak and not fast enough.  His explosion out of his stance is not at the level expected of an edge rusher. During one on one pass rush drills McClellin earned more reps than any other defender on the field.  He got pressure on only two of eight rushes to the QB.  He struggled mightily against the offensive tackles.  If a blocker gets their hands on him, they can easily push him off balance or engulf him completely.  He has no real counter move to stop the blocker from stunting his speed rush.  If an OT cheats up field, he's going to stop McClellin every time. He can turn the corner using his speed, but he doesn't have that explosive first step that is evident with Thadeus Gibson who might be the most underrated player at camp this year.
I'm not here to rip on McClellin or even say he won't have an impact for the Bears.  The fact is however he seems to have a long ways to go before he will be supplanting anyone as a starter. This may be Corey Wootton's break out year, the year that everyone forgets the injuries that plagued him in his first two years.  Wootton is both strong and fast and uses that combination well to create pressure.  He really seems to be pushing for that third DE spot.
Original Story:
http://midwayillustrated.com/2012-art...
THE BACKYARD
BEST OF MAXIM
RELATED ARTICLES
Chicago Bears No. 1 receiver Brandon Marshall survived an injury scare not long after Devin Hester survived an injury scare of his own. After the two devastating and season crushing injuries that the Bears suffered last season with Jay Cutler and Matt Forte both going down, any sort of scare is going to make Bears fans hold their breath. The 12,000 fans in attendance had one of...
Chicago Bears offensive coordinator Mike Tice is standing firm behind his words that the battle at left tackle will be a fierce on and that the position is "wide open". This was anticipated however, as many figured the most intense battle of camp would be at the left tackle position. Incumbent J'Marcus Webb is currently listed first on the depth chart but Tice let it be know...
In this three part series, we will be breaking down the Chicago Bears schedule and predicting how the Monsters of the Midway will fare in 2012.  The Chicago Bears finished last season in the most average and disappoint way that a team could finish a season. After starting the season 7-3, Chicago lost Jay Cutler in what would end up being their fifth straight win and they lost...
If there's a sense that Shea McClellin is getting piled on by me writing this blog, then throw another log on the fire. I don't want to sound overly dramatic because there is plenty of that going around as well. There's no reason to panic because we're only four practices into camp and there's a long long ways to go. The best way to evaluate this is to say...
Perhaps no player is better prepared to deal with the thought of losing his job than Bears defensive end Israel Idonije.  No player better exemplifies the cliche of lunch pail player than this Bears player. Idonije has been nothing short of a strong stable reliable player his entire career in Chicago.  He plays well and gets the most out of his ability.  He's not special...
Bears rookie cornerback Isaiah Frey is still adjusting to the speed and intensity of the pro game during training camp. Bear Report goes one-on-one with the team's sixth-round selection.
Chicago Bears DT Stephen Paea is competing for the starting nose tackle spot against Matt Toeaina.  Rod Marinelli believes that Paea's time to shine is now and he's counting on the second year player to emerge.  Paea is the most well rounded DT on this team and could be a force to be reckoned with this year.  We had an interview with Rod Marinelli and he talked extensively...
Bears offensive coordinator Mike Tice expresses his frustration with the offensive line, Matt Forte talks about the addition of fellow running back Michael Bush and much more.
Just a couple of weeks ago I brought you a dreadful performance of "Take Me Out to the Ballgame" by Bears QB Jay Cutler. Now it is University of Illinois football coach Tim Beckman's turn at the famous song. It wasn't a great performance, but it added more enthusiasm to it than Cutler did. Hopefully, Beckman and the Illini play with this enthusiasm during the...
Bears News

Delivered to your inbox

You'll also receive Yardbarker's daily Top 10, featuring the best sports stories from around the web. Customize your newsletter to get articles on your favorite sports and teams. And the best part? It's free!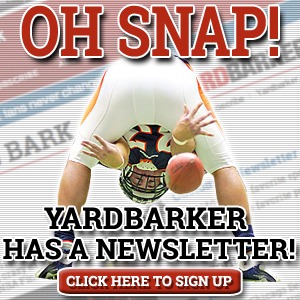 Latest Rumors
Best of Yardbarker

Today's Best Stuff

For Bloggers

Join the Yardbarker Network for more promotion, traffic, and money.

Company Info

Help

What is Yardbarker?

Yardbarker is the largest network of sports blogs and pro athlete blogs on the web. This site is the hub of the Yardbarker Network, where our editors and algorithms curate the best sports content from our network and beyond.