Found November 15, 2012 on Fox Sports Kansas City:
PLAYERS:
Scott Pioli
,
Romeo Crennel
,
Andrew Luck
,
A.J. Green
,
Andy Dalton
,
Marvin Lewis
,
Kevin Zeitler
,
Jamaal Charles
,
Dwayne Bowe
,
Matt Cassel
,
Brady Quinn
,
Glenn Dorsey
,
Tamba Hali
,
Derrick Johnson
,
Eric Berry
,
Kendrick Lewis
,
Tyson Jackson
,
Dontari Poe
TEAMS:
Kansas City Chiefs
,
Pittsburgh Steelers
,
Indianapolis Colts
,
Cincinnati Bengals
KANSAS CITY, Mo. (AP) Chiefs general manager Scott Pioli has often said free agency is a flawed way to build a team, where players available are often overpriced or on the downward side of their careers. Sure, it's always necessary to sign a couple guys to plug holes, but Pioli would much rather draft the right guys, develop them from within the organization, and generate the kind of stability that has made franchises such as the Pittsburgh Steelers the model of NFL success. Problems arise when you don't draft the right guys, though. The result can be a 1-8 record. "It's never just one thing. It's always just a combination and a total," said Chiefs coach Romeo Crennel, who's been a part of sustainable success with the Patriots and Giants. "It's drafting. It's developing players. It's coaching players - it is players taking ownership. It's the whole gamut," Crennel said. "When you talk about an organization being a solid, good organization, all of those things are involved in it." This year provides numerous examples. The Indianapolis Colts managed to secure the No. 1 pick in April's NFL draft, spent it on former Stanford quarterback Andrew Luck, and are now making a run at the playoffs after having the league's worst record. Luck is one of the favorites for offensive rookie of the year. But just about everyone assumed Luck would be a star in the league, and that the Colts had no choice but to take him with the first overall selection. Perhaps a better example of drafting to success is Cincinnati. The Chiefs' opponent on Sunday was just 4-12 in 2010, the third time in four years the Bengals had a losing record. Their first two picks the following year were spent on A.J. Green, who has developed into one of the best wide receivers in the league, and Andy Dalton, the former TCU quarterback who slipped to the second round and has emerged as one of that draft's gems. Together, the pass-catching combination helped the Bengals to a 9-7 finish and a berth in the playoffs last season. The Bengals are 4-5 after beating the Giants on Sunday, and with their next five games against teams below .500, they could make another run at the postseason. "Guys have to mature into their jobs," Bengals coach Marvin Lewis said. "Basically for anything to be successful, you have to get your job done. That's the key: 11 guys believing in each other and getting their job done." Of course, it helps when those 11 guys have grown up together. Seven of the Bengals' 22 starters on offense and defense have been selected in the last three drafts - Kevin Zeitler is a rookie starting at right guard this year. Two more are key backups. "If you draft a guy, you can mold him because he's a lot younger and hasn't been exposed to as much," Crennel said. "Sometimes when you go get guys from other places, they have a predetermined notion about who they are and about how they should fit, and sometimes they have to adapt and adjust to your system. Some guys can make that transition smoothly; other guys struggle with the transition. You see it all the time in the NFL." It's not quantity, though, so much as quality. That's where the Chiefs have suffered. Their best offensive players, running back Jamaal Charles and wide receiver Dwayne Bowe, were chosen in the draft. But they haven't been able to find a quarterback who can get them the ball, eschewing an early round selection on the most important player on the field in favor of sticking with Matt Cassel, who lost his starting job to Brady Quinn earlier this year. The deficiencies are even more glaring on defense. With the exception of end, where homegrown guy Glenn Dorsey recently landed on injured reserve, everyone on that side of the ball was signed out of college by the Chiefs. That means stars such as linebackers Tamba Hali and Derrick Johnson, who have both been to the Pro Bowl, and solid players such as safety Eric Berry and Kendrick Lewis. Those are the hits. The misses are obvious along the line, where Dorsey has been unspectacular in a system that doesn't necessarily suit him; fellow end Tyson Jackson has earned a fraction of the money that came with being the third overall pick in 2009; and where this year's first-round selection - defensive tackle Dontari Poe - is still trying to figure out things. So while the Chiefs have certainly built their defense through the draft, just like Pioli wanted, they've apparently fallen short when it comes to drafting the right guy.
Original Story:
http://www.foxsportskansascity.com/11...
THE BACKYARD
BEST OF MAXIM
RELATED ARTICLES
The Kansas City Chiefs are currently in line to have to number one overall pick in April's NFL draft. Right now there really aren't any quarterbacks worthy of being drafted first overall, so ESPN's Mel Kiper Jr. believes they should draft Notre Dame linebacker Manti Te'o. In my opinon, the best move would be to trade down and grab a quarterback in the mid to late first...
Wide receiver Dwayne Bowe says he wants to stay with the Kansas City Chiefs and doesn't want to play anywhere else, even though before the season started there was a report that he wanted out of Kansas City. "Why wouldn't I want to stay here? It's a no-brainer for me," said Bowe, per the Kansas City Star. "I never said I didn't want to be here. I never said that. This...
Matt Cassel will start at quarterback for the Kansas City Chiefs on Sunday against Cincinnati because Brady Quinn still has not been cleared to play following a concussion. Chiefs coach Romeo Crennel said that Quinn feels better and that he could be cleared by the end of the week, but he couldn't take the chance that he wouldn't be ready for the Bengals. As a result, Cassel...
Matt Cassel will start at quarterback for the Kansas City Chiefs on Sunday against Cincinnati because Brady Quinn still has not been cleared to play following a concussion. Chiefs coach Romeo Crennel said that Quinn feels better and that he could be cleared by the end of the week, but he couldn't take the chance that he wouldn't be ready for the Bengals. As a result, Cassel...
Football players are big and tough, but we all have our fears. I, for instance, have acrophobia — a fear of heights. Eric Berry of the Kansas City Chiefs has equinophobia — a fear of... [[ Read More ]]
Adam Teicher reports that the Kansas City Chiefs will start Matt Cassel against the Bengals this weekend. Head coach Romeo Crennel mentioned that Brady Quinn still hasn't been cleared by doctors, despite the fact that Quinn, himself, told reporters that he was in fact medically cleared. In the big picture, it probably doesn't matter who will be under center for the Chiefs...
The Kansas City Chiefs have been featured in several headlines already this week, and as you know there is nothing positive to say about their on-field performance this season. During Monday night's loss to the Pittsburgh Steelers, the Chiefs were dancing machines. They were penalized for excessive celebration on a touchdown that ended up not counting. Dwyane Bowe was penalized...
For a one win team the Kansas City Chiefs sure know how to dance. Actually dancing may be the only thing the Chiefs can do well this season. Sadly head coach Romeo Crennel does not seem impressed. Crennel who recently fired himself as the teams defensive coordinator has put the brakes on the Chiefs dancing ways. So where did all the dancing come from? "I have no idea," Crennel...
Cincinnati Bengals (4-5) at Kansas City Chiefs (1-8) Almost every year, we have one team go from in the playoffs to 5 wins or fewer. Right now, every playoff team from last year has at least 4 wins. That means one of two things. We're not going to have a team like that this year (only happened 1 other time in the last decade) or either Detroit, New Orleans, or Cincinnati is about...
Todd Haley: Oh, so this is how it's gonna be, is it? Moping around like a bunch of bar flies after all the good tail got claimed for the night. You ******* are harshing Boss Todd's buzz. What is it? You're down because we lost our walking assault charge? Listen, f*ckstains. We're more than one man. We're a system. A brilliant system of my design. If anything, losing Pig...
Last week the Cincinnati Bengals knocked off the defending Super Bowl champs in convincing fashion while the Kansas City Chiefs dropped a game in overtime to the Steelers thanks largely to their inability to win the turnover battle. These are teams heading in different directions in the short term, and at least in terms of the Chiefs' struggles over the course of the season as...
NFL News

Delivered to your inbox

You'll also receive Yardbarker's daily Top 10, featuring the best sports stories from around the web. Customize your newsletter to get articles on your favorite sports and teams. And the best part? It's free!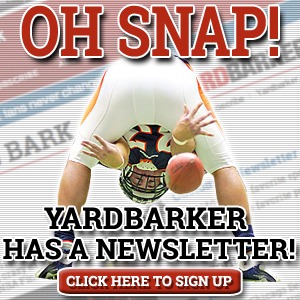 Latest Rumors
The Backyard

Today's Best Stuff

For Bloggers

Join the Yardbarker Network for more promotion, traffic, and money.

Company Info

Help

What is Yardbarker?

Yardbarker is the largest network of sports blogs and pro athlete blogs on the web. This site is the hub of the Yardbarker Network, where our editors and algorithms curate the best sports content from our network and beyond.