Found November 19, 2012 on Fox Sports Kansas City:
PLAYERS:
Romeo Crennel
,
Andy Studebaker
,
Peyton Manning
,
Brandon Flowers
,
Matt Cassel
,
Brady Quinn
,
Dwayne Bowe
,
Jon Asamoah
,
Branden Albert
,
Ryan Lilja
,
Eric Winston
TEAMS:
Cincinnati Bengals
,
Kansas City Chiefs
,
Denver Broncos
KANSAS CITY, Mo. (AP) Chiefs coach Romeo Crennel laid out for his team Monday exactly what it will take to end their seven-game losing streak and then questioned whether the solution is even possible. "We know we have to fight. We have to do everything in our power to be the best we can be, to be perfect," he said during a break in meetings. "That's what I told them, we have to be perfect because that's the only way we have a chance." Later, Crennel admitted, "Nobody is ever perfect, you know." That doesn't bode well for a team trying to reach mediocrity, much less perfection. The Chiefs' 28-6 loss to the Cincinnati Bengals on Sunday dropped them to 1-9 on the season, their lone victory requiring a franchise-record 18-point comeback at New Orleans. They've been ravaged by injuries, lead the league in turnovers, can't settle on a quarterback and are now dealing with a full-fledged fan rebellion, which has resulted in people dressed in black occupying the seats at Arrowhead Stadium, and fliers calling for the general manager's job. The Twitter account for a fan group known as "Save Our Chiefs" recently surpassed 80,000 followers, about 17,000 more than the announced crowd on Sunday and probably twice as many as actually found their way inside the stadium during another disheartening loss. "We love Kansas City. We're not upset at our fans," linebacker Andy Studebaker said. "They have a right to be upset. In the NFL, you have to create a home-field advantage. It doesn't just show up for you. It's a two-way street with us and the fans." Things certainly won't get any easier for Kansas City with Peyton Manning and the Denver Broncos visiting Sunday. After that comes a home date with Carolina that could help determine who has the overall No. 1 pick in the NFL draft next year. Jacksonville is the only other team sitting 1-9, while Carolina and Cleveland are 2-8. The Chiefs visit the Browns on Dec. 9. "We understand the fan frustration," cornerback Brandon Flowers said. "This is the team they love, and they love watching, and they ain't winning. Who wouldn't be upset?" Crennel said he hasn't decided who will start at quarterback against the Broncos after lifting starter Matt Cassel for Brady Quinn at halftime of Sunday's loss to Cincinnati. Cassel was the starter early in the season before sustaining a concussion against Baltimore, and then lost his job permanently when he was cleared to return. Quinn was knocked out with his own concussion in his second start, and wasn't cleared to play until late last week. That's why Cassel got the starting nod and Quinn was brought on in relief. Things aren't much more settled on the injury front, where wide receivers Jon Baldwin and Dwayne Bowe are both dealing with head and neck injuries. It's uncertain whether either will be available this week, though Crennel sounded optimistic that they will be cleared to play. The offensive line also remains in flux. Right guard Jon Asamoah is being fitted for a cast after having surgery on his thumb, and he could be back after missing a game. Left tackle Branden Albert has been dealing with back spasms, and center Ryan Lilja has an ankle injury that kept him out of Sunday's game. "It's tough," right tackle Eric Winston said. "My rookie year (with Houston), we were 6-10, and that was tough. To be honest with you, I don't know if we were even good enough to win that many games. But that was a different team. It was a young team, a ton of rookies playing, a new regime kind of thing. I've never been around something like this, to tell you the truth." The Chiefs have only led twice in a game this season, and they've been outscored 185-84 during their seven-game slide. They converted just one third down against Cincinnati, two fewer than the Bengals converted on fourth down, and were fortunate to only lose one of their three fumbles. Things have been so bad this season that Crennel fired himself as defensive coordinator. Now, he's wondering whether there are any other strings he can pull to engender change in a franchise floundering hopelessly out of control, or whether the best he can hope for is to be competitive enough down the stretch that he still has a job come January. "It's all about the mentality that the players have, because when you lose, nobody is happy about losing," Crennel said. "Everybody is frustrated about losing, you know? Players, coaches, fans, owners, everybody. What we want and what we need is to try to win a game to make us feel better, give us a little confidence, and then if you win one, maybe we can win another."
Original Story:
http://www.foxsportskansascity.com/11...
THE BACKYARD
BEST OF MAXIM
RELATED ARTICLES
RIP
A Kansas City Chiefs fan's obituary claimed his death was caused by the team. Read the funny entry here.
Eric Edholm of ProFootballWeekly.com believes the Kansas City Chiefs will likely move on from quarterback Matt Cassel after this season.  They clearly don't believe in him after benching him in favor of Brady Quinn. All signs pointed to the Chiefs parting ways with QB Matt Cassel at season's end, but that became all but certain when he was yanked from the Chiefs' loss Sunday...
KANSAS CITY, Mo. The Chiefs, and their fans, seemingly have nothing left to get mad about. Instead, an eerie silence cast over the in-house crowd of about 50,000 fans at Arrowhead Stadium for most of Sunday afternoon's Chiefs-Bengals game, won handily and rather uneventfully by the Bengals, 28-6. Obviously, Chiefs fans had virtually nothing to cheer about, just two short Ryan...
I knew at 1-9 the Kansas City Chiefs were bad, but I didn't know they were deadly. The Chiefs are undoubtedly the worst team in football. It took until Week 11 against the Bengals for them to hold a lead in any game this season, which lasted all of six minutes or so before Cincy came back to take the lead, and the game 28-6.  The whole damn franchise is a mess, the team is a train...
The Kansas City Chiefs are in midst of one of the worst seasons in the organizations history, and it may have been all that a local man could take. Loren G "Sam" Lickteig, passed away at the age of 81, due to complications of MS. Well, that and the Chiefs, at least according to his [...]
Chiefs receiver Dwayne Bowe left Sunday's game in the second quarter with a head injury. His return is doubtful.Fantasy Spin:Bowe landed on his head and went to the locker room. When he returned he didn't have his helmet with him, a pretty sure sign that he's not retuning anytime soon.
The Kansas City Chiefs' play on the field leaves much to be desired but who knew that rooting for the team was deadly? That was the case for one Loren "Sam" Lickteig whose recent obitiuary cast some of the blame for his death at the Chiefs' feet.  I always say, "If you're gonna go, might as well take some people out with ya," and it looks...
Kansas City Chiefs wide receiver Dwayne Bowe left yesterday's game against the Cincinnati Bengals with a neck injury, reports the Associated Press. Bowe sustained the injury when he landed hard on the turf after leaping to make a catch. He was checked by trainers on the sidelines, hit the locker room for further evaluation and ultimately returned to the bench without his helmet...
After another embarrassing home loss by the Kansas City Chiefs that featured a lackluster crowd wearing more black than red in the stands, I'm ready to give in to the fact that all the blame for the teams 1-9 record can't be placed at the feet of General Manager, Scott Pioli.
KANSAS CITY, Mo. -- Loren "Sam" Lickteig led a fulfilling life -- a loving wife and family, a stint in the Air Force, a career as a real estate broker and a spell on the city council. But in passing, he's now become a part of Kansas City Chiefs lore. "Oh, he would've loved it," Lickteig's son, Jake, told FOXSportsKansasCity.com when asked about his...
The Chiefs are without center Ryan Lilja and right guard Jon Asamoah along with wide receiver Jon Baldwin for their game against the Cincinnati Bengals. Safety Reggie Nelson was inactive for Cincinnati with a hamstring injury Sunday. Taylor Mays is expected to start in his place alongside Nate Clements. Lilja is inactive with a knee injury and Asamoah had surgery on his right thumb...
KANSAS CITY, Mo. (AP) -- The Cincinnati Bengals are back to eyeing the playoffs. The Kansas City Chiefs are looking forward to the end of the season. Andy Dalton threw for 230 yards and accounted for three touchdowns, A.J. Green caught a touchdown pass in his ninth straight game and the Bengals beat the woeful Chiefs 28-6 on Sunday. Green finished with six catches for 91 yards...
NFL News

Delivered to your inbox

You'll also receive Yardbarker's daily Top 10, featuring the best sports stories from around the web. Customize your newsletter to get articles on your favorite sports and teams. And the best part? It's free!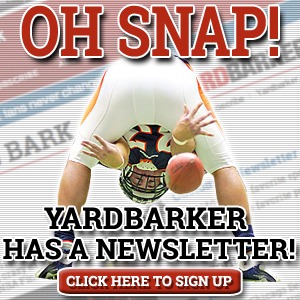 Latest Rumors
The Backyard

Today's Best Stuff

For Bloggers

Join the Yardbarker Network for more promotion, traffic, and money.

Company Info

Help

What is Yardbarker?

Yardbarker is the largest network of sports blogs and pro athlete blogs on the web. This site is the hub of the Yardbarker Network, where our editors and algorithms curate the best sports content from our network and beyond.