Found October 09, 2012 on Fox Sports North:
EDEN PRAIRIE, Minn. Rookie wide receiver Greg Childs walked through the Minnesota Vikings' locker room Monday, flashing a big smile and showing no limp or the slightest sign of the potentially career-threatening knee injuries he suffered early in training camp in August.Childs, a fourth-round draft pick by Minnesota in April, ruptured the patellar tendon in both of his knees during the team's annual evening passing scrimmage in front of fans in Mankato, Minn. during training camp. Childs hadn't been around the portion of the team's facilities open to reporters very often since the injury, but has been in the building doing the rehab necessary to work his way back from the injury."I've been walking for a while," Childs said, speaking to reporters Monday for the first time since the injury. "No braces, no nothing, coming in every day, getting the leg stronger, range of motion, working out, lifting weights, all that. It's a long process, but you've just got to be prepared for it, get your head in the game, have your mind set."Childs said he was headed out on the field to do some more work Monday, showing just how far he's come in the two months since the injury."I can do a whole bunch of things," Childs said. "I'm just going to keep behind the scenes and let you all, you know, just kind of find out slowly. I'm not going to put it out on tape for y'all right now. I'm doing good though. I know I've got a lot of people asking me, they hit me on Twitter like, 'Are you doing OK? Are you back walking, and this and that?' So, I'm doing good. Thing's coming along just as it should."Childs had recovered from a torn patellar tendon in one knee during his collegiate career at Arkansas, making his way back and having proved to the Vikings he was finally 100 percent from the previous injury. Minnesota took a chance on Childs with the third of three fourth-round choices in the draft, No. 134 overall.Going through the experience once has prepared Childs for what he's faced this time around while trying to rehabilitate two legs. Following the injury in training camp, Childs had surgery and had to have both legs immobilized for a few weeks."Since I did it the first time, I already knew, you know, just what the rehab was going to be like, and how things were going to go and step-by-step," Childs said. "It's a long process to do, but you just got to keep your mind in. That's all."Childs was placed on season-ending injured reserve after he cleared waivers during the preseason.Two players in recent history, Cleveland Browns defensive back Gary Baxter and Chicago Bears receiver Wendell Davis, have both tried to return to the NFL after suffering tears to both patellar tendons, but neither played another game following their injuries.The 6-foot-3, 217-pound receiver doesn't doubt his ability to return, despite the historical evidence against him.
"Next season," Childs said. "I'll be back on the field next season. So, I'll be back out there running around doing my thing, making plays."He later added: "I like to do things that people think other people can't do. I've got a strong head. You can ask any of the players in here, I come in here attitude good every day and in here trying to get right, trying to get back on the field. I'm going to do everything I can to step back on the field for next season."The screams from Childs when he suffered the injury during training camp were described as eerie. He jumped awkwardly for a pass near the end of the scrimmage and fell to the ground untouched. He acknowledged the devastation when he felt the pain and later heard the news."It hurt," Childs said. "It kind of hurt my feelings a little bit. But you've just got to push through it. You've got to understand football is a game you're going to get hurt. But it's how you come back and how you respond when you do get hurt, when things go bad for you."Monday's smiles showed Childs has come a long way, physically and mentally, from August.
Follow Brian Hall on Twitter.
Original Story:
http://www.foxsportsnorth.com/10/09/1...
THE BACKYARD
BEST OF MAXIM
RELATED ARTICLES
It won't take a rocket scientist, a brain surgeon or Adam Schefter, to tell you that Percy Harvin is something special. He's a one of a kind player, with a nose for the endzone. Harvin, whose contract is set to expire after the 2013-2014 season, will be one of the most sought after free agents, if he's allowed to test the market. However, if the Minnesota Vikings want to maintain...
Minnesota Vikings safety Harrison Smith made a costly mistake Sunday, pushing a referee as Smith and Titansreceiver Nate Washington were being separated. Referee Jeff Triplette later explained, "He grabbed the official when the official was trying to separate them and pushed the official to the side," he said. "That's an automatic ejection." Smith later apologized...
Vikings FS Harrison Smith is not expected to be suspended for shoving an official in Sunday's win. Smith won't even be fined for what he admitted was a "stupid" act. Smith missed 2/3 of yesterday's game, which surely factored into the league's decision not to issue a one-game ban, but that is pathetic by the league office.  If you touch Tom Brady's knee they fine you...
EDEN PRAIRIE, Minn. When the Minnesota Vikings look back and talk about the turning point to their season, veteran cornerback Antoine Winfield's speech before the entire team following the Week 2 loss to the Indianapolis Colts is credited with changing the mentality and setting a tone.There was a meeting before the meeting in which Winfield spoke that also is proving beneficial...
EDEN PRAIRIE, Minn. Minnesota Vikings rookie safety Harrison Smith was hoping he wouldn't be suspended for pushing away back judge Steve Freeman during Sunday's win against the Tennessee Titans. He received even better news Monday.Smith, who was pulled away from a group of players by Freeman and then pushed the official away, was not suspended or fined for the incident,...
During Sunday's win over the Titans, Minnesota Vikings running back Adrian Peterson suffered an ankle injury that ended up fighting through and gaining 88 yards on 17 carries. "The whole game I was fighting through it," said Peterson, per Tom Pelissero of 1500 ESPNRadio.com. "The wrong tackle aggravates it, but I got through it." Peterson couldn't cut when testing out...
MINNEAPOLIS Minnesota Vikings rookie safety Harrison Smith was apologetic following his ejection from Sunday's game after trying to push back judge Steve Freeman out of his way following an altercation with Tennessee Titans receiver Nate Washington. Early in the second quarter following an interception by Antoine Winfield, Smith and a few players exchanged words with Washington...
MINNEAPOLIS For five weeks, the adjectives and accolades for Minnesota Vikings receiver Percy Harvin have been flying in for the league's all-purpose yardage leader the same way he's been flying past defenders this year. His teammates have been calling Harvin the league's best player, a league MVP for weeks as the extremely versatile and explosive hybrid receiver-running...
My lord, if I could make shirts this smart, I'd have like $37, EASILY. Rather, these are t-shirts sold by Minnesota Vikings punter Chris Kluwe that feature the now-famous descriptives of "Beautifully Unique Sparklepony" and "Lustful Cockmonster." I but Dong Monster in the headlines because I didn't want to get anyone in trouble at work today. I...
(Eds: Updates with quotes, details. With AP Photos.) By DAVE CAMPBELL AP Pro Football Writer The Minnesota Vikings weren't supposed to be in first place this season. Not even five games in. But here they are at 4-1, tied with Chicago and two games ahead of Green Bay in the NFC North. The victories haven't been flukes, either. Their defense has given up only three touchdowns...
Minnesota Vikings safety Harrison Smith was ejected in the second quarter of Sunday's against the Tennessee Titans for pushing a referee. After Vikings cornerback Antoine Winfield intercepted a pass by Titans quarterback Matt Hasselbeck, Smith pushed Tennessee wide receiver Nate Washington. An official attempted to pull Smith away from Washington, but Smith pushed the referee...
The Minnesota Vikings rolled to a 4-1 record with a victory over the Tennessee Titans at Mall of America Field on Sunday. Let's take a look at five things we learned.1. Percy Harvin Cannot Be StoppedLast week Percy Harvin gashed the Lions as a kick return for a touchdown, and this week he destroyed the Titans as a wide receiver. Harvin caught 8 passes for 108 yards and a touchdown...
NFL News

Delivered to your inbox

You'll also receive Yardbarker's daily Top 10, featuring the best sports stories from around the web. Customize your newsletter to get articles on your favorite sports and teams. And the best part? It's free!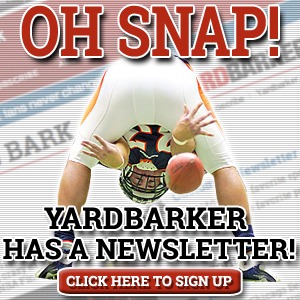 Latest Rumors
The Backyard

Today's Best Stuff

For Bloggers

Join the Yardbarker Network for more promotion, traffic, and money.

Company Info

Help

What is Yardbarker?

Yardbarker is the largest network of sports blogs and pro athlete blogs on the web. This site is the hub of the Yardbarker Network, where our editors and algorithms curate the best sports content from our network and beyond.