Found March 02, 2012 on Larry Brown Sports:
The NFL revealed Friday that the New Orleans Saints ran a bounty program from 2009-2011. The program was led by defensive coordinator Gregg Williams, and the NFL says at least 22-27 players and one assistant coach were involved. While some people are outraged — and probably surprised that the program was approved throughout the franchise — some NFL players are shrugging their shoulders at the revelations. Below is an exchange on Twitter between NFL defensive back Chris Harris and reporter Darin Gantt. There is also a tweet from former Pro Bowl offensive lineman Damien Woody, who says the same thing as Harris. @daringantt doesn't surprise meEveryone does it they're just the ones who got caught. It's part of the NFL culture — Chris Harris (@ChrisHarrisNFL) March 2, 2012 src="http://larrybrownsports.com//platform.twitter.com/widgets.js" charset="utf-8"> This 'bounty' program happens all around the league…not surprising — Damien Woody (@damienwoody) Ma...
Original Story:
http://larrybrownsports.com/football/...
THE BACKYARD
BEST OF MAXIM
RELATED ARTICLES
Former New Orleans Saints safety Darren Sharper denied the findings of the NFL investigation that the team instituted a bounty program between 2009-11."It's ridiculous that someone is trying to say that we made bounties on knocking guys out," Sharper told NFL.com Friday.The safety played 22 games for the Saints during the 2009 and 2010 seasons."No, positively no...
METAIRIE, La. -- The New Orleans Saints have placed the franchise tag on Drew Brees, giving them exclusive negotiating rights with their Pro Bowl quarterback for the next year. Brees has been involved in lengthy contract talks with the Saints and, without the tag, could have negotiated with other teams as a free agent. Team spokesman Greg Bensel said Saturday that the Saints were...
The news flying out of New Orleans today is hot and heavy. None hot and heavier than the NFL's announcement that they have been investigating the New Orleans Saints for a bounty program to injure players under defensive coordinator Gregg Williams.But that's not all. The NFL's investigation found Gregg Williams wasn't running this program in secrecy. Sean Payton knew. GM Mickey...
Don't be shocked. Don't be surprised. Don't even ask how. Football, the false American dream, has struck again. That's all. In 2009, we thought the New Orleans Saints were the cuddly, feel-good story of the NFL, winning the Super Bowl for a town that needed something to cheer for after Hurricane Katrina. Turns out, according to an NFL investigation released Friday...
Still the Rams Man? Let's skip the formalities. The Saints are in some deep, deep sh*t. Bounties on players are never good. In fact, bounty is a loaded word. It's mention in the 2012 NFL is downright disastrous for those so associated. What's worst for 'Nawlins is that this controversy is tailor-made for Roger Goodell — which means bad things for the the Saints. Bad things...
                   vs.So the New York Post thinks that we now have our own Rex Ryan in Bobby Valentine. The National Enquirer of newspapers would like to have their readers believe that we as New England sports fans are getting what we deserve for all of the **** we've given Rex Ryan over the past couple years. I don't buy it, but just to humor these simpletons...
((HT: Fox8Live.com))It appears that the New Orleans Saints (or, at least, 22 to 27 of them, anyway) may have had an internally-funded bounty program that served as motivation for the players during the 2009, 2010, and 2011 season...DC Gregg Williams was always known as an aggressive guy, so this really isn't a surprise...But, seriously, the HQ asks: So what...??? And who doesn...
I think Drew Brees is great. We are in a fortunate era where at least three truly great quarterbacks are active right now (Brady, Brees, Rodgers, and I could probably get away with going on…), but, evidently the man who is in charge of keeping Brees a member of the Saints thinks I'm wrong. I understand [...]
An NFL investigation has shown the the New Orleans Saints had a "pay for performance" plan in place from 2009 – 2011. The program was administrated by, then Saints Defensive Coordinator, Gregg Williams, with the knowledge of Head Coach, Sean Payton. From NFL.com: The investigation showed that Saints players received $1,500 for a "knockout" hit and $1,000 for a "cart...
An NFL investigation concluded that the New Orleans Saints Super Bowl championship season was tainted by a "bounty" from defensive players to injure opposing players and take them out of the game. The investigation started on a tip that the Saints targeted Brett Favre and Kurt Warner.
There is more to talk about than bounties with the New Orleans Saints. As first reported by FOXSports.com NFL insider Jay Glazer, the Saints used their franchise tag Saturday afternoon on quarterback Drew Brees. The move means that one of the league's top passers will remain in New Orleans for at least the 2012 NFL season. Profootballtalk.com reported that Brees was given the...
As paydays go, they weren't bad. A thousand bucks if your guy is carted off the field, $500 extra for a clean knockout. End someone's season or career? Priceless. There was a lot to like about the New Orleans Saints offering up cash for big hits. The scheme made for tougher players and helped them on a stirring playoff run that ended with their hands wrapped around the...
NFL News

Delivered to your inbox

You'll also receive Yardbarker's daily Top 10, featuring the best sports stories from around the web. Customize your newsletter to get articles on your favorite sports and teams. And the best part? It's free!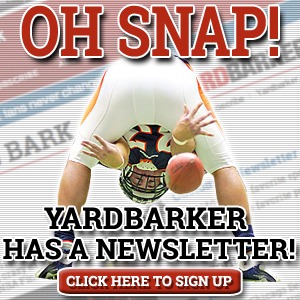 Latest Rumors
Best of Yardbarker

Today's Best Stuff

For Bloggers

Join the Yardbarker Network for more promotion, traffic, and money.

Company Info

Help

What is Yardbarker?

Yardbarker is the largest network of sports blogs and pro athlete blogs on the web. This site is the hub of the Yardbarker Network, where our editors and algorithms curate the best sports content from our network and beyond.