Found February 28, 2013 on Purple Jesus Diaries:
Boy, you know it's award season when Christian Ponder shows up on a red carpet with a suit on! Well, actually this was from a couple of weeks ago, but the point still stands. Christian Ponder and his wife Samantha Ponder hit an ESPN red carpet event recently where they talked about married life, love, football, and POWER COUPLES! The video (seen below) is attached to an article also talking about how Leslie Frazier has discussed not having significant competition for Ponder in the 2013 season, which kind of sounds like an awful idea. Here are some other things we've learned about the quarterback position for the Minnesota Vikings recently: First, watch your video and laugh over the "newlywed" karma they got going on. How long does it take until they don't talk to each other because he's giving her a nice Cleveland Steamer when they get in bed together? Other items we learned: - All it takes to be a power couple in the NFL is to be a starting NFL quarterback married to a top sports reporter. Erin Andrews probably could have taken that crown long ago if she wasn't too busy giving handies to everyone, and Rachel Nichols could have been a sleeper pick if she hadn't left ESPN. Now she's with like ... I don't know, Turner Sports maybe? ... and her sultry gave will never have the same appeal. Alas. - Samantha sounds like a huge Vikings fan. Or at least, about as big of a Vikings fan as I am, as she's only watched one of Christian's games. She clearly hasn't seen him play enough then, which also must be why she still likes him. HAHA! I kid, I kid. - How does Ponder not know basic nutrition? Does the team not provide someone to help out and offer that information? I can only imagine what Phil Loadholt has been eating, left to his own devices. - Pizza, chicken wings, and ice cream sundaes before an NFL game. Does this explain anything? - It sounds like Christian Ponder does the grocery shopping in their marriage! He also apparently buys awful food. Meatball pizzas? Gross. Don't get me wrong, I've had some exotic pizzas before (I'm a regular at Pizza Luce), but whenever I hear meatball pizza, I just imagine a meatball sub from Subway spread out in pizza form and that freaks me out. - Give credit to Ponder for understanding what was going on in the NFL this year, too. He picked the Ravens to win the Super Bowl, 27-24, and even though that final scores were about 20 total points more, picking the Ravens by three was still a solid bet. But the really question remains, WHY DIDN'T HE PICK THE VIKINGS TO WIN IT?!!?! Anyway, there you go. The link also points to those recent quotes from Frazier about lack of competition. Interestingly enough, Ponder said on KFAN the other day that he'd have no problem with the team drafting a quarterback or bringing in any competition for him, as competition can only make him better. That's a valiant thing to say, but it's still no fun to have anyone fighting for your job. Little ratty up-and-comers think they have everything coming to them. Boo. [follow]
Original Story:
http://www.purplejesusdiaries.com/201...
THE BACKYARD
BEST OF MAXIM
RELATED ARTICLES
So we've already seen what the official new Norseman logo for the Minnesota Vikings will look like this year. We spent COUNTLESS hours looking at fan designs and other suggested brand updates and ideas, only to end up with a new logo that was, well, just slightly different. But that's a good thing. Because holy crap, look at how awful it could have turned out. A...
Percy Harvin of the Minnesota Vikings is making a nickname for himself as "Starvin' Harvin", because he's asking for such a high contract you'd think he wasn't getting anything to eat his entire career. Harvin wants a 12 million dollars a year plus contract, but what makes it even worse than the fact that he isn't worth that price tag. Is that there have been a lot...
NFL analyst Brian Billick knows a little about the quarterback position. He won a Super Bowl with quite possibly the worst quarterback in SB history in Trent Dilfer.   However, before that Billick was the offensive coordinator for the Minnesota Vikings, including the record breaking offense in 1998. He understands the variance of calling plays to protect a quarterback, and the...
It's easy to forget how informal yardage measurements are in the National Football League. After all, there's no such thing as gaining half a yard. It's either an eight-yard run or a nine-yard run.  With that in mind, a very clever gentleman named Jeremy Scheff calculated the margin for error under those circumstances in order to determine the odds that Adrian Peterson...
EDEN PRAIRIE, Minn. The Minnesota Vikings enjoyed the advantage of picking early in the 2012 NFL draft by selecting what they hope is a longtime starter at left tackle in Matt Kalil and using their early second-round pick as leverage to move back in the first round and grab safety Harrison Smith. Kalil and Smith started every game and played key roles in their rookie season. Minnesota...
EDEN PRAIRIE, Minn. The Minnesota Vikings are entering a pivotal third year for Christian Ponder and the determination of whether he has the tools to develop into a franchise quarterback. The next step of the puzzle for Minnesota: putting the proper pieces around Ponder to make a proper decision.Regardless of how the saga with leading receiver Percy Harvin unfolds this offseason...
EDEN PRAIRIE, Minn. Minnesota Vikings running back Adrian Peterson says he'll follow up his 2012 MVP award by not only breaking the single-season NFL rushing mark but shattering it with 2,500 yards. So what does Tennessee Titans running back Chris Johnson plan to do? Apparently run for more than Peterson, whatever number he puts up. Appearing on ESPN's "NFL Live,...
EDEN PRAIRIE, Minn. Minnesota Vikings punter Chris Kluwe offered his outspoken support of Baltimore Ravens linebacker Brendon Ayanbadejo as they became two of the more prominent athletes to speak up for same-sex marriage rights. Now the players are joining forces and helping push the cause to the U.S. Supreme Court. Kluwes and Ayanbadejos names were part of an amicus curiae brief...
Vikings punter Chris Kluwe and Ravens linebacker Brendon Ayanbadejo have combined their collective forces once again in support of gay marriage, and this time they're moving way up the political ladder. Back in September of 2011, Maryland state delegate Emmett C. Burns penned a letter to Ravens owner Steve Bisciotti, basically asking him to quiet his players  — namely Ayanbadejo...
Tennessee running back proposed this week that he would A) out rush league MVP Adrian Peterson this season and B) take a run at the all time rushing record held by Eric Dickerson.   Maybe, it's possible but the numbers need bearing out before it can be given any credibility whatsoever. The all time record, held [...]
Vikings News

Delivered to your inbox

You'll also receive Yardbarker's daily Top 10, featuring the best sports stories from around the web. Customize your newsletter to get articles on your favorite sports and teams. And the best part? It's free!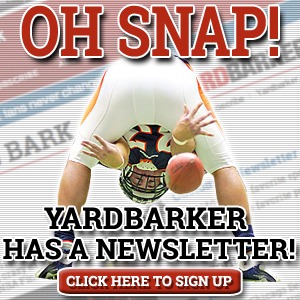 Latest Rumors
Best of Yardbarker

Today's Best Stuff

For Bloggers

Join the Yardbarker Network for more promotion, traffic, and money.

Company Info

Help

What is Yardbarker?

Yardbarker is the largest network of sports blogs and pro athlete blogs on the web. This site is the hub of the Yardbarker Network, where our editors and algorithms curate the best sports content from our network and beyond.