Found February 18, 2013 on Steel City Blitz:
Maybe all the hits Ryan Clark has taken to the head have finally come full-circle. I find it amazing how he continues to defend some teammates yet is nowhere to be found when it comes to defending others. It's becoming a never-ending trend for Clark and frankly it's becoming nauseating. The Pittsburgh Steelers are starting to remind me more and more of a sad reality show and a local journalist isn't exactly helping. Over the last 24 hours, Pittsburgh Post Gazette writer Ron Cook quoted an 'anonymous' player regarding LaMarr Woodley. The statement attributed to said player was "He was awful. He tells us he works out, but we didn't see it. He wasn't in shape. That has to  be a reason why he was always hurt." Now I'm no journalist like Mr. Cook is. I'm just one of a gazillion bloggers with a laptop and an opinion that is basically hated by the 'actual' journalists out there. That's OK, I won't lose any sleep over it. One thing I know for sure though is I'm not going to use anyth
Original Story:
http://www.steelcityblitz.com/2013/02...
THE BACKYARD
BEST OF MAXIM
RELATED ARTICLES
Pittsburgh Steelers safety Ryan Clark was quite a popular man on Monday as he was also a guest on the Dave Dameshek Football Program. Clark talked about several things related to the team and made it known that he texted linebacker LaMarr Woodley to see if he had read the Sunday report by Ron Cook of the Pittsburgh Post-Gazette that included a quote from an anonymous player stating...
Pittsburgh Steelers safety Ryan Clark made the news Monday morning when he said on NFL AM that the team might be fractured and not a close-nit group of players when commenting on the Sunday report by Ron Cook of the Pittsburgh Post-Gazette that quoted an anonymous player as saying linebacker LaMarr Woodley was out of shape last season and awful. Monday evening Clark was guest...
Pittsburgh Steelers linebacker LaMarr Woodley has been criticized heavily for his play the last few seasons and several think that he is spending too much time in the media spotlight than under the lights of a weight training room. Evidently a teammate of Woodley's thinks along those same lines, according to the latest piece by Ron Cook in the Pittsburgh Post-Gazette. ...
The Pittsburgh Steelers offseason continues on and with the 2013 NFL combine starting this week we will continue on with our breakdown of the free agents as we inch closer towards the start of free agency. Next up on the list of unrestricted free agents is cornerback Keenan Lewis. Player: Keenan Lewis Position: Cornerback Experience: 4 Years Free Agent Status: Unrestricted...
Let me start of this post by saying that I will be very surprised if the Pittsburgh Steelers add a big name via free agency this offseason. It just isn't something that they normally do and being up against the salary cap this offseason won't help change that this offseason. Even experienced smaller name free agent additions would be quite surprising. With that disclaimer...
As Pittsburgh Steelers fans wait to see what transpires to the Steelers roster during the offseason, and who gets picked in the draft, there will be much speculation to what might occur. The Steelers find themselves in a salary cap dilemma not easily fixable. Mainly, five Steelers hold the lion's share of the cap money. They are Ben Roethlisberger, James Harrison, Lawrence Timmons...
It was an up and down season for Pittsburgh Steelers rookie tackle Mike Adams, who had his year come crashing to a halt after injuring his ankle in the Week 12 game against the Cleveland Browns, but the Ohio State product is already looking forward to the 2013. Adams saw all of his playing time at right tackle in 2012 thanks to Marcus Gilbert being injured early on in the season...
There has been a lot more discussion as of late about which of the Pittsburgh Steelers restricted free agents may or may not be tendered over the course of the next few weeks and most of the concern seems to revolve around the cap space needed to do that. I still stand my prediction that the five primary restricted free agents: Emmanuel Sanders, Isaac Redman, Jonathan Dwyer, Stevenson...
So, now we've come to the side of the ball where the Steelers' bread is buttered. For years, the Steelers' defense has instilled fear and respect in opponents. From the days of the Steel Curtain, through the years of Blitz-burgh and the Zone Blitz, to this latest incantation, defense has been the hallmark of Pittsburgh Steelers football. The most natural place to start this...
The Pittsburgh Steelers were in the rare position of sitting at home for the playoffs at the conclusion of the 2012 season, and the team has been questioned since they failed to make the postseason. The pressure on players and coaches in Pittsburgh is unlike most teams in the league. Making the playoffs is the expectation in Pittsburgh, not a happy surprise that comes around once...
Pittsburgh Steelers linebacker Larry Foote can't imagine that a teammate of his would come out and say that LaMarr Woodley was out of shape and awful this past season.  He believes it may be a coach. "I mean there have been fights in the locker room, there's been stuff on the airplane that never got out and that's the Steeler way," said Foote on 93.7 The Fan, per SteelersDepot...
STEELERS FREE AGENTS Who to Cut, Who to Keep Former Penn State defensive coordinator Tom Bradley joins former Pittsburgh Steeler offensive lineman and now broadcaster Craig Wolfley on his podcast. The podcast is 23 minutes and topic of discussion is a breakdown of Pittsburgh Steeler free agents and who to keep and who to [...]
NFL News

Delivered to your inbox

You'll also receive Yardbarker's daily Top 10, featuring the best sports stories from around the web. Customize your newsletter to get articles on your favorite sports and teams. And the best part? It's free!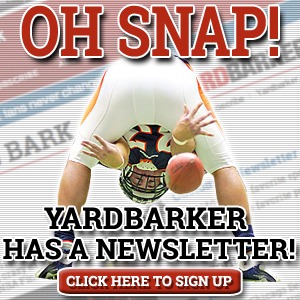 Latest Rumors
Best of Yardbarker

Today's Best Stuff

For Bloggers

Join the Yardbarker Network for more promotion, traffic, and money.

Company Info

Help

What is Yardbarker?

Yardbarker is the largest network of sports blogs and pro athlete blogs on the web. This site is the hub of the Yardbarker Network, where our editors and algorithms curate the best sports content from our network and beyond.