Found January 23, 2013 on Larry Brown Sports:
Via Larry Brown Sports:
Hardly anyone predicted that the Baltimore Ravens would hold the New England Patriots to 13 points and defeat them with relative ease in the AFC Championship Game, let alone correctly guess the score of the game. One lucky (or brilliant) fan did just that, and he is now $8,500 richer because of it.
On Sunday, Indianapolis Colts owner Jim Irsay tweeted that he would give away $8,500 cash to one of his followers who predicted the exact score of the Pats-Ravens game before kickoff. Irsay offered a one-point cushion on either side of the score, and a Colts fan named Jason predicted that Baltimore would win 27-14. The Patriots beat the Ravens, 28-13. On Monday, Jason shared his story on a Phish message board (Fluff Head is a reference to a Phish song) and posted the photo that you see above of the package Irsay sent him.
Jason wasn't the only person to win a contest stemming from Irsay's Twitter account on Sunday. The Colts owner also asked his followers to guess the winner of the NFC Championship Game between the San Francisco 49ers and Atlanta Falcons, the quarterback rating of the winning quarterback and the total score of the game. That contest was worth $2,000. He also gave away $500 to a follower who guessed who would win the Patriots-Ravens against the spread, which was New England -7. For any contest that had multiple winners, Irsay drew a name from a hat. It's unclear if the other winners have received their prizes, but they did receive a congratulatory tweet from Irsay. Our guess is he paid up.
"I think (Irsay) is the best owner in the NFL," Jason wrote on the forum.
I bet you do. Say what you will about Irsay and his love of tweeting (and himself), but that was one awesome Twitter giveaway. Can he afford it? Of course — he owns an NFL team. That doesn't mean he has any obligation to going giving his fortune away to complete strangers. He's probably the only owner that would do something like that.
Photo via.
Original Story:
http://larrybrownsports.com/football/...
THE BACKYARD
BEST OF MAXIM
RELATED ARTICLES
COLT HERO
You can say what you want about the outspoken, mercurial Colts owner, but one thing you can't say about him is that he isn't a man of his word.
Say what you must about Jim Irsay, but he's by far among the most social media responsive executives in the NFL. Although his Twitter timeline mostly consists of (sometimes incoherent) ramblings, the Colts owner is known to hold contests every now and again. Take, for example, last Sunday, when the AFC Championship game between the Ravens and Patriots. Irsay tweeted that...
Before the AFC Championship game between the New England Patriots and the Baltimore Ravens, Colts owner Jim Irsay tweeted that he would give $8,500 to anyone who correctly guessed the score of the game (with a 1 point cushion). Again,$8500 for winner of Pats/Rave,exact score with 1 point cushion for both teams for final score/1 guess only by 630pm EST/Abby's hatpick — Jim Irsay...
Indianapolis Colts owner Jim Irsay ran a contest this past Sunday on Twirrer and claimed he would give one lucky fan $8,500 if they could predict the winner of the Patriots/Ravens game along with being within one point of the correct score. CONTEST—–Happy NFL Championship Weekend——–$!!!!!!!!!! — Jim Irsay (@JimIrsay) January 20, 2013 Again,$8500 for winner of Pats/Rave...
Colts owner Jim Irsay asked Twitter followers to predict the Pats / Ravens AFC Championship score. Again,$8500 for winner of Pats/Rave,exact score with 1 point cushion for both teams for final... Full story at Bob's Blitz ~ http://www.bobsblitz.com
When you're a billionaire, I guess it's safe to say a good chunk of your time consists of finding new and exciting ways to spend your money. Jim Irsay, owner of the Indianapolis Colts, has found a pretty generous way of spreading the wealth. As reported by USA Today Irsay tweeted on Sunday that he would give $8,500 to any one of his followers who correctly predicted the final...
NFL News

Delivered to your inbox

You'll also receive Yardbarker's daily Top 10, featuring the best sports stories from around the web. Customize your newsletter to get articles on your favorite sports and teams. And the best part? It's free!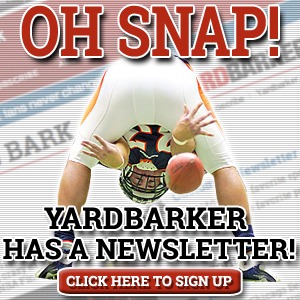 Latest Rumors
Best of Yardbarker

Today's Best Stuff

For Bloggers

Join the Yardbarker Network for more promotion, traffic, and money.

Company Info

Help

What is Yardbarker?

Yardbarker is the largest network of sports blogs and pro athlete blogs on the web. This site is the hub of the Yardbarker Network, where our editors and algorithms curate the best sports content from our network and beyond.