Found October 15, 2012 on 60 Max Power O:
New York Jets 35 vs Indianapoils Colts 9
Scoring Summary
1st Quarter
FG A.Vinatieri 20 yd. Field Goal (7-57, 3:13)
2nd Quarter
TD S.Hill 5 yd. pass from M.Sanchez (N.Folk kick) (14-80, 6:49)
TD S.Greene 10 yd. run (N.Folk kick) (5-35, 3:04)
FG A.Vinatieri 50 yd. Field Goal (11-53, 3:41)
TD J.Hill 5 yd. pass from M.Sanchez (N.Folk kick) (11-70, 5:39)
3rd Quarter
TD S.Greene 4 yd. run (N.Folk kick) (7-91, 3:54)
4th Quarter
FG A.Vinatieri 47 yd. Field Goal (9-47, 1:56)
TD S.Greene 2 yd. run (N.Folk kick) (5-14, 2:47)  
What the Colts did Right
When you lose to a team by 26 points and that team isn't necessarily good, their isn't much to be proud of.
On offense, Vick Ballard had some nice runs. He runs hard on each play and it seems like each time he gets an extra 2 yards that you wouldn't neccessarily get from Donald Brown. He made some nice catches at the end too. Coby Fleener made some nice catches too. He's slowly becoming more and more important. Reggie Wayne, although shut down for most of the game, had some nice catches. Not a great performance overall. As for Andrew Luck, he made some nice throws and scrambled pretty well, but overall he did badly. 
On defense, Jerry Hughes had a very good performance. Not only did he get pressure on Sanchez, which included a sack, but he was in a lot of the running play stops. This was probably the best game of the season and maybe his career. Cory Redding was pretty solid, but unfortunately an injury limited the snaps he played. 
Adam Vinatieri had a very good game. He nailed 3 field goals, one from 47, one from 50 and one from 20. He's really silences the doubters.   
What the Colts did Wrong
This one is going to be long.
The offense was the reason the Colts lost this game. Andrew Luck was just awful overall. He overthrew his receivers on easy passes at least 4 times. Some of those passes were about 4 yard passes. It's terrible. He made the wrong read the majority of the time and it is the reason why his completion percentage was horrible. Those bad decisions led to bad passes that resulted in a couple of picks. It could have been much worse for him had there had been no penalties. Cromartie had 2 pick 6's taken back due to penalties. This year, he's been great throwing wise, but his decision making is below average. Better decision making will come with experience.
Back to the first line of the last paragraph, the Colts offense lost it for them because they essentially gave up 14 points as Luck threw an interception in his zone and they had a fumble inside their 15 yard line. That was for the Jets. Had they not done that, the Jets would have scored 21 points and the game would have been much more interesting.
The receivers' performances are based on the quarterback play. The quarterback wasn't great, and neither were the receivers. Nobody stood out and that's the first time we could say that all year. They caught the passes that were thrown at them and there weren't really any drops, besides a few by Reggie Wayne, Dwayne Allen and Donnie Avery. 
The O-line play was very mediocre. Luck was sacked 4 times today, and pressured him 50% of the time he dropped back to pass. There wasn't one guy who stood out in a good way or a bad way, they all performed pretty badly. If anything, Jeff Linkenbach was the best lineman along with Samson Satele. Castonzo was beat a few times, Justice was beat a few times and McGlynn was man handled by Muhammed Wilkerson. They also didn't open holes for the running game, which is why it never took it. Bad performance overall.
On defense, they allowed Shonn Greene, a player who averaged 2.9 yards per carry to have a 160 yard game with 3 touchdowns. That's just awful. Their O-line 100% outplayed the Colts' D-line. The linebackers didn't play that well, or at least well enough to stop the running game by themselves. 
The secondary was also pretty bad. Tom Zbikowski had another bad game, with his lack of football instincts showing. Antoine Bethea missed some tackles too, although he had a pretty good game. Back to Zbikowski. They should now start rotating Joe Lefeged in on some pass prevention situations. He's a liability in coverage, but his tackling skills are better than that of Lefeged. 
Finally, the defensive play calling was not very good today. They played man coverage early on, and that seemed to have worked. Then they started playing more zone coverage, and then Sanchez started coverted on key plays. They played too conservatively on defense, especially in the 2nd and 3rd quartre, and that's when they really started taking over. They have to be more aggressive. 
One person said this, and he's right: "There are going to be games where we do really well and win, and there are going to be bad games as well. It's part of their 'rebuilding process.' "  
Be sure to check out other great articles at Everything Colts.
Original Story:
http://www.60maxpowero.com/patriots/c...
THE BACKYARD
BEST OF MAXIM
RELATED ARTICLES
The Colts-Jets game was frustrating to watch, but we're going through with some links anyway. Conrad Brunner of 1070 The Fan broke the game down in his Hot Reads column, and in his earlier quick recap and box score.    It was eerily similar to the season-opening 41-21 loss in Chicago, as the Colts were plagued by shaky play from rookie quarterback Andrew Luck (two interceptions...
There was a plethora of things that went wrong on Sunday afternoon.  You don't lose 35-9 against a team with serious issues becuause of a few lucky breaks. The Colts lost because they have multiple issues on both sides of the ball, in coaching, and they had a few unlucky bounces.  One of the most noticable issues the Colts had against the Jets was their complete inability...
Well that was fun, wasn't it? A day after the Colts worst loss of the season, it's still hard to find many positives to take from their 35-9 thrashing courtesy of the New York Jets. Not only was yesterday's loss the result of a complete team effort: poor coaching, poor play by the offense and poor play by the defense, but the Colts also walked away from the game...
Michael Marot of the Associated Press talks about the Colts' need to fix some of their more glaring problems on defense: But the most glaring problem so far, has been the leaky run defense that has been exposed by the Jaguars and Jets and is likely to be exploited by Cleveland (1-5) again this week, if the Colts can't revise the script. "We missed a lot of tackles...
Join Colts Authority Radio as Greg Cowan and Kyle Rodriguez discuss the Colts 35-9 loss to the New York Jets.  Listen to internet radio with Colts Authority Radio on Blog Talk Radio Or follow along on your mobile device with Stitcher: The number to call in is (619) 996-1632 Notes on how to call in with Skype: http://blog.blogtalkradio.com/blogtalkradio...
It seems like the league's worst 2011 team is becoming the feel-good story of 2012; Kevin Armstrong, who writes for the Jets, has a great article on Andrew Luck, maybe the most complimentary I've seen on the Colts's QB. Luck is a 6-4, 234-pound rookie capable of throwing from all angles with uncommon touch. Already able to identify his progressions and reads, he is...
Here's your open thread for the Colts and Jets. Remember to follow all your favorite Colts Authority writers and "honored alumni" on Twitter as well: Nate Dunlevy, Greg Cowan, Todd Smith, Kyle Rodriguez, Scott Kacsmar, Luke Dunlevy, Laura Calloway, Brent Fatig, Lou Pin, Josh Boeke, and Marcus Dugan Here's the Colts Gameday Follow list. I'll be on with Jersey...
It was an ugly game, but it's time for some links anyway. Mike Chappell, in his Colts Insider column for The Indianapolis Star, says the Colts had hoped to make the Jets one-dimensional by stopping the run and force the erattic Mark Sanchez to try to beat them.  They just couldn't: "We wanted to put the game in his hands and hopefully get him to make some mistakes...
It's been an up and down month for the Colts, but it's a good time to look back on ... well, players not really holding their own. Kyle Rapoza's article isn't about pointing fingers due to a loss, but rather, about players who should have been better this year but haven't been. The last game may have exposed their weaknesses, but (for the most part), I agree with...
As a football fan, I see this every week.  And, every time, it drives me crazy.  A team will have 3rd and manageable either inside the Red Zone or close to it, and what do they do?  They'll call a run into the line, and they will play for the FG.  Consider this an open letter to football teams.  Here's what I've seen in just the last few weeks:   Jacksonville v. Indianapolis...
NEW YORK (35) d INDIANAPOLIS (9) The Headline: Luck comes crashing back to earth as the Jets defense steps up The Story: What to do when your team looks like it is in total disarray and the season is teetering on the edge of a cliff about to completely collapse? What about when your starting quarterback and his backup both are struggling to look like competent players on a pop warner...
Indianapolis Star October 15, 2012 Dear Indy Star, Pardon my French, but this really pisses me off.  Road Wimps?  Really?  I know you were just in New York, but let me fill you in on something…you're back in Indiana.  Where Hoosier Hospitality is a thing.  And not just a thing…a real thing. I'm not one of those fans who thinks you can only say or write positive things...
Colts News

Delivered to your inbox

You'll also receive Yardbarker's daily Top 10, featuring the best sports stories from around the web. Customize your newsletter to get articles on your favorite sports and teams. And the best part? It's free!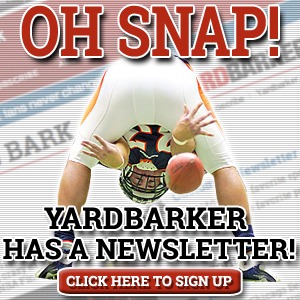 Latest Rumors
Best of Yardbarker

Today's Best Stuff

For Bloggers

Join the Yardbarker Network for more promotion, traffic, and money.

Company Info

Help

What is Yardbarker?

Yardbarker is the largest network of sports blogs and pro athlete blogs on the web. This site is the hub of the Yardbarker Network, where our editors and algorithms curate the best sports content from our network and beyond.