Posted January 25, 2012 on AP on Fox
(Eds: With AP Photos.) By JIM LITKE AP Sports Columnist After muffing one punt and fumbling a second in an overtime loss last weekend, San Francisco's Kyle Williams was subjected to an all-too-predictable barrage of Twitter hate and several death threats. Compared to that, what two members of the winning New York Giants recklessly boasted about after the game sounded almost tame. Almost. ''The thing is, we knew he had four concussions, so that was our biggest thing, was to take him outta the game,'' said Jacquian Williams, who forced the second fumble, in overtime, to set up New York's game-winning field goal. ''He's had a lot of concussions,'' said Devin Thomas, who recovered both fumbles. ''We were just like, `We gotta put a hit on that guy.''' Later in the same interview, he told the Newark Star-Ledger that teammate and backup safety Tyler Sash ''did a great job hitting him early and he looked kind of dazed when he got up. I feel like that made a difference and he coughed it up.'' That the Giants targeted a vulnerable opponent like Kyle Williams hardly qualifies as news, nor even that they zeroed in on his head. Those tactics, despite all the attention advancing science has focused on the dangers of concussions, were part of football long before helmets became mandatory. More troubling, but hardly news, either, is the implication that it was part of the Giants' game plan, something that was discussed in the film room or a special-teams meeting among the players, with or without input of the blessing of the coaching staff. It wouldn't be the first time that happened, either. No, the surprising thing is that Thomas and Jacquian Williams came right out and said it. The few Giants who were available at the team's practice facility Tuesday did their best to walk those statements back. ''In our meetings, we do not talk about it. Concussions are a big deal and we don't talk about it at all. We are a fraternity of brothers across the league,'' linebacker Michael Boley said. ''You don't think about someone's past injuries or what was wrong with them. Obviously if something is wrong with them, they would not be on the field.'' ''I never had that conversation,'' said defensive end Justin Tuck. ''Obviously we consider ourselves to be a physical group that wants to hit everyone. I don't think we've ever talked about knocking someone out, concussion-wise. We want to hit everybody hard, but we stay away from that.'' Kyle Williams, a second-year pro who inherited the punt-return job because front-liner Ted Ginn Jr. was injured, was informed of the Giants' postgame remarks. He accepted full responsibility for his miscues afterward, but said through agent Ken Sarnoff that he is done speaking publicly and ready to move forward toward the 2012 season. The 49ers had no comment Tuesday and NFL spokesman Greg Aiello said the league considers the matter closed. ''Players are held accountable for their actions on the field,'' he said in an email. ''There were no illegal hits to the head or neck area against Kyle Williams on Sunday. There was no conduct by the Giants of any kind that would suggest an effort to injure Kyle Williams in any way.'' Right. What's certain is that it's no longer possible to look at concussions, intentional or not, the way we did just a few seasons ago. The NFL gospel that bigger and faster are better can be proven any given Sunday. What's changed is how many Sundays that guarantee is good for. It was easy enough to write off career-ending hits to the knees and worse as occupational hazards, because even players forced out of the game left with the prospect of more good days ahead than bad. Concussions have changed the equation in the most insidious way, upping the ante without disclosing the real cost until it's too late. And the money in pro football is so good now that few players even bother to tote up the risk. ''If I have a concussion these days, I'm going to say something happened to my toe or knee just to get my bearings for a few plays,'' Bears' tough-guy linebacker Brian Urlacher told HBO during a taping of ''Real Sports.'' ''I'm not going to sit in there and say I got a concussion. I can't go in there the rest of the game.'' Kyle Williams missed the 49ers last regular-season game because of a concussion. Given his history, he was no doubt informed along the way of the dangers posed by just one concussion, let alone the compounding effect of each one after that. The Giants knew that, too, and apparently went after him anyway. Unsettling as that seems, it's a little late in the game for anyone to feign surprise. --- Jim Litke is a national sports columnist for The Associated Press. Write to him at jlitke(at)ap.org and follow him on Twitter.com/JimLitke.
Original Story:
http://msn.foxsports.com/nfl/story/Co...
THE BACKYARD
BEST OF MAXIM
RELATED ARTICLES
PLAYING DIRTY?
Giants players admitted after the game that the team was targeting 49ers return man Kyle Williams due to his history of concussions, including one who added their goal was to "take him outta the game."
SAN FRANCISCO -- The NFL on Tuesday said there were no illegal hits by the Super Bowl-bound New York Giants on 49ers return man Kyle Williams during the NFC Championship Game. Williams fumbled a punt in overtime of San Francisco's 20-17 loss Sunday, and the misplay set up Lawrence Tynes' winning field goal. Afterward, New York's Jacquain Williams and Devin Thomas indicated...
A day after mishandling two punt returns, 49ers wide receiver Kyle Williams handled the disturbing fallout from his season-killing fumbles in the NFC Championship Game flawlessly. Williams received death threats via...
Kyle Williams is ignoring the barrage of hateful, hurtful, even threatening comments he has received in the aftermath of his ill-timed fumble that cost the San Francisco 49ers the NFC championship game against New York. Williams says he takes full responsibility for his fumble on a punt return in overtime of a 20-17 loss to the Giants on Sunday night that set up Lawrence Tynes'...
(source feed provided no summary content for this entry)
One punt-return gaffe by Kyle Williams changed the complexion of the game and another hastened the end of it, but neither was the play that set in motion the 49ers' demise Sunday just as they were in the process of taking control of the NFC Championship Game. The trickle-down effect of everything that happened after that fateful play resulted in the Niners' overtime loss to the...
By now you know that the New York Giants and the New England Patriots will play each other in the Super Bowl I'm sure you also know that San Francisco 49er player Kyle Williams made two critical mistakes on punt returns that played a major role in the 49er's loss to New York. You just knew Williams was in for a long couple of days. 49er fans were going to be angry at Williams...
SCOTT JACOBS Sunday morning, little known 49ers backup kick returner Kyle Williams woke up to the exciting news that he would be fielding kicks, with all-world special teams guy, Tedd Ginn Jr. out with an injury. The kid had to be ecstatic. Just a second year WR out of Arizona State, the 5′10, 186 pound Williams was getting the chance of a lifetime: the opportunity to play hero...
You hadn't heard of Jacquian Williams, Kyle Williams or Sterling Moore before last week, but you've heard of them now. And while Tom Brady, Eli Manning and other stars will dominate the headlines, it'll be lesser-known players in position to be heroes ... or goats.....
Follow us on twitter @SFninerNoise for offseason moves, news, and more check out the death stare Crabtree is giving Kyle Williams We can all dwell on a NFC Championship game overtime loss all the way up to training camp, but our front office has plenty of work to do. There were a few things that were evident in the loss to the Giants that will need to be mended to before the start...
EAST RUTHERFORD, N.J. (AP) -- Wide receiver Hakeem Nicks and rookie linebacker Jacquian Williams were among seven New York Giants who missed the team's first practice for the Super Bowl against the New England Patriots on Feb. 5.
After their win over the 49ers, two Giants players involved with the key turnover by Kyle Williams said they targeted the punt returner because of a history of concussions. On Tuesday, Michael Boley said targeting doesn't happen. Who to believe?
NFL News

Delivered to your inbox

You'll also receive Yardbarker's daily Top 10, featuring the best sports stories from around the web. Customize your newsletter to get articles on your favorite sports and teams. And the best part? It's free!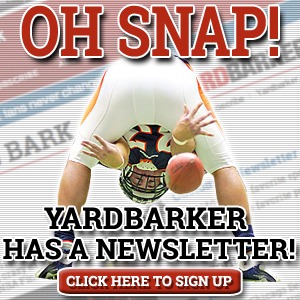 Latest Rumors
The Backyard

Today's Best Stuff

For Bloggers

Join the Yardbarker Network for more promotion, traffic, and money.

Company Info

Help

What is Yardbarker?

Yardbarker is the largest network of sports blogs and pro athlete blogs on the web. This site is the hub of the Yardbarker Network, where our editors and algorithms curate the best sports content from our network and beyond.