Found November 15, 2011 on isportsweb.com:
Giants fans have had a love-hate relationship with Corey Webster. He has never been known as an top-flight corner, and some teams have absolutely picked him apart. Another problem has been staying healthy- Webster has played all 16 games in a season just once in seven season. But other times, he has come up huge, the most notable of which when he picked off Brett Favre in the overtime of the 2007 NFC Championship Game, setting up the Lawrence Tynes field goal that sent the Giants to the Super Bowl. But now, everything is changing. Webster has gone from an inconsistent cornerback to the one sure thing in the Giants secondary.
The thing that jumps out as soon as you look at Webster's 2011 stats is 4 interceptions, tied for 5th-most in the NFL. He has already matched his 2010 total. But that alone isn't enough to stay he's elite. He has also recorded 11 pass deflections after just 12 in all of 2010, showing that he isn't just getting lucky that the passes to the receivers he's covering were poorly thrown. The 11 passes Webster has broken up is the 7th-highest total in football. But the interceptions and pass deflections don't necessarily mean anything. If teams have been picking on Webster and throwing more passes to the defenders he has been covering, he would have more opportunities to make plays. So it's time to get a little bit technical.
Corey Webster has been making plays all season for the Giants, and opposing teams are becoming more and more reluctant to throw the ball his way. (northjersey.com)
Brian Burke of advancednflstats.com came up with two metrics, WPA and EPA, that measure the playmaking ability of a defensive player and how much he has helped his team win. By both of those statistics, Webster has done extremely well. His +WPA (win probability added) is currently 0.74, meaning that overall in 2011, his individual play has given the Giants the equivalent of 74% of a win. That mark ranks 7th among NFL CB's. By EPA (expected points added), Webster has saved 23.2 points over the course of the season, the 12th-best mark in the league among corners. And opposing teams are taking notice.
Webster has played in all 9 games the Giants have played this season, and those 9 games played are tied for the 6th-most by any player in football. Yet he has recorded just 26 tackles, the 34th-most among NFL corners. Why is that? Because teams are challenging him less and less, and when they have, he has made plays, breaking up the 11 passes and intercepting 4 more. You can often pick out a mediocre corner by the amount of tackles he makes because the vast majority of tackles that corners make are because they failed in coverage and allowed a completion. (If a corner was downright bad, he wouldn't make enough starts to register a considerable amount of tackles.) Webster's interception/pass deflection to tackle/tackle assist ratio has been .48 to 1, the 4th-highest total among starting NFL cornerbacks who have played in at least 8 games in 2011 behind Darrelle Revis, Carlos Rogers, and Chris Gamble. Webster is making teams pay for passing in his area.
Corey Webster has taken a big step forward in 2011. He has gone from OK to elite and has been able to come up in the clutch when the Giants need him to make a play. With the Giant's possessing such a great pass rush, a stable secondary would only make them better. The Giants' may not have the best secondary, but they have a very good corner in Corey Webster. Look for him to make several more clutch plays before the season is through.
Original Story:
http://isportsweb.com/2011/11/15/core...
THE BACKYARD
BEST OF MAXIM
RELATED ARTICLES
As usual, we bring you highlights from the media sessions from the Giants' offensive and defensive coordinators - Kevin Gilbride and Perry Fewell Gilbride's impression of RB DJ Ware's performance thus far…. "I think he's doing well. He's done a nice job for us – I think we've talked about it – with scan principle with a lot of our protection, where you don't...
http://www.giants.com/news-and-blogs/article-1/Ballards-Big-Plays-Among-TE-Leaders/5d01a847-95ce-4bdc-9e06-fa53f8503c52Giants TE Jake Ballard has 11 catches for 20 plus yards. That's good for third among his position in the league.By Dan Salomone - Giants.com 11/17/11
RB Ahmad Bradshaw (foot) and LB Michael Boley (hamstring) will not practice today. Boley is day-to-day and Bradshaw is still not ready to return. Neither is expected to play this Sunday vs the Eagles. CB Aaron Ross, who left the game in San Francisco with a leg contusion, is practicing this afternoon. This week, the Giants will look to give more responsibility to several rookies...
New York Giants running back Ahmad Bradshaw and linebacker Michael Boley were held out of practice on Wednesday. Bradshaw is still out due to a cracked bone in his foot.  Giants head coach Tom Coughlin indicated that he's making progress,  but we won't know if he'll play against the Eagles on Sunday, until later in [...]
LB Michael Boley was at practice yesterday but he got no further than the stationary bike. He is nursing a sore hamstring and it is putting a huge damper on his – and the Giants' – immediate future. With the nemesis Eagles with Michael Vick, DeSean Jackson and LeSean McCoy visiting this week, the Blue needs Boley – their only natural, veteran LB – now more than ever.  When...
Giants can end Dream Team's playoff pipe dreamCLIPPED WINGS: Michael Vick and the 3-6 "Dream Team" Eagles could have their fleeting playoff hopes crushed by the Giants this week.By Paul Schwartz - NY Post 11/16/11
The tables have turned, and New York Giants fans are savoring the new ambience... Here's a direct quote from Andy Furman over at Ultimate NYG.com: "It was frankly embarrassing to witness the Giants get undressed by good teams (ovet the past few years). Thankfully that is in the past.  Now that the Giants are making strides, all they need to do is close out some more...
After a tough, albeit close, loss to the 49ers this week, the Giants' rankings have suffered. Their overall play was good but the mistakes killed them, and the Giants will have to find a way to limit those mistakes if they want to reach, and … [visit site to read more]What They Say…Week 11 Power Rankings - GMEN HQ - GMEN HQ - A NY Giants Fan Site - News, Blogs, Opinion and more.
New York Giants RB Ahmad Bradshaw is doubtful week 11 vs the Philadelphia Eagles with his ongoing foot injury. A team source reported to the New Jersey Star Ledger that his chances of playing do not look good despite some positive signs of improvement on his fractured foot. This is a big blow to New York, the team has been lacking a consistent rushing attack all season while their...
New York Giants quarterback Eli Manning believes that his brother Peyton will return to the Colts before the end of the season. "Maybe he could be back this year," Eli told USA Today. "I don't know if that's the smart thing under the circumstances, but I expect him to be back next year." So far [...]
Nov 20, 8:20 PM | Turf of MetLife Stadium Philadelphia Eagles vs New York Giants Odds 3-6TEAM RECORD6-3 The Philadelphia Eagles can't win at home but they remain a dangerous road foe and the New York Giants are about to find out in Week 11 odds action Sunday. Both teams come off disheartening losses but the trends favor the Eagles in this NFC East clash. Philly is...
Giants News

Delivered to your inbox

You'll also receive Yardbarker's daily Top 10, featuring the best sports stories from around the web. Customize your newsletter to get articles on your favorite sports and teams. And the best part? It's free!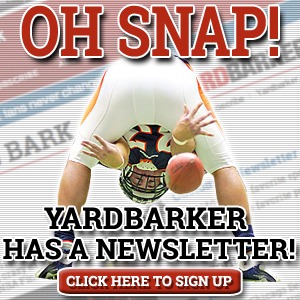 Latest Rumors
Best of Yardbarker

Today's Best Stuff

For Bloggers

Join the Yardbarker Network for more promotion, traffic, and money.

Company Info

Help

What is Yardbarker?

Yardbarker is the largest network of sports blogs and pro athlete blogs on the web. This site is the hub of the Yardbarker Network, where our editors and algorithms curate the best sports content from our network and beyond.