Found March 05, 2013 on Fox Sports Southwest:
PLAYERS:
Anthony Spencer
,
Morris Claiborne
,
Warren Sapp
,
Tommie Harris
,
Jason Witten
,
Demarcus Ware
,
Tony Romo
,
Brandon Carr
,
Dez Bryant
,
Tyron Smith
,
Sean Lee
,
DeMarco Murray
,
Bruce Carter
,
Gerald Sensabaugh
TEAMS:
Dallas Cowboys
In perfect "Dewey defeats Truman" fashion, I spent time yesterday on the idea that the Cowboys were letting Anthony Spencer walk. Instead, the Cowboys pulled another fast one on most of us by deciding at the 11th hour to franchise a guy who needs to stay with this defense moving forward. I am quite happy to have been wrong on this one. Even for those of us who consider following the Dallas Cowboys on a day-by-day basis a passion, there is just no predicting what they are going to do next. I suppose some of my contemporaries were totally expecting a Morris Claiborne trade up on draft day (although I heard nothing of the kind from anyone), the hiring of Monte Kiffin (which seemed to come as a surprise to everyone until he was physically at Valley Ranch), and now the decision to tighten the belt, yet again, and franchise tag Spencer with a hour before the deadline (crickets from the media), but they have pulled off all 3 maneuvers in the last 12 months - proving that some of us can follow and analyze this team on a daily basis and still not have any idea what they are about to do. And that group clearly includes me. But, as we know, the ability of the media to predict things is a very unimportant statistic, so let's focus on the important element in front of us: the Cowboys have retained a major piece going into a season where they have convinced themselves that they are right in the mix (due of course, to the fact that they were playing "play-in" games for the Divisional Title on each of the final 2 Sundays of the last 2 NFL seasons). And as we looked at the offseason on numerous occasions, to allow Spencer to leave and to simply draft his replacement in the 1st round (even if that guy was at defensive tackle and everyone else was just moving around), would not improve their chances in 2013, but effectively hurt their chances. Now, in the 1st and 2nd round, they may address other needs (there are plenty) and preferably give us reason to hope that the offensive line can be upgraded to competent heading forward by grabbing a Jonathan Cooper or Lane Johnson, perhaps, at 18 of the 1st Round. Assuming that we now understand the Cowboys intentions requires us to leave out the possibility that he was franchised to simply trade away when March 12th arrives for compensation. I don't think this is about to happen, but if you read me daily, I didn't think they were franchising him yesterday, so I better get a bit more conservative on things that I think. But, it does appear that 93 is staying put - whether he is under a 1-year tag or a new extension is where we will see exactly the short-termlong-term cash implications that his move presented. In the meantime, let's review how I saw this situation play out over the offseason, and why I am quite relieved the franchise came to its senses. What I thought on January 11: "But, what seems to be missing is the right 3-technique defensive tackle who can cause issues. I don't see Warren Sapp or Tommie Harris here, and remember, the Tampa 2 works if you get to the QB with 4. These teams have always been great at that. Then, the "Double A-Gap" blitzes from the LBs is a great compliment which scare people half to death. But, you have to get there with 4, and that is why I do not like this talk about the Cowboys not being able to afford Anthony Spencer. If they use 18 on a DT, but lose Spencer, then I am not sure you have gained a whole lot. I imagine that would mean trying to play Ware-Ratliff-New DT-Hatcher as your front 4, but I like Hatcher inside and Spencer at DE. Then, I also think it is reckless to expect Ratliff to be a 800 snap guy anymore, so I have myself covered inside. But, these are the problems the cap is causing." That is the thing that many people are missing, I believe. It is that it is reckless to assume Jay Ratliff can still be a full-time contributor in 2013. His play has diminished greatly, as has his health (not even mentioning arguments with Jerry Jones and off-season driving decisions) has diminished, too. I am not sure we should even guarantee ourselves that Ratliff survives this offseason as he may be a candidate for a June 1 exit. Regardless, if the decision is Ratliff vs Spencer, then in 2013, I hope everyone can see that this is not a complicated decision. More elaboration here, as here is what I had written on February 8, making Spencer my 1 off-season priority: "I am a big believer that the Cowboys must keep Spencer. I thought that last year and laid out the idea of franchising him last February. Since he went out and had a fantastic year, I think it would set this thing back a bit to lose him. But given their cap situation, there are many believe that he will be gone. I think you have to try to keep Spencer for the following reason: If my free agency is almost non existent due to cap issues then I have just two premium chips to play this offseason - 1st and 2nd round picks. Now, if I am spending my 1st round pick on a tackle to replace Free and a 2nd round pick on a defensive lineman to replace Spencer, how much better is my team? I still have major issues at DT, G, C, and Safety. I still have no backup for RB, no depth at WR, and I am not real sure who my 3rd LB is going to be. Basically, I have just plugged 2 holes I just opened up, and not really fixed any of the problems I had all year! In the words of Bono, I am merely running to stand still. The difference between Free and Spencer is obvious - one is coming off a fantastic year and the other is playing so badly that the Cowboys are releasing him after thinking they were locking up a nice piece just 2 seasons back. The Free contract looks bad now, but at the time it seemed like a reasonable price for a nice tackle. It is tough to blame the Cowboys for Free, if we are to be fair on that one move. So, the Spencer franchise tag is 10.6m (120 of last year's tag). And, although it seems very difficult, I think I have to do it even if it eats up most of my remaining resources. Of course, I would prefer a reasonable extension for him with a small number in 2013, but that ship sailed when he had the year he just had. Then, I take the best OLDL in Round 1 and do it again in Round 2. I have plenty of ideas, but my main target right now is an inside defensive tackle who can penetrate and make a difference as we look for another Warren SappTommy Harris type." I still feel that way almost completely, but on the 1st round pick at 18, I better see what is there before I marry myself to taking OL or DL in the 1st. I do want a big fella, but I don't want to say which specific position until we know the choices. That is why we will spend much of the next 6 weeks building a board. Now, on February 19th during a chat, I broke out the Mavs comparison: "I liken it to Tyson Chandler with the Mavericks - although the circumstances are significantly different, of course. If you have a player who you think is at a premium spot and is not close to diminishing talents, then you keep the premium player and figure out the finances. Letting a player go because you have locked up money in players you don't feel as strongly about is a problem that might hurt, but must be addressed in the order of importance. Anything else is backwards thinking. In effect, you build your roster by placing your top players on a board with their projected prime as a guide. If you are giving extensions to players who don't have much left on their primes (Jay Ratliff, Jason Witten) then you are making things way more difficult on yourself, but you better not mean that you are sacrificing guys still in their prime to do so. This is classic life-on-a-treadmill thinking that you can never get out of. That is why the "we can't afford to keep Spencer" logic is so frustrating. You begin you plans with a guy like Spencer, you don't wait to see what leftovers you can offer him. Conversely, you must draw the line somewhere where you are not beholden to players who have already played their best football eating the majority of your cap and costing you chances at upgrades. It truly is a model that is broken and getting worse each year. I would love some explanations on the big picture plans for this cap as huge looming cap numbers approach for DeMarcus Ware next season." And that is where I should have stopped. The point is that you begin your plans with your best players, you don't see what scraps you have left to offer them. This is why I hate the franchise philosophy on player valuation as it pertains to age. Every sport is different, but I actually have intimate information from another professional franchise - an actual binder that explains how they will work as a franchise - where it clearly shows a chart and states that we must pay for "peak performance" not "declining performance". Ask yourself what that means. To me, it means that you better be careful when you are paying Ratliff at age 32 for several more years. DeMarcus Ware will be 31 this next season. Tony Romo will be 33. Jason Witten will be 31 by training camp. And very few people in the NFL will tell you that most positions (QB is a different animal) see peak performance on the other-side of 30. Spencer is actually entering his season for age 29 (another Tyson Chandler parallel). Brandon Carr is 26. Dez Bryant (24), Tyron Smith (22), Sean Lee (27), DeMarco Murray (25), Morris Claiborne (23), and Bruce Carter (25) are all on the correct side of the peak performance chart - so that is where you hope to put your money in the big picture as you move ahead. But, the reports were sounding pessimistic, and so even though I vehemently disagreed, I thought that they were out on Spencer over the weekend because they couldn't get an extension that met his approval, as written 24 hours agoMarch 4: "Today is the final day that they can use their franchise tag on Anthony Spencer, and it seems rather clear that they are out of that bidding. If they get an extension with him, it is both good news for the present and more stress on the cap for down the road. Stay tuned - with this front office, anything is possible." Yes, it is. Spencer is staying. That gives this defense a whole different feel. The issues now that are presented by cutting Gerald Sensabaugh are legitimate, but the difference between Sensabaugh or Spencer is back again to quality. They can replace Sensabaugh much more easily, as his play was generally unremarkable and ordinary. Spencer, meanwhile, has made plays that win games on a rather regular basis the last 2 years. They believe that they can play with a defensive line of Spencer, Ratliff, Hatcher, and Ware, with Crawford and Lissemore adding to the mix. I agree, but would love a 22 year old stud to join them this April. Now, on to that mess that protects Tony Romo, and the seeming imminent extension they will agree upon with their QB. I think.
Original Story:
http://www.foxsportssouthwest.com/03/...
THE BACKYARD
BEST OF MAXIM
RELATED ARTICLES
Calvin Watkins of ESPN Dallas reports that the Cowboys haven't approached DE Anthony Spencer's agent about any trade possibilities so far. Ian Rapoport of the NFL Network reported Tuesday night that although the Dallas Cowboys would like to have Anthony Spencer on their roster next season, they're willing to consider a trade given the limited number of pass rushers in...
IRVING, Texas The Dallas Cowboys have opted for a second straight year to franchise tag defensive standout Anthony Spencer, 105.3 The Fan learned on Monday, and both sides are now "working together on a long-term deal," agent Jordan Woy tells me. Part of the work, I'm told, regards Spencer's side wanting to be paid like a defensive end (his position going forward...
The Dallas Cowboys have placed the franchise tag on outside linebacker/defensive end Anthony Spencer for the second straight season, per his agent Jordan Woy. Dallas Cowboys will franchise tag Anthony Spencer for 2nd year in a row. We will work on long term deal. — Jordan Woy (@JordanWoy) March 4, 2013 I don't understand why the Cowboys tagged Spencer.  They need the cap room...
According to ProFootballTalk.com, in the Dallas Cowboys official press release for placing the franchise tag on Anthony Spencer, they claim that he's a linebacker. Even though Spencer will likely move to defensive end, the Cowboys have to use the franchise tag for linebackers on him since he played linebacker last season.  This is per NFL league rules.   Need NFL Tickets? ...
The Dallas Cowboys are putting the franchise tag on linebacker Anthony Spencer for the second consecutive season. Spencer's agent, Jordan Woy, wrote in a tweet Monday that the Cowboys and their sack leader from 2012 would work on a long-term contract. Spencer had a career-high 11 sacks last season. Under the franchise tag in 2013, a player is paid according to a formula based...
For the second straight year the Dallas Cowboys have placed the franchise tag on Anthony Spencer. For the second straight year the team has stated that they are using the tag as the building block for getting a longterm deal done.   Please click here to read this story. The post Dallas Cowboys place the franchise tag on Anthony Spencer appeared first on Players View.
According to David Moore of the Dallas Morning News, "indications are" that the Cowboys will most likely decide against using their franchise tag on OLB Anthony Spencer. Moore adds that the Cowboys are meeting to discuss their options. A source mentioned that "nothing definitive" has been determined regarding Spencer's future with the team. The franchise tag would...
Jordan Woy tweets that the Dallas Cowboys will in fact be using their franchise tag OLB Anthony Spencer for second consecutive season. Woy adds that the two sides are expected to work on a long-term contract extension. Spencer, 29, tallied a career-high 11 sacks in 14 games last season for the Cowboys. It's interesting that the Cowboys are willing to allocate a large amount of...
According to ESPN's Ed Werder, the Dallas Cowboys plan on keeping linebacker/defensive end Anthony Spencer.  By placing the franchise tag on him, they will continue to own his rights, which means they could always trade him away if they wish. Cowboys intention at the moment is to keep Anthony Spencer but protecting rights creates trade options. But they prefer having him on team...
Your Dallas Cowboys have released safety Gerald Sensabaugh in a salary cap-clearing move. They subsequently slapped the franchise tag on outside linebacker and soon-to-be defensive end Anthony Spencer. Keeping Spencer, who is coming off a stellar 2012 campaign, may prove to be a good move. But creating a bigger void at the the team's most chronically troubling position may not...
The Dallas Cowboys continue to clear up salary-cap space, ostensibly in an effort to keep impending free-agent pass rusher Anthony Spencer off the open market. The Cowboys are so enamoured with Spencer, and do not want to lose him to the highest bidder in free agency that they are sure to franchise tag him again to prevent losing this valuable commodity.  If the Cowboys still are...
Cowboys News

Delivered to your inbox

You'll also receive Yardbarker's daily Top 10, featuring the best sports stories from around the web. Customize your newsletter to get articles on your favorite sports and teams. And the best part? It's free!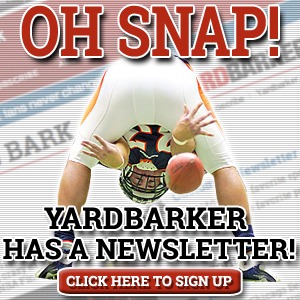 Latest Rumors
The Backyard

Today's Best Stuff

For Bloggers

Join the Yardbarker Network for more promotion, traffic, and money.

Company Info

Help

What is Yardbarker?

Yardbarker is the largest network of sports blogs and pro athlete blogs on the web. This site is the hub of the Yardbarker Network, where our editors and algorithms curate the best sports content from our network and beyond.