Found November 13, 2012 on Know Your Dallas Cowboys: The Blog:
PLAYERS:
Dwayne Harris
,
Brandon Carr
,
Jason Hatcher
,
Don Meredith
,
Dennis Thurman
,
Emmitt Smith
,
Jason Garrett
,
Deion Sanders
,
Michael Irvin
,
Greg Ellis
,
Dexter Coakley
,
Orlando Scandrick
,
Sean Lee
TEAMS:
Dallas Cowboys
,
Buffalo Bills
,
Philadelphia Eagles
Dwayne Harris came up huge with a 78-yard punt return for a touchdown on Sunday. The Dallas Cowboys may have saved their season thanks to three returns they made for touchdowns in the fourth quarter against Philadelphia. Until that fourth quarter, the Cowboys had not scored on any type of return for nearly an entire calendar year. The last touchdown on a return came against the Buffalo Bills on November 13, 2011 in a 44-7 Dallas win. This was not the first time the Cowboys have had multiple touchdowns from non-offensive touchdowns (i.e., those made on returns on special teams or defense) in a single game. It was also not the first time the Cowboys scored on three returns in the same game. However, it was the first time the Cowboys scored on three returns in the same quarter, which makes the feat even more remarkable. Scoring on multiple returns is not common. The Cowboys have now done so only 11 times in team history. Here is a summary: 3 Returns for Touchdowns The Cowboys scored three touchdowns on Sunday thanks to a punt return by Dwayne Harris, an interception return by Brandon Carr, and a fumble recovery return by Jason Hatcher. The only other time the Cowboys scored on three returns was almost exactly 47 years ago. On November 7, 1965, in a game against San Francisco, the Cowboys scored on a kickoff return by Mel Renfro, a fumble recovery return by George Andrie, and an interception return by Bob Lilly. These touchdowns did not occur in the same quarter, but they did occur in the same half. Dallas won the game 39-31. It took a fourth quarter touchdown pass from Don Meredith to Bob Hayes and a field goal by Danny Villanueva to put the game away. 2 Returns for Touchdowns In nine other games, Dallas managed two returns for touchdowns. In chronological order: October 14, 1962, Dallas 41, Philadelphia 19: Amos Marsh returned a kickoff 101 yards, and Mike Gaechter returned an interception 100 yards. It marked the first time in NFL history that two players on the same team had returns of at least 100 yards. October 3, 1966, Dallas 52 Pittsburgh 21: Lee Roy Jordan returned an interception for a score, and Renfro returned a kickoff for a touchdown. September 18, 1983, Dallas 28, N.Y. Giants 13: Dexter Clinkscale returned an interception for a score, while Michael Downs returned a fumble recovery for a touchdown. September 9, 1985, Dallas 44, Washington 14: Happy birthday to Joe Theismann.  Interception returns by Victor Scott and Dennis Thurman. December 19, 1994, Dallas 24, New Orleans 16: Emmitt Smith suffered a costly hamstring injury in this win. Tony Tolbert and Darrin Smith returned interceptions for touchdowns. September 21, 1998, Dallas 31, N.Y. Giants 7: Jason Garrett would remember this one because he started for the Cowboys. Deion Sanders would also remember it. He scored on both an interception return and a punt return. October 3, 1999, Dallas 35, Arizona 7: This was Michael Irvin's last full game. George Teague returned an interception for a score, while Greg Ellis returned a fumble 98 yards for another touchdown. November 4, 2001, N.Y. Giants 27, Dallas 24: Dexter Coakley and Mario Edwards scored on interception returns, but Clint Stoerner's four interceptions killed the Cowboys in a loss. December 5, 2010, Dallas 38, Indianapolis 35: Interception returns by Orlando Scandrick and Sean Lee kept the Cowboys in the game at Indianapolis, which the Cowboys won in overtime. Related articles Dallas 38, Philadelphia 23: It Must Be November Dallas Cowboys Beat Philadelphia Eagles 38-23 Early Thanksgiving As Dallas Cowboys Feast On Eagles The Good, The Bad, And The Ugly Of The Cowboys Win Over The Eagles
Original Story:
http://feedproxy.google.com/~r/ThinkY...
THE BACKYARD
BEST OF MAXIM
RELATED ARTICLES
HAVE A COW
@darrenrovell During today's Cowboys – Eagles game, someone noticed that defensive coordinator Rob Ryan sold some ad space on his defensive play-calling sheet. As you can see from the above photo there's a Pat's Kings of Steaks logo on the back of his sheet.  Would love to know how much they're paying him. Pat's Kings Of Steaks on Rob Ryan's Play Chart twitter.com...
Dallas Cowboys head coach Jason Garrett accepts QB Tony Romo for what he is, a good player at times, a bad player at times. What would Garrett change about his QB? Nothing. He's fine just the way he is, Garrett said in so many words to the Dallas Morning News. "The amazing thing with him is he feels so much and then he can see so much while all of this stuff is going on...
Dallas Cowboys quarterback Tony Romo claims that wide receiver Dez Bryant is maturing and has gotten much better since he was a rookie a few years ago. "Dez has come full circle from where he was a couple of years ago," Romo said, per the Dallas Morning News. "We go by catches whether or not someone has a good game as fans or as media, sometimes. But when we watch the tape...
Dallas Cowboys defensive end Kenyon Coleman is out for the season with a torn triceps muscle in his left arm. Cowboys coach Jason Garrett said Monday that Coleman will be placed on injured reserve and have surgery. The 11th-year pro sustained the injury during the third quarter of Sunday's 38-23 victory at Philadelphia. Coleman started seven games this season, missing two...
Its hard to believe, but with the victory today against the Eagles and the Giants losing, the Cowboys are still in it for the NFC East title. The Cowboys have a longshot at making the playoffs at 4-5 and the rest of the conference playing better. So, the Cowboys need to clinch the NFC East to get in the playoffs, that's what this victory means today. No one is coming out of the...
The Dallas Cowboys are back in the playoff race even though they've had little to do with it. They were able to scratch out two wins during a five-game stretch that saw them play four of five games on the road. It's not like they deserve to be in the thick of things with a 4-5 record, but that's exactly where they are thanks to the New York Giants losing two consecutive...
Dallas Cowboys owner Jerry Jones doesn't appear to be too optimistic about RB DeMarco Murray returning this week. "You want to be very comfortable for him to make his cut," Jones said, via the Fort Worth Star-Telegram. "All of that has to be right before he goes out there because we got to look down the road here. We hope we are in this thing and needing him on every play...
What a difference a few big plays make. If only, like the team in Chicago, a game like this happened all of the time, we might think of the Cowboys as a truly elite defense. Difficult to run against, physical, and opportunistic with a few big plays that they might put into your end zone. Of course, "a game like this" is absurdly unrealistic. How much so? Well, we have...
Felix Jones found the end zone for the third time in 2012. Tony Romo has been the starting quarterback in Dallas during six of the last seven months of November (he was injured in 2010). Heading into Sunday's game at Philadelphia, Romo had a record of 19-4 during those November games. Romo played a good part of his 24th November game on his back, thanks to an offensive line that...
On the surface, all the Cowboys' 38-23 win Sunday proves is that they are better than the freefalling Eagles. The Cowboys still hurt themselves with mistakes and penalties and sometimes just dumb football. But they did enough things right to win, and not by just a little. It wasn't just about surviving the woeful Eagles, it was about surviving an entire week of turmoil...
"I hear the weather's nice in Dallas." The Cowboys got a crucial win over the Eagles yesterday by riding defensive and special teams touchdowns to victory…and by knocking Michael Vick out of commission and then harassing rookie QB Nick Foles just enough. Oh, and by Tony Romo not throwing a single INT. So, let's celebrate the big win by throwing fuel on the newest rumor...
Dallas Cowboys coach Rob Ryan sported a very cool "Pat's Kings Of Steaks" ad on his play calling sheet yesterday against the Philadelphia Eagles. Darren Rovell tweeted that Rob does it for fun and... Full story at Bob's Blitz ~ http://www.bobsblitz.com
NFL News

Delivered to your inbox

You'll also receive Yardbarker's daily Top 10, featuring the best sports stories from around the web. Customize your newsletter to get articles on your favorite sports and teams. And the best part? It's free!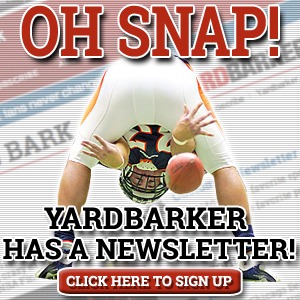 Latest Rumors
Best of Yardbarker

Today's Best Stuff

For Bloggers

Join the Yardbarker Network for more promotion, traffic, and money.

Company Info

Help

What is Yardbarker?

Yardbarker is the largest network of sports blogs and pro athlete blogs on the web. This site is the hub of the Yardbarker Network, where our editors and algorithms curate the best sports content from our network and beyond.