Found February 02, 2013 on Busted Coverage:
Former New York Giants' defensive end Michael Strahan will be inducted into the Pro Football Hall of Fame…someday, but not in 2013. When the Hall of Fame announced its new members on Saturday night, Strahan was passed over for Bill Parcells, Cris Carter, Larry Allen, Jonathan Ogden and Warren Sapp. Many people assumed the popular and talented Strahan, who holds the NFL single-season record for sacks (22.5), was a lock, especially whoever set this photo cutline up prior to the announcement of the actual Hall of Fame inductees. New York Giants defensive end Michael Strahan, here celebrating the Super Bowl XLII victory against the New England Patriots in February 2008, has been elected to the Pro Football Hall of Fame in his first year of eligibility. Oops. This sort of thing happens, of course. The writer correctly reports which players were elected in the story, though he does say Strahan was a linebacker. It's a huge race between media channels to get the information out fastest for retweets and traffic and whatever, but knowing Strahan didn't get in the Hall of Fame coupled with the look on his face makes this post a bit troll-icious to New York Giants' fans. Even without seeing this erroneous post, many fans were upset that Warren Sapp made the Hall of Fame and Strahan did not. They took to Twitter to hammer Sapp. Sapp over Strahan?# GTFOH Oh well, at least Strahan isn't living under a bridge… #ZING @nflrt — Eli F. Manning (@SloppyEli) February 2, 2013 How did Sapp make it and Strahan didn't?? Sapp is an overrated douche, and Strahan owns a record! #ridiculous — Triston Dacken (@TDacken) February 3, 2013 Complete garbage strahan doesn't get into the Hall and sapp does. #HOF #Giants #jokes — Coach Conall McNelis (@ctmcnelis) February 2, 2013 Warren Sapp among seven voted into Hall of Fame – buff.ly/11AnVEd — Anomaly(@TechAficionado) February 2, 2013 Strahan didn't get inducted into the Hall of Fame? What a joke. — Robert L. Nelson (@CoolRobNelson) February 2, 2013 You mean to tell me sapp deserve to be first ballot and not strahan — lee rosario (@biglee86) February 2, 2013 Warren Sapp was picked over Michael Strahan for the hall of fame? What a joke that is — Joey Lovan (@joey_lovan) February 2, 2013 Michael Strahan had a better career than Warren Sapp and yet he did not get in #HOFStrahan — Sal Scalici (@salscalici20) February 2, 2013 @grosso915 sapp ain't worthy to hold strahans jock strap, joke that he got first ballot nod over strahan — Daniel Murdoch (@itsCUmyson) February 2, 2013 How the hell did warren sapp get in over strahan — Nick Grigoletti (@Nick_Grigs) February 3, 2013 how does sapp get in over strahan? strahan over 200+ tackles and 50+ Sacks w/ 2 super bowl appearances and a ring?? @nfl #screwed #snub #hof — Allan Cepeda (@CepedaMLB) February 3, 2013 michael strahan shoulda been inducted in the hall of fame today. god i hate warren sapp so much — Brandon Krzyzkowski (@bkrzyzkowski16) February 3, 2013 "@mjj256: "Yea Strahan def isn't a hof" says no one except sports writers @dbaer616 @mr_purp1e @" @dmendel305 — Nysportsmj (@mjj256) February 3, 2013 [H/T: @JoanneEason] Filed under: Football, NFL
Original Story:
http://bustedcoverage.com/2013/02/02/...
THE BACKYARD
BEST OF MAXIM
RELATED ARTICLES
Two-time Super Bowl Champion Eli Manning took exception to Baltimore Ravens quarterback Joe Flacco saying it was 'retarded' to have a Super Bowl in the NY/NJ area. Manning went right at Flacco, pointing out his distaste for his verbiage, and the fact it has taken two Super Bowls for people not to mistake him for Peyton in New York City. He seemed a little ticked off that a...
According to ESPN's Adam Schefter, the New York Giants have placed a higher priority on extending wide receiver Hakeem Nicks' contract than Victor Cruz, who's going to be a restricted free agent. Giants owner John Mara has already indicated that Cruz is asking for too much money.  With Cruz being a RFA, they don't need to rush to sign him, which gives the Giants some leverage...
New York Giants quarterback Eli Manning doesn't agree Joe Flacco's opinion that having next year's Super Bowl in New York/New Jersey is a bad idea. "I disagree with a lot of things about that comment: wording and overall content of it," said Manning, per ESPNNewYork.com. "I think it will be really good." Manning believes having a "unique Super Bowl like next year's...
Things can turn for the worse in a few seconds in this new age of social media and rumor mills.  For months we've been hearing about Victor Cruz and the New York Giants almost certainly coming to an agreement on a new deal, it was just about when. Things have began to stall for the Pro Bowl wide receiver and the Giants, and now both parties are getting antsy.  Owner John Mara...
Victor Cruz has outplayed his rookie contract and is set to become an unrestricted free agent.  Cruz wants a new deal, the Giants obviously want to give him a new deal, so whats the holdup. Per the Star-Ledger, Giants co-owner John Mara wants a deal to get done, but says there's a limit to everything. "We certainly want him back, but like with any player, there's a limit to...
Giants WR Victor Cruz didn't rule out the possibility that he could hold out for a new contact if talks regarding a long-term deal don't progress in the coming months. "I have no answer to that," said Cruz when asked if he would be willing to hold out. Cruz will be a restricted free agent in the next few months, but the two sides appear to be no closer to reaching an agreement...
The battle between the New York Giants and wide receiver Victor Cruz may get a little more intense if the news being reported is accurate. Adam Schefter of ESPN is reporting that according to his sources, wide receiver Hakeen Nicks and his new deal is the Giants top priority, and not Victor Cruz. The 25-year-old Nicks has one year remaining on his contract, and the team feels...
On Monday night, Joe Flacco got into some hot water calling the idea of a cold-weather Super Bowl "retarded." Eli Manning disagrees with both the term Flacco used and the idea behind his statement. The Giants quarterback said he likes the idea of a New York Super Bowl, and thinks that it offers a unique location for the NFL's biggest event. "I disagree with a lot of things...
Photo courtesy of Yahoo Frank Gray BGB Editor The New York Giants face the off season with several questions. One of those is whether or not 10 year veteran Osi Umenyiora will be able to come back. In years passed, this would be a simple decision. This time, however, it is a little more complicated. Several factors go into the decision; salary cap limits, his asking...
New York Giants running back Ahmad Bradshaw was seen walking around New Orleans with a walking boot on his foot.  He told Jenny Vrentas of the Newark Star-Ledger that he had a screw replaced in his foot. Bradshaw says he had the procedure done two weeks ago and that it's going to take him 10 weeks to recover.  The screw is supposed to fix two fractures in his foot.   Need NFL...
NFL Commissioner Roger Goodell says next year's Super Bowl at the stadium used by the Giants and Jets will ''have an impact on future decisions for open-air, cold-weather sites.'' Goodell said Friday at his pre-Super Bowl news conference that the league ''will be prepared for the weather factor'' for the Feb. 2, 2014, championship game in East...
  Victor Cruz has by all means outplayed his rookie deal and deserves to be compensated for his surprising above average production. The New York Giants know this and by all means want to keep Cruz long-term. The problem comes with trying to determine how much is Cruz worth. Something that Cruz's agent and the [...]
NFL News

Delivered to your inbox

You'll also receive Yardbarker's daily Top 10, featuring the best sports stories from around the web. Customize your newsletter to get articles on your favorite sports and teams. And the best part? It's free!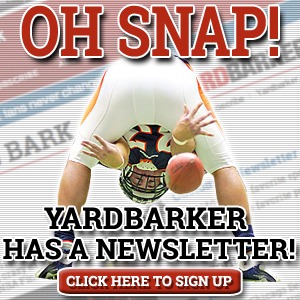 Latest Rumors
Best of Yardbarker

Today's Best Stuff

For Bloggers

Join the Yardbarker Network for more promotion, traffic, and money.

Company Info

Help

What is Yardbarker?

Yardbarker is the largest network of sports blogs and pro athlete blogs on the web. This site is the hub of the Yardbarker Network, where our editors and algorithms curate the best sports content from our network and beyond.