Found June 21, 2012 on BroncoTalk: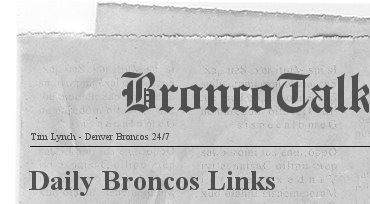 Be sure to follow me on Twitter for more Broncos updates throughout the day.
Denver Broncos News
First Full Offseason for Fox's Staff | DenverBroncos.com
The 2012 Broncos rookie class isn't the only group enjoying its first NFL offseason together as a unit this year. John Fox and his coaching staff didn't have a typical NFL offseason a year ago due to the lockout.
Poll result: Manning is good to go | ESPN.com
The readers of this blog believe new Denver Broncos' quarterback Peyton Manning will stay healthy in 2012 –barely.

Broncos help Pueblo's Dutch Clark Stadium get new synthetic turf | Denver Post
Pueblo's Dutch Clark Stadium will get a new synthetic-turf field in time for the coming football season — thanks in large part to a $200,000 grant from the NFL's Grassroots Program via the Broncos.
Willis Preparing for Opportunity | DenverBroncos.com
In 2011, wide receiver Matthew Willis played in all 16 games for the first time in his career. Now, with Peyton Manning at quarterback, he's looking to build on last season and make plays in 2012.
// <![CDATA[ google_ad_client = "ca-pub-1209026070761313"; /* 468x15 link content ad */ google_ad_slot = "0894341522"; google_ad_width = 468; google_ad_height = 15; // ]]>
// <![CDATA[
// ]]>
Denver Broncos Blogs
Percy Harvin in the AFC West? | ESPN.com
I am somewhat hesitant to do this post because it is clear the Minnesota Vikings do not have any plans to trade unhappy receiver Percy Harvin.
The Ginger Inquisition | IAOFM
At this point, we all know the basics of the bounty accusations that have been levied against current and former members of the Saints organization.
Denver Bronco Players on Twitter | MHR
A question was asked in this morning's Horse Tracks, as to which players could be followed in the Twitterverse. I made a quick list from my account and posted it in the comments with the thought that it was incomplete.
Original Story:
http://broncotalk.net/2012/06/38369/b...
THE BACKYARD
BEST OF MAXIM
RELATED ARTICLES
The arrival of Peyton Manning means John Fox can focus on improving the pass defense. [ProFootballWeekly] The mothership previews the quarterback position. [DenverBroncos.com] In a reversal of typical roles, QB Coach Adam Gase is soaking up Manning's knowledge like a sponge. [ProFootballTalk] Legwold chimes in with 10 things the Broncos need to do right to have a successful...
For the first time in a decade, Peyton Manning won't lead his team into the playoffs. Here are four good reasons why the Broncos will miss the NFL's "second season" in 2012. Timing with receiving corps  Learning a new offense The defense will hit a slump Brutal schedule   Timing: We all know you can build a Dream Team on paper.  However, getting the actual...
How does that old adage go, "Money can't buy good taste?" Apparently NFL executives are inflicted with the same dilemma, as merely having the ability to make moves does not necessarily mean they will be good ones. Here are the ten most puzzling moves of the offseason. The Denver Broncos Writing a Blank Check to Peyton Manning The Indianapolis Colts released Peyton...
HOW SWEET
As if it wasn't already clear that the media loves Tim Tebow, the writers have given him an award to make sure you knew it.
There was no doubt that the biggest NFL news of the offseason was Peyton Manning's decision to sign in Denver instead of a few early favorites like the Dolphins and the Titans. Not only did Manning's decision to play for the Broncos change the landscape of the AFC West, but it also put Peyton back on the fantasy football map as a possible QB1 after missing all of the...
By SBRForum.com Football is inching closer and closer and millions are ready to start making their NFL picks for the new season. We know who the two favorites will be for the 2012/13 season. The Green Bay Packers, fresh off a 15-1 record last year, trot into the new year as the overall favorites. Aaron Rodgers leads the way after throwing an amazing 45 touchdown passes, and with...
Out with the old and in with the new is the strategy with the rebuilding Colts (2006 Super Bowl win is a distant memory). First ballot hall of fame QB Peyton Manning will be under center in Denver (joined by former colt TE Jacob Tamme), TE Dallas Clark is in Tampa and WR Pierre Garcon got a monster contract from Washington. First overall pick Andrew Luck will have his Stanford security...
Be sure to follow me on Twitter for more Broncos updates throughout the day. Denver Broncos News Elway On Value Of Time Off | DenverBroncos.com The preseason opener is less than two months away; John Elway talks about the importance of players having a break before the start of training camp. Del Rio Calls Broncos' DC Turnaround 'Unusual' | CBS Denver Coaching turnover happens...
Forbes Magazine List of the World's 100 Highest-Paid Athletes features 30 NFL stars.  Here is the Top 10 highest-paid NFL players, according to Forbes list.  Denver Broncos new quarterback Peyton Manning is number one among NFL players but number ten on the overall list.     1. Peyton Manning, Denver Broncos - $42 million Salary/winnings: $32 million Endorsements: $10 million...
Be sure to follow me on Twitter for more Broncos updates throughout the day. Denver Broncos News KOA Q&A – Elway, Part Two | DenverBroncos.com The Broncos recently finished their OTAs (organized team activities) and now they are off until training camp begins in late July. Leading up to training camp, we are bringing you a series of conversations 850 KOA has had with various...
NFL News

Delivered to your inbox

You'll also receive Yardbarker's daily Top 10, featuring the best sports stories from around the web. Customize your newsletter to get articles on your favorite sports and teams. And the best part? It's free!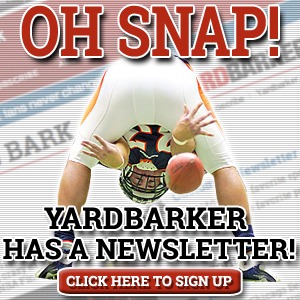 Latest Rumors
Best of Yardbarker

Today's Best Stuff

For Bloggers

Join the Yardbarker Network for more promotion, traffic, and money.

Company Info

Help

What is Yardbarker?

Yardbarker is the largest network of sports blogs and pro athlete blogs on the web. This site is the hub of the Yardbarker Network, where our editors and algorithms curate the best sports content from our network and beyond.