Found September 06, 2012 on Know Your Dallas Cowboys: The Blog:
PLAYERS:
Kevin Ogletree
,
Tony Romo
,
Miles Austin
,
Martellus Bennett
,
DeMarco Murray
,
Jason Witten
,
Laurent Robinson
,
Michael Boley
,
Dez Bryant
,
Dan Bailey
,
Sean Lee
,
David Wilson
,
Hakeem Nicks
,
Victor Cruz
,
Demarcus Ware
TEAMS:
Dallas Cowboys
,
New York Giants
,
Oklahoma State Cowboys
Kevin Ogletree certainly looked like a solid #3 receiver on Wednesday.
Few teams in NFL history were as clueless about what to do with a lead than the 2011 Dallas Cowboys. This was the team that couldn't hold a 24-10 lead over the Jets, a 27-3 lead over the Lions, or a 34-22 lead over the Giants. Making matters worse, the Cowboys had those leads in the fourth quarter.
There have been too many reminders of those failures during the long offseason. And with the Cowboys opening against the defending Super Bowl champion New York Giants on Wednesday, it looked as if Cowboys fans might have to endure some more pain. Few thought the Cowboys would win.
Then came the fourth quarter. Dallas led 17-10 heading into the quarter and still held that lead when the Cowboys got the ball with 13:03 left in the game. Tony Romo promptly led the team on a 12-play drive that ended when he hit Miles Austin on a 1st-and-30 play and Austin was able to split defenders on his way to a 34-yard touchdown.
Exciting, of course, but there was that reminder: Dallas held a 24-10 lead over the Giants, but nearly 6 minutes remained on the clock. Plenty of time for Eli and company.
Of course, it took Manning just over 3 minutes to cut the Dallas lead to 7. To make matters worse, former Cowboy Martellus Bennett caught the touchdown that cut into the Dallas lead.
The Cowboys had to kill 2:36 from the clock. The Giants had two timeouts. After two plays, there was yet another sign that this could be a frustrating ending. On 3rd and 2, it appeared that DeMarco Murray had run for a first down, which would have iced the game. However, referees called Jason Witten with a hold, moving the Cowboys back eight yards. Dallas had to convert a 3rd-and-10, or Eli would have yet another chance.
Then Romo threw a quick slant to Kevin Ogletree, who slid past defenders for a 13-yard gain. That ended the game.
This was the same Kevin Ogletree who had caught a total of 25 passes for 294 yards and no touchdowns in three seasons. On Wednesday night, he caught 8 passes for 114 yards with 2 TDs.  We hope Laurent Robinson is happy in Jacksonville, because Ogletree looked better on Wednesday than Robinson looked last year.
On top of that, this defense seems to be for real. It was mildly exciting when the Cowboys only gave up a total of 12 first-half points in four preseason games. The team once again did not give up a touchdown in the first half on Wednesday, holding the Giants to a single field goal. That field goal came after the Cowboys defense kept the Giants out of the end zone following a Romo interception that Michael Boley returned inside the Dallas 3-yard line.
Romo made up for the pick, completing 22 of 29 passes for 307 yards with 3 TDs. Austin finished with 4 receptions for 73 yards and the score, while Dez Bryant had 4 catches for 85 yards.
Murray had a nice game, gaining 131 yards on the ground. His 48-yard run in the 3rd quarter helped to set up a Dan Bailey field goal.
On defense, Sean Lee continues to make a name for himself. He had 12 total tackles and forced a David Wilson fumble in the first quarter. Many expect Wilson to contribute heavily, but he had only 4 yards on 2 carries.
Meanwhile, Hakeem Nicks and Victor Cruz were targeted a total of 17 times combined but had only 10 receptions for 96 yard between them. Cruz also had two costly drops.
DeMarcus Ware made some history tonight by recording 2 sacks. That gives him 101.5 during his career, which is a franchise record (though only because sacks were not an official stat before 1983).
Related articles
Original Story:
http://feedproxy.google.com/~r/ThinkY...
THE BACKYARD
BEST OF MAXIM
RELATED ARTICLES
Dallas receiver Kevin Ogletree managed to change the focus of conversations from "The Cowboys don't have a third receiver" to "This Ogletree kid looked awfully good. Should I pick him up on waivers for my fantasy team?" (Eric Karabell at ESPN says yes to the last question. I own Miles Austin in two leagues and would prefer to see better production from #19. That's a different...
In every NFL season, there are a handful of Charles Von Nobodies who emerge from the ether to have huge fantasy football seasons. Last year, Victor Cruz salsa danced his way into the hearts of fantasy owners across the country, and it seems the 2012 season already has its first potential waiver wire gem.Dallas Cowboys' third-string wide receiver, Kevin Ogletree, had a career game...
"Kevin Ogletree! Pick him up!!!" "I called him as a sleeper! My Twitter followers must know!!" "Now I can call myself a guru and people can't question it!" Relax, everyone. If you can pick up Ogletree, that's great. I got him on waivers in one league, missed out in one that has an auction bid system for pick ups and didn't even bother in another league because...
The world was introduced to the unknown Cowboys receiver named Kevin Ogletree and the Giants start their title defense 0-1. Here are 9 quick observations from last night.The post 9 Quick Observations From The Cowboys 24-17 Win Over The Giants appeared first on The Sports Fan Journal.
COWBOYS: 24 GIANTS: 17 The NFL kicked off in dramatic rivalry fashion with the returning Superbowl Champion Giants taking on their NFC East foe Dallas Cowboys. Much maligned Quarterback Tony Romo came, saw and conquered while in MetLife Stadium as he threw for 307 yards including three TD's and came up bigger than Eli in the 24-17 victory. The hero of the night props goes...
Dallas Cowboys receiver Kevin Ogletree had caught 25 passes for 294 yards with zero touchdowns in his first thee NFL seasons.  On Thursday night he had a breakout game against the defending world champion New York Giants, catching eight passes for 114 yards and two touchdowns. The Giants secondary focused on Dez Bryant and Miles Austin, leaving the undrafted free agent out of Virginia...
Fantasy football players are tripping over themselves rushing to the computer this morning to put in a waiver wire claim for Kevin Ogletree. I won't be one of them as it will take a lot more than one game out of 32 to suddenly convince me that this kid is as good as his numbers.
The excitement of opening day can bring many different feelings to an NFL player like Dez Bryant, Tony Romo, or Morris Claiborne. For some, it is the first time they strap on a helmet and hit the battle field. This time everything counts. For others, it's just another game and fresh start to an NFL [...]
It's the first week of the NFL regular season and before I begin talking about it, why don't we take a moment to be thankful that football is back. Now I know college football started last week and I'm aware that the preseason started over a month ago, but for an NFL guy like me, Wednesday night was the beginning of the best time of the year. The Giants and Cowboys already...
The Dallas Cowboys defeated the New York Giants 24-17 Wednesday night at MetLife Stadium to kickoff the 2012 NFL Season. The first half was pretty dull, but the action picked up in the second half. That game was only the appetizer to the main course coming Sunday, but it was still great to have football back. Here are 5 things we learned from last night's Cowboys-Giants game. 1...
Finally NFL football is back! A late rally by Eli Manning and the defending champion New York Giants came up short on this opening Wednesday kickstart to the 2012 campaign.The long awaited divisional matchup began in lackluster fashion, the only touchdown in a yawner of a first half coming on a Tony Romo toss to Kevin Ogletree from ten yards out with 2:33 left before intermission...
NFL News

Delivered to your inbox

You'll also receive Yardbarker's daily Top 10, featuring the best sports stories from around the web. Customize your newsletter to get articles on your favorite sports and teams. And the best part? It's free!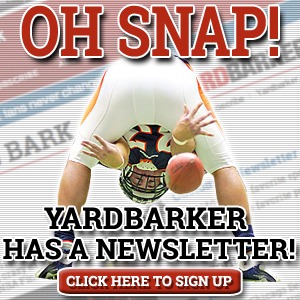 Latest Rumors
Best of Yardbarker

Today's Best Stuff

For Bloggers

Join the Yardbarker Network for more promotion, traffic, and money.

Company Info

Help

What is Yardbarker?

Yardbarker is the largest network of sports blogs and pro athlete blogs on the web. This site is the hub of the Yardbarker Network, where our editors and algorithms curate the best sports content from our network and beyond.